United States Brahms, Beethoven, Shepherd: Jan Vogler (cellist), Audi Jugendchorakademie, Members of Hamburger Alsterspatzen, Soloists of Dresden Kreuzchor, YoungClassX Ensemble, Young New Yorkers' Chorus, Hamburg Philharmonic State Orchestra / Kent Nagano (conductor). Carnegie Hall, New York. 22.4.2023 (DS)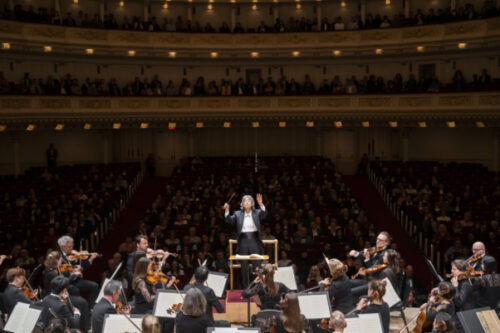 Brahms – Schicksalslied, Op.54
Beethoven – Symphony No.8
Sean Shepherd – An einem klaren Tag (On a Clear Day, world premiere)
In the recent concert at Carnegie Hall with the Hamburg Philharmonic State Orchestra, Kent Nagano led the orchestra in a showcase of dependable grace with three works that were set together in loosely, shared context. Brahms composed the choral work Schicksalslied (Song of Destiny) to a contemporary poem by Friedrich Hölderlin. American composer Sean Shepherd composed An einem klaren Tag (On a Clear Day) to a cycle of poems by Ulla Hahn. Connecting these two works was a staple performance of Beethoven's Eighth Symphony, which acted as a referential segue into Shepherd's massive choral work, which references the last movement of Beethoven's Ninth (Ode to Joy), albeit with a timelier twenty-first century environmental message: save this joyous world before it is too late.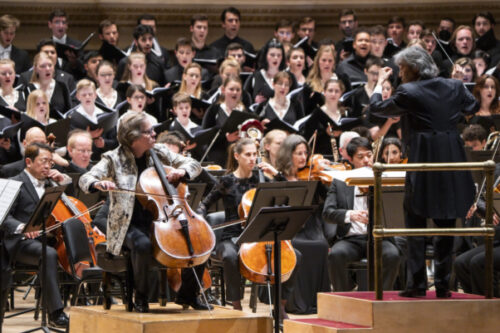 Jan Vogler performed the cello solo for An einem klaren Tag with authentic presence of style that was both vibrantly enlivening and added a uniquely communicable sense of curiosity that could deeply draw in a listener. This lent itself perfectly to such a massive, complex world premiere that required not one but five choirs of either children or other young singers from both Germany and New York. Vogler on cello was like our Virgilian guide through this journey across a day on earth while Hahn's effortlessly crisp text reveled in imagery of sky, sea, animals, and simple human love.
Shepherd's work plunged into a world of choral sophistication with an array of sounds that reflected a deep handling of the voice as joyful instrument along the spectrum to percussive landscape (at moments members tap their body to create an unforgettable sound of rain). Across this choral terrain, the orchestra traveled with several melodious passages that were sometimes central and other times interstitial. Key to this expanding land of music was the consistent return to a trio of piano, harp, and symphonic bells in the percussion section that punctuated this biosphere of sound with beautiful intimacy.
In its ending, Shepherd veered away from Beethoven's grandiose Ode to Joy one, and instead opted for a gradual separation of sounds which diminished the work in an effervescent escape into the sublime. Hahn's words minorly mirrored those by Friedrich Schiller for the Beethoven; but rather than praise god in heaven, hers thank all creators 'for everything that is nature … the world does not stop beginning.' Humility must reign across humankind is one interpretation: then we might take action to save what we ourselves did not create.
Noteworthy in the evening's performance was the Brahms Schicksalslied with the exceptional Audi Jugendchorakademie (a youth choir). Nagano's account was true to Hamburg-native Brahms's ineffable sense of delicate meaning and gravity of living in his masterwork. The Hamburg Philharmonic State Orchestra played with a reserved beauty well suited to the unindulgent Brahms who crafted and created his work with utmost care. They injected muscular expression when appropriate aside the choir, easily sliding back to gentle phrasing of each unfolding harmony. It was a highlight of the concert, showing that all music, irrelevant of text, praises the possibilities of humankind and is worth saving for future generations.
Daniele Sahr