United States Various – Archive of Desire, 'Waiting for the Barbarians': Eleni Calenos (soprano), Rufus Wainwright (singer), Helga Davis (performance artist), Laurie Anderson (narrator and tape-bow violin), Petros Klampanis (double bass), Brooklyn Youth Chorus / Dianne Berkun Menaker (conductor), The Knights / Eric Jacobsen (conductor). St. Thomas Church Fifth Avenue, New York, 2.5.2023. (RP)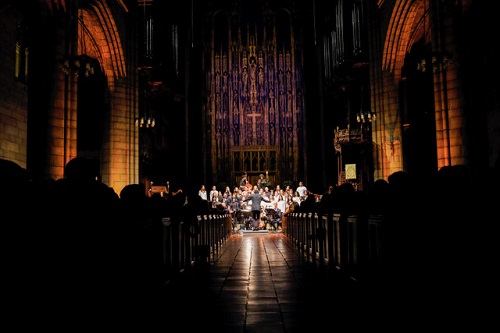 Rufus Wainwright – 'Chandelier /I Went' (arr. Missy Mazzoli)
Helga Davis & Petros Klampanis – 'Cavafy Ghost'
Dimitris Papadimitriou and Nathan Thatcher – 'The Return'
Nico Muhly – 'Far Away Songs' (arr. Nathan Thatcher)
Paola Prestini – 'Voices'
Laurie Anderson – 'Waiting for the Barbarians / Ithaka'
'Waiting for the Barbarians', perhaps C. P. Cavafy's most famous poem, was the inspiration for this extraordinary concert of six works. The music celebrated a poet who was all but unknown in his lifetime, but who is now regarded as the most significant Greek poet of the twentieth century. It was just one of many events in 'Archive of Desire', a week-long festival commemorating the 160th anniversary of Cavafy's birth.
Developed and funded by the Alexander S. Onassis Benefit Foundation and curated by composer Paola Prestini under the creative direction of Afroditi Panagiotakou, Director of Culture at the Foundation, the festival traces the character of the poet who has inspired composers including William Bolcom, Ned Rorem, Dimitri Mitropoulos and Dimitris Papadimitriou, and continues to do so. The concert itself was produced by Death of Classical as part of Concerts at Saint Thomas.
The French High Gothic Revival architecture of St. Thomas Church Fifth Avenue was darkened and subtly lit for this remarkable musical journey. Performers ranged from the internationally renowned chamber orchestra The Knights, conducted by Eric Jacobsen, and the young women of the Brooklyn Youth Chorus led by Dianne Berkun Menaker, to award-winning solo artists Rufus Wainwright, Helga Davis and Laurie Anderson.
The first work was a song by Rufus Wainwright that is a setting of two poems by Cavafy, 'Chandelier' and 'I Went', arranged by Missy Mazzoli for instrumental ensemble. In the poems, Cavafy conjures up scenes of voluptuous abandon where sexual urges burn like flames. Wainwright heightened the hedonist atmosphere with his voice which was further amplified by Mazzoli's dazzling orchestral colors.
Acclaimed bassist and composer Petros Klampanis collaborated with multidisciplinary artist Helga Davis in the creation of 'Cavafy Ghost'. The work, a mélange of several of Cavafy's poems, began with the delicate sounds of harp and solo bass followed by the Brooklyn Children's Chorus mouthing words that were barely audible. Large swaths of sound later swept through the church. At the heart of the work was a simultaneous recitation of 'Barbarians' by Davis in English and Klampanis in Greek.
'The Return' by contemporary Greek composer Dimitris Papadimitriou and American composer/arranger Nathan Thatcher was a setting of another of Cavafy's sensual poems scored for solo voice and orchestra. Soprano Eleni Calenos's soprano soared through the church, as it did in Thatcher's arrangement of Nico Muhly's 'Far Away Songs'. The minimalist orchestral sounds permitted Calenos to convey Cavafy's words of loss and remembrance in his poems 'Hours of Melancholy' and 'Voices' with poignancy and clarity.
For a concert so focused on words, it was puzzling that none of the poems were either printed in the program or projected in any way. It is therefore no surprise that the most satisfying work was Paola Prestini's 'Voices'. In her beautifully crafted piece, Prestini captured the poignant recollections of beloved voices from childhood that were the first poetry of one's life. The Brooklyn Youth Chorus, without accompaniment or amplification to cloud their sound, expressed those sentiments beautifully.
It was a return to 'Barbarians' in the final work on the program, which avant-garde composer and musician Laurie Anderson preformed together with The Knights and Brooklyn Youth Chorus. Anderson began by comparing Cavafy's description of imperial decline and a 'do-nothing senate' to the situation in Washington DC, before reciting the poem. Complex and dense musical textures underlaid her voice, produced by Anderson playing the tape-bow violin (which she invented), orchestra and chorus, and overlaid by the sounds of keyboards and synthesizers.
In a change of mood, Anderson concluded with Cavafy's poem 'Ithaka'. Her dreamy recitation of the poet's words telling of a marvelous journey full of adventure and discovery summed up this concert perfectly. It was an experience that only Cavafy himself could have inspired.
Rick Perdian