United Kingdom Mozart, Le nozze di Figaro: Soloists, Chorus and Orchestra of the Royal Opera House / Joana Mallwitz (conductor). Royal Opera House, London, 8.7.2023. (MB)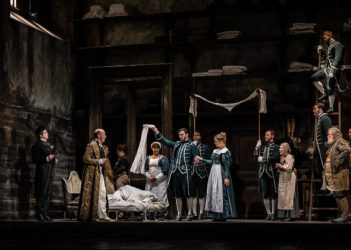 Production:
Director – Sir David McVicar
Designs – Tanya McCallin
Lighting – Paule Constable
Movement – Leah Hausman
Chorus director – William Spaulding
Cast:
Figaro – Mattia Olivieri
Susanna – Siobhan Stagg
Bartolo – Maurizio Muraro
Marcellina – Dorothea Röschmann
Cherubino – Anna Stéphany
Count Almaviva – Stéphane Degout
Don Basilio – Krystian Adam
Countess Almaviva – Hrachuhí Bassénz
Antonio – Jeremy White
Don Curzio – Peter Bronder
Barbarina – Sarah Dufresne
Two Bridesmaids – Helen Withers, Miranda Westcott
'Figaro is the opera that a critic sees most often, and it is right that it should be.' An opera critic I greatly admire wrote those words concerning a relatively early outing for this production in 2008. Michael Tanner proceeded to commend Charles Mackerras's conducting of that revival of David McVicar's staging, first seen in the Mozart Year of 2006, comparing it favourably even to that of their fellow knight of the realm, Sir Colin Davis. He even found that what had previously irritated him in McVicar's staging, bar the intrusive 'action' that drowned out the Overture, did no longer, seemingly preferring Leah Hausman's revival direction to the original. Seeing and hearing the same thing, I was notably cooler, in some ways downright hostile, though we certainly agreed on the distinction of the cast. I am not sure I should have expected still to be seeing the same production fifteen years later, but here we are. And though I am not certain, I think I may have seen Figaro more often than any other opera. Surely only Don Giovanni or perhaps The Magic Flute would rival its frequency, though I am well aware how often Covent Garden presents La traviata for those less impervious to its charms than I.
I cannot claim to like McVicar's staging any more than I did, and with the best will in the world, it looks tired and – partly a function of its mysterious updating to the nineteenth century – heavy, for all its playing-to-the-gallery silliness and strangely inconsequential Upstairs, Downstairs busyness from an additional troupe of actors. There could doubtless be a host of reasons to shift the action to what seems from the costumes to be at least the 1830s, but none comes through here, other than a liking for its fashions. That a class-based society, as that increasingly was, needs to be distinguished from one still largely founded on social orders seems not to have occurred to the director. If we want 1780s-themed anachronism, we can turn to Der Rosenkavalier. There seems, though, to be no message here, no justification for its move from where it 'should' be. A large part of the audience, though, seems enamoured of both the designs and the additional activity; there is little accounting for taste, it seems, let alone for judgement.
That Mozart's music is phenomenally difficult to conduct, or more generally to perform, ought to go without saying, though it seems to bear repeating. I never cared for Mackerras's Mozart, though many did, and I admired him greatly in a good deal of other repertoire. Having heard Sir Colin in this music spoils one forever, though it also offers the instructive that one does not need to 'do' much. (See also Sir Bernard Haitink.) There was doubtless a great amount of accumulated wisdom behind that ability to do little, as there was on the numerous occasions I saw Daniel Barenboim cease conducting his orchestras altogether, trusting in them and they in him. Joana Mallwitz did not get in the way and set largely sensible tempi: that already distinguishes her from far too many conductors, some of them 'period'-inclined, some not. There was little of the former to her performance, at least overtly; her performance had, in the best sense, something of the Kapellmeisterin to it. That is to say, it was not about her; she was supportive, reasonable, and largely drew good playing from the orchestra. If there were a few disjunctures between pit and stage, that often happens, especially on an opening night, and she dealt with them with minimum fuss. Why the fortepiano rather than the harpsichord – it is certainly not historically 'correct' – I do not know, but the affectation is now commonplace.
I cannot get used to the 'Moberly-Raeburn' reordering of the third act, which places the sextet before 'Dove sono', nor do I find arguments for it remotely convincing, but I think it has generally been adopted in this production; it was unlikely, at any rate, to have been solely Mallwitz's idea. (If I remember correctly, Davis and Mackerras used it too.) Likewise the 'traditional' excision of two arias in the fourth act, said to 'hold up the action', but in reality (and good performance) doing nothing of the kind.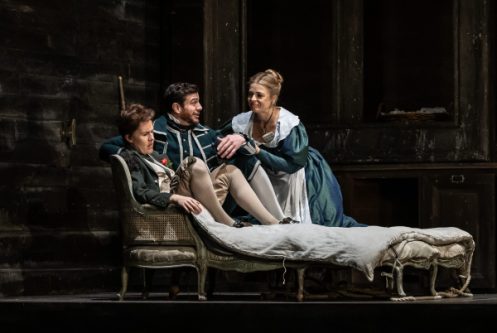 The production has had its fair share, perhaps more than that, of excellent casts. Those of us who have attended a few times over the years will have our favourites. Comparison would be odious and, more to the point, unrevealing. It speaks well of the Royal Opera that it granted role debuts to two fine singers as Figaro and Susanna: Mattia Olivieri and Siobhan Stagg. I am reluctant to speak of the advantages of having 'native' Italian speakers in the cast; the last thing this international art form needs is any form of nativism. But Olivieri's 'natural', readily communicative way with the language seemed to act as an energising presence to all around him, as well as to enable him to present a myriad of different ways of singing: from parlando to ardent lyricism. He has a splendid stage presence too, balancing the necessarily cocksure with hints, and sometimes more than that, of something more wounded and vulnerable. That he looks good in livery certainly does no harm either. Stagg sounded just 'right' in her role, at least for me. 'Soubrette' can sound dismissive; I certainly do not intend it that way, when I say that it formed the basis of her approach, tonally and otherwise, permitting growth in stature as she revealed more of the character to her. It is, we should always remind ourselves, a lengthy and difficult role; Stagg navigated its challenge with winning ease.
Stéphane Degout is more of a known quantity on London stages. He offered a duly commanding Count Almaviva, complemented and put properly to shame by Hrachuhí Bassénz's Countess, whose 'Dove sono', audience disturbance notwithstanding, brought tears to the eyes. So did their final moment, beseeching and granting forgiveness. Anna Stéphany's was a classic Cherubino: very much what would one expect, and certainly none the worse for that. It does not seem so long ago that I saw Dorothea Röschmann on this stage as Pamina for McVicar (and Davis). Now she is Marcellina, and what a wonderful job she made of it, a more fully drawn portrait than I can recall: a woman in her prime, no mere has-been, with feelings of her own that demand to be heard. Krystian Adam's sharply observed Don Basilio marked him out as one to watch, as did Sarah Dufresne's Barbarina.
Opera is, of course, theatre, and that, for better or worse, entails theatre audiences. Sadly, the one of this occasion offered behaviour that seriously detracted from the ability to appreciate, even to hear, what was going on. The uproarious laughter – do they really find these things quite so funny? – was one thing, at least until the unforgivable (ironically) disturbance following 'Contessa perdono'. Anyone listening to Mozart, or indeed simply to Degout's Count, would have known there is nothing remotely amusing to this infinitely touching moment. But if one could, by and large, deal with that, what of applause within numbers, 'Dove sono' included, widespread use of mobile telephones, and the stench of goodness knows what foodstuff somewhere in the Balcony? There is no real 'etiquette' to this, merely an imperative to show consideration for others; or at least there should be. A great pity.
And with that, with the opera I may have seen more often than any other, it is time to say au revoir to London stages and halls. I shall be spending the next academic year on research leave in Berlin and hope to be writing regularly of the musical riches on offer there. There is nothing about poor audience behaviour that is exclusive to London or the United Kingdom; I have experienced as bad in Berlin, Paris, Vienna, and elsewhere. But without, I hope, being unduly pious, perhaps we might all try a little harder to refrain from impinging upon the appreciation of others in the audience. Anyone can fall victim to a fit of coughing, but (almost) no one need chatter, look at telephones, and the rest. Theatres and concert halls are places of precious experience not to readily be recreated elsewhere. Without undue gatekeeping, let us try to keep them that way. They and we, in all our fallen humanity, are worth it.
Mark Berry