Prokofiev's Cinderella at The Royal Ballet: Dancers of the Royal Ballet and Orchestra of the Royal Opera House. Conductor: Pavel Sorokin. Royal Opera House, Covent Garden, London, 7.4. 2011. (JPr)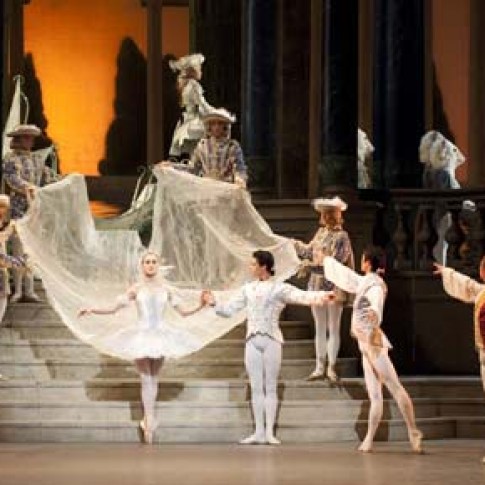 Being able to write about my visits to the ballet enables me to comment on one of the joys of being there … and that is the number of young faces in the audience. With opera the predominant view for most performances is of those – like me – grey-haired and with most of their life behind them; with ballet the buzz of youthful energy – and sense of expectation – throughout the auditorium is palpable.
It was a return visit to Ashton's classic Petipa hommage Cinderella and one that was no less enjoyable than it had been before. The origins of this version were in 1948 and occasionally it can seem an uneasy mix of lyrical classicism and slapstick comedy but in Wendy Ellis Somes's 2003 re-staging and her supervision of this revival she seems to have got the balance almost perfectly right. I saw it several times pre-2003 but don't recall much difference in detail except that the sets – possibly quite naturally – were much fustier and dustier. The historical importance of this production is highlighted – some might suggest unnecessarily – by the first image we see of a huge flickering fireplace that, accompanied by twinkling lights circulating the theatre, displays the portraits of Prokofiev and Ashton.
Toer van Schayk's current sets, though colourful and naturalistic, are very flat and reek of toy theatre with the cartoon-like attempts at perspective: never more so than when in Act I Scene 2 the panels slide back as spring yields to summer, summer to autumn and, finally, from autumn to a frosted winter scene. The set designer is clearly giving us a representation of the Palace of Versailles and its sumptuous gardens and Christine Haworth's costumes matched this early eighteenth-century setting, though – in my opinion – the often very full skirts somewhat tend to hamper the dancer's movement on occasions.
Perhaps the best way to start looking at this performance is in light of the revisionism that David Bintley does to Cinderella in his version for Birmingham Royal Ballet that I recently reviewed. I cannot do a point-for-point analysis but with Ashton it is clearly a child-friendly fairytale world and no more-or-less than that. Cinderella's father – who is virtually ignored by Bintley – is here shown as a kindly, doddery, old dear who is facing hard times and having to sell off his paintings to make do … he even has the urge to see how much he can get for Cinderella's treasured portrait of her mother. Here the stepsisters are 'in drag' as traditional pantomime 'Ugly Sisters' – in full costume and makeup they reminded me of 'Hinge and Brackett'. Bintley replaces Ashton's whirling-dervish Jester – itself something of an anachronism in a French court – with a major-domo. The biggest change between Bintley and Ashton is in the character of Cinderella herself – here she is not physically abused by the stepsisters, she is just ignored by them and lives in her dream world longing for happier days.
In direct comparison with the other version I have just seen I was impressed by Ashton's greater sense of a story well-told: it was clear for all to see from the elaborate mime about the midnight hour and the prominence given to the pumpkin that transforms into a glittering coach pulled by four mice figures. With the ebb and flow of the company numbers, especially the Act II court dances, there is the never a sense of Ashton having to find choreography to fill in time as I felt with Bintley. Ashton gives us classical elegance that eloquently underpins Prokofiev's bittersweet score that – very much in keeping with the production – had its rough edges smoothed over by Pavel Sorokin and the Royal Opera House orchestra from which there was much fine playing. Their best moments were with the coup de théâtre at the end of Act II when there is a nightmarish scene with ominous waltzes and the striking of the clock signalled by the leaping Jester. In the general melee Cinderella in her beautiful Act II ball gown swops with her dowdily-dressed double who runs off stage and, of course, leaves the all-important slipper.
Overall the dancing was pristine without any one dancer really standing out and perhaps that is the hallmark of a wonderful ensemble production; it is certainly in keeping with the small-scale Petipa-inspired choreography. I liked Laura Morera's serene Fairy Godmother solo; Emma Maguire was a suitably effervescent and fleet-footed Spring Fairy and Akane Takada mimicked the fiery colours of Autumn through the attack of her steps. José Martin caught the eye as the Dancing Master, Michael Stojko and David Pickering were suitably amusing as the Act II suitors (one as Napoleon and the other as Wellington) and the four Prince's friends effectively partnered the four fairies. The only real virtuoso male role is that of the Jester and the high-spirited Paul Jay had all the charisma of Wayne Sleep who made a name for himself in this role in the 1970s when I first saw Ashton's Cinderella. The Jester never ceases his mercurial movement, constantly leaping and spinning around the stage. It is clear that like Wayne Sleep it is the issue of height that keeps Paul Kay away from more major male roles.
Mentioning Wayne Sleep brings me to the steps-sisters as I saw him perform as the slightly shyer one in 2010. In that revival – for me – crude pantomime transcended character and it didn't work; Wayne Sleep played Wayne Sleep. At this performance I thought Jonathan Howells and Alastair Marriott were as fine a pair of 'uglies' as I have ever seen since Robert Helpmann and Ashton, himself, in 1974; their interaction and jealousies seemed less music hall and more natural, even too – in a strange way for once – did the scene with the various-sized oranges. By underplaying the roles in this way they showed how less can mean more.
Thiago Soares was the Prince and isn't given much to do in this version; in silver he looks handsome and regal. His long-limbed dancing is crisp and his partnering tender and secure but unfortunately there was no 'wow' factor in his leaping solo and he exuded little personality in the role. Marialena Nuñez was an engaging Cinderella who also didn't – for me – entirely inhabit her role. This is despite being coached by Lesley Collier; she was a magnificent Cinderella herself and one of the most musically sensitive dancers of recent times. In comparison Marialena Nuñez's dancing seemed a little hectic at times and she could do with employing some greater range of expression in her face and upper body. Actually she was better in the radiance and poise needed for the ballroom than eliciting our sympathy by the fireplace cradling her broom.
For some reason there is a second interval that is longer than the final act and the resulting apotheosis involving almost the entire company framing the Prince and Cinderella as they walk off into the sunset is pure kitsch, but magical all the same. Despite my quibbling it is still a treat for the young – and those young-of-heart – unashamedly old-fashioned it can survive all-comers, such as David Bintley's recent reworking for BRB, and possibly live to a hundred before it needs replacing.
Jim Pritchard
For details of further performances go to the ROH website www.roh.org.uk.