Ukraine Stetsenko and Other Composers: The Bulava Chorus and Soloists / Pavlo Hunka (Director),  Cathedral of the Resurrection of Christ, Kiev, 20.4.2014. (RD)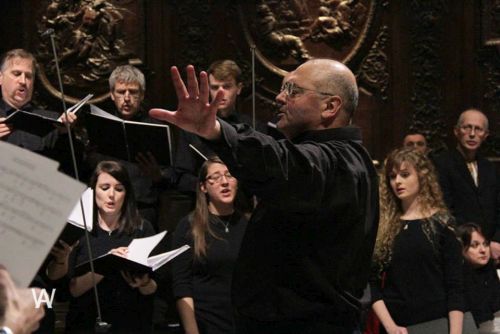 The Liturgy of St. John, by Kyrylo Stetsenko
Settings of Taras Shevchenko poems by various composers.
The recent visit of the UK-based Bulava chorus, conceived and founded in 2000 by its conductor, opera singer Pavlo Hunka, to Kiev, capital of the Ukraine, to sing the Palm Sunday Liturgy by Kyrylo Hryhorovich (Gregorovich) Stetsenko in the new Ukrainian Greek-Catholic Cathedral of The Resurrection of Christ, proved something of a landmark event in the newly-fledged country's principal city.
It is the first time a foreign choir has visited Kiev in the wake of the recent long-running Ukrainian troubles launched by the Orange Revolution that brought Yuschenko to power and culminating in the western-leaning coup d' état that dethroned his rival Yanovych. It was a statement of solidarity all the more welcome and treasured after the recent loss of Crimea to Russia and the current tensions and standoff in the east of the country.
Visually alone, this Liturgical performance was a remarkable sight. The tall, slim new cathedral is still far from finished; one recalls the way Dresden's Frauenkirche rose from the ashes in 2005-6. It was established on a derelict area reclaimed on the populous, high-rise far side of the River Dnieper, serviced by the main west-east Metro line. It looks a little gaunt, but is an impressive easterly addition to a Kiev skyline already saturated, on the western side, with (mostly) Orthodox monasteries, churches, cathedrals – Saint Sofia, the Lavra complex, the rebuilt St. Michael's monastery – and their resplendent gold-coated cupolas.
Already packed to the gills for an earlier (9 a.m.) service, the cathedral was full once again for the Bulava's 11.00 Liturgy. The choir's singers consisted of two sets of forces: singers of British Ukrainian origin, whose command of the language is second to none; and eight young performers from the Royal Northern College in Manchester, making their first sortie into this Slavic tongue and mostly into a part of the former Soviet Union.
Sometimes in performance the choir teams up with forces from the substantial Ukrainian community in Canada, who are generous in financial support for Hunka's wide-encompassing – and important – pro-Ukrainian musical ventures.
The experience was an astonishing and uplifting one. The Cathedral of the Resurrection fields its own remarkably – some might say histrionically – florid bass cantor, who himself is something of an experience to listen to. But what impacted here was the tight interchange between him and the chorus, placed in an upper gallery, the sound focused, well articulated and refined, in this case with minimal echo, each entry needing to be carefully judged owing to the many variants in the Liturgical text made in response to the Easter festivities.
Stetsenko (1882-1922) died at only 39, shortly after Kiev's all too brief independent flowering following the Russian Revolution, but besides composing a Requiem and two Liturgies, in Art Song alone is one of the Ukraine's most significant figures, In his Liturgy Hunka's shrewd, enabling conducting, careful control of balances, and gradation of dynamics – never overbearing, but consistently restrained so as to serve the cause of the highly evocative text – the flair of the buoyant Alleluias; the marked clarity of vowels and consonants in the choir's enunciation; some striking and arresting, full-bodied full choir outbursts; and a series of notably refined solos and duets that Stetsenko infiltrates – soprano and alto, tenor offsetting soprano, and so on – produced a constantly varied, gratifying sequence of textures. In later stages the composer brings some chromaticism to the fore, more akin to his striking songs, and evincing a feel arguably closer to the great Orthodox liturgical music – Rachmaninov, Bortniansky and others.
Perhaps even more important Hunka (a bass-baritone soloist who has performed major operatic roles for Daniel Barenboim, Claudio Abbado, Zubin Mehta and (more in concert) Sir Simon Rattle, as well as for Glyndebourne (Euryanthe) and ENO (War and Peace,  Lady Macbeth of Mtsensk), and is currently rehearsing a lead part in Terry Gilliam's new staging of Berlioz's Benvenuto Cellini at the Coliseum (from 5 June), in founding the Ukrainian Art Song Project) has devoted himself to putting onto disc the vast swathes of 19th and 20th century classical Lieder written by Ukrainian composers, which under the Tsars and early Soviets, following the collapse of the short lived Ukrainian republic (1917-21) set up after the Russian Revolution, could be performed in either Russian or French, but were not permitted to be sung in their original language.
Hunka's bold plan already under way, with 11 composers now recorded – is to commit the works of, currently, 26 Ukrainian song composers to disc. In one case, that of the father and doyen of Ukrainian Art Song, Tchaikovsky's younger contemporary Mykola Lysenko (1842-1912), which has involved issuing a boxed set of seven discs.
Others range between two and four or five, and include significant figures such as the short-lived Stetsenko (whose songs are quite breathtakingly daring, reflecting his reaching his zenith in the first two decades of the 20th Century), Yakiv Stepovyi and Mykhailo Verbyt'sky, plus composers from Western Ukraine (formerly Polish Galicia), not least Ukraine's first woman classical composer, Stefania Turkewich, whose works – full of striking originality and melodic invention – have been little known until now.
Seizing on a vital Ukrainian anniversary – 2014 sees the bicentenary of the birth of the country's national poet, Taras Shevchenko (Ukraine's equivalent of Pushkin in Russia or Adam Myckiewicz – the Chopin of Polish poetry) whose image presently adorn hoardings and lampposts across the Ukrainian capital – Pavlo Hunka has issued a commemoration single disc on his UASP label. 'Taras Shevchenko – From Poetry to Artsong' features himself and eight Canadian-based singers, plus 24 songs based on Shevchenko poems, including some of those astounding songs by Turkewich and Stetsenko, Barvinsky, Liudkevych and others.
Given the bicentenary, it was Shevchenko Hunka chose to focus on in an engaging secular song recital mounted in the wake of the Bulava Choir's presentation of the Liturgy. Here the cathedral acoustic served magnificently, not just to capture and enlarge the sound of the choir, which contributed three moving, nationalistic-flavoured items to the mix of solo Lieder (Pisni) that in turn evoked the onset of evening, flowering, windblown valleys (even Kiev itself is a maze of steep hills and basking dales), roaring rivers and wistful captive memories, but to amplify Hunka's eight young voices recruited from the Royal Northern College, and rather than distorting, convey them to a large gathered audience at their impressive best.
This concert/recital proved something of a revelation There was not a single weak link in this impressive group of young aspiring singers from Manchester. The vocal quality, confidence in delivery and patent musicality of this youthful octet were uniformly attractive and beguiling.
True, the most uplifting moments came when they fused with the swelling, or haunting and lulling voices of the choir, as in the opening 'My thoughts', by K. Borysiuk (soprano soloist: Hollie-Anne Bangham), whose swelling voices sounded at times like a national anthem in itself, rich in sentiment and perhaps also sentimentality; and in the concluding song by Mykola Lysenko evoking the 'Raging Dnieper', where Hunka's bracing, emotive solo heralded a splendid, full-bodied version by the choir.
Likewise, for 'Zapovit' – 'Testament' – Miss Bangham and bass Eugene Dylan-Hooper (who had earlier offered and scored an audience hit in a rousing song by Yakov Stepovyi, 'The setting sun'), joined with the chorus in Lysenko's setting of one of Shevchenko's most famously rousing national poems (more of the country's national river and historic, unifying lifeline): 'When I die, bury me On a grave mound Amid the wide Steppe In my beloved Ukraine, In a place whence the wide-tilled fields And the Dnieper with its steep banks Can be seen, And its roaring rapids heard…' Those soaring banks are still there to be seen, poised high above the river flowing through Kiev itself.
All the female voices made an impact, with Juliet Montgomery's 'Lullaby', especially stunning for its patent beauty of tone and easy, enticing manner, then Eleanor Mackintosh's attractive delivery of 'Blossoms in the Valley' by another key figure in the world of Ukrainian Art Song, Igor Shamo (these two sopranos joined in a an almost sensual duet in Lysenko's boat song 'Plyve Choben'), and Kim Raw bringing cheerfully alive a  ribbon song, 'Oy, Strichechka', a perky number not so far in bouncy quality from Britten's 'A flaxen-headed ploughboy.'
While young Tyler Hooper brought an apt poignancy and indeed passion to 'In Captivity', it was fellow tenor Seumas Begg in the delicious, scherzoid 'The Cherry Orchard' ('Sadok Vyshnyevy') who showed what entertainment a touch of cheeky delivery can bring. This Lysenko song flowed effortlessly from start to finish, the Ukrainian accompanist as vital and inside the words as the phenomenally appealing young singer. Utterly confident and engaging and delightful.
And then to upstage them came Aidan Edwards, a baritone of exquisite hue and timbre, with possibly the best offering of all: Shevchenko's 'The wind howls through the vale' ('Po Dibrovy'), a scintillating song that somehow caught the cathedral acoustic precisely where it mattered. The result was wondrously beneficial: the timbre, plus Edwards' word colouring and dynamic range, made marvellously rewarding listening; one saw from this song just how the fusion of this poet's lines and Lysenko's musical sensitivity can yield such perfect results, as evidenced in the seven disc box with which Hunka launched his burgeoning song project.
That Ukrainian Art Song Project, with its many rediscoveries such as the unusual Turkewich, looks set to change the entire artistic face of the Ukraine in western eyes. Beautifully designed, white-boxed with each composer's signature and portrait prominent, and sensitively recorded, its discs are a model of what can be achieved by a love of national music dating back to childhood; and by a fervour for wrongly neglected repertoire.
Once so rarely heard, Ukrainian song – and perhaps Ukrainian music in its wake – looks set to enter, perhaps take by storm, western cultural awareness, just as Czech, Slovak and Polish repertoire have done or are doing already. This is surely a defining moment for what used to be called 'Little Russia'. When the bombs and rifles and name-calling and standoffs are over, the music will remain.
Roderic Dunnett