United States John Cage, Song Books: Soloists, Wild Project, New York City. 5.9.2014 (BH)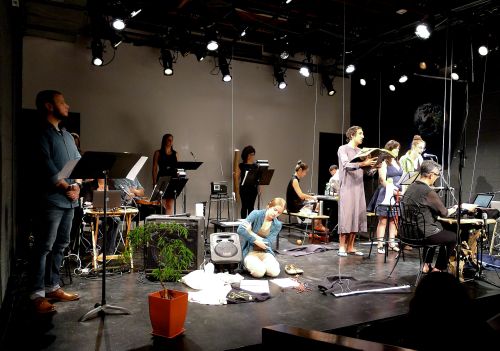 John Cage: Selections from Song Books (1970) with additional selections from Indeterminacy (1959) and Concert for Piano and Orchestra (1957-58)
Performers:
Eve Beglarian
Nicole Camacho
Vicky Chow
Christie Finn
Randy Gibson
Nick Hallett
John King
Kjersti Kveli
William Lang
Mary MacKenzie
Paula Matthusen
Megan Schubert
Nate Wooley
Kryssy Wright
I'm so happy this evening began with the sounds of a pile-driver, which I had silently prayed for earlier in the day. To mark John Cage's 102nd birthday, veterans of Avant Media assembled at Wild Project to perform selections from the composer's Song Books (1970). The complete 90 solos, if done separately with no overlap, could last over six hours. Here, without consulting each other, each artist chose selections to be performed within the boundaries of a single hour. All musicians performed simultaneously, adding (per Cage's option) "additional selections from Indeterminacy (1959) and Concert for Piano and Orchestra (1957-58), to create a blissful mélange of speaking, whispering, enunciating—and a bit of actual singing.
A partial catalogue of the proceedings follows.
Eve Beglarian sits at an amplified typewriter—oddly, in front of a laptop keyboard—pelting out letters on red paper. Periodically she adjourns to a microphone, where she reads statistics on Armenian genocide. Nicole Camacho plays alto flute and rainstick—that is, when not fiddling with controls on a nearby radio. After brushing a small dog, Vicky Chow walks it out of the theater, returns to pass out apples to the audience, and paints her nails. Christie Finn does jumping jacks, laughs at other performers, makes faces, reclines on the floor, finds cards to play solitaire. Knocking over a chair on his way to the edge of the stage, Randy Gibson checks for broken glass, later removes shoes, displays artistic socks, walks zombie-like up the aisle and back. Nick Hallett enters wearing a noble gray tunic (and sandals), opens The Whole Earth Catalog and sings—with operatic fervor—lines from Thoreau's Civil Disobedience. John King plays viola. (I suspect King may have also been involved in shoe-related activity.) Sitting on the floor, Kjersti Kveli paints designs on a t-shirt, throws nuts, grapes and her shoes into the audience, periodically adjusts a small white humidifier. William Lang plays trombone, eats a sandwich. After pulling cords to raise banners showing the Moon, Mary MacKenzie sings through a bull horn. Paula Matthusen remains mysteriously buried in her laptop (and removes shoes). Megan Schubert sits at a low, amplified table, where she studiously—assiduously—writes letters. With no trumpet in sight, Nate Wooley screeches, yelps, coos, squeaks, strikes aforementioned amplified table with a quarter. Kryssy Wright creates the voluptuous lighting scheme for the entire enterprise, lasting exactly sixty minutes. She may or may not have removed her shoes.
(If I missed anything of note, my apologies, but you can probably understand.)
With so much going on—and again, determined by chance—some of the night's most magical moments were those in which the entire stage suddenly fell quiet, as pauses coincided in serendipitous stillness. In those moments one's mind could drift to ponder just how radical—and how influential—Cage's philosophies were, and remain. His imprint has guided hundreds of composers since.
Last February, Avant Media presented Cage's Europera V, an equally exhilarating assortment of randomly chosen operatic arias, combined with the occasional dragon mask, polar bear head, and other disparate artifacts. On both occasions, after a carousel of human activity, I found myself looking at the outside world with renewed gusto, questions, humor, and compassion.
Bruce Hodges