United Kingdom Mel Brooks, The Producers: The Producers Company, Leigh Thompson (musical director). Cliffs Pavilion, Southend, Essex, 7.4.2015. (JPr)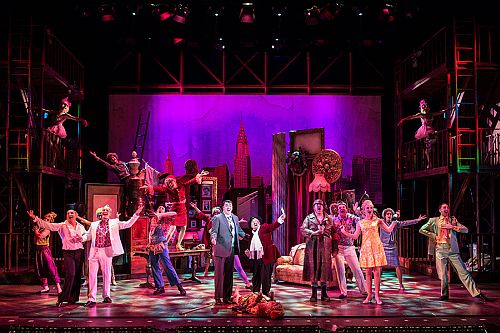 Cast:
Cory English: Max Bialystock
Phill Jupitus: Franz Liebkind
Jason Manford: Leo Bloom
Louie Spence: Carmen Ghia
David Bedella: Roger De Bris
Tiffany Graves: Ulla
Abigail Brodie: Abigail Brodie
Production:
Book by Mel Brooks and Thomas Meehan
Music and Lyrics by Mel Brooks
Original Direction and Choreography by Susan Stroman
Directed by Matthew White
Music supervision: Andrew Hilton
Orchestrator: Chris Walker
Choreography: Lee Proud
Sets and Costume Designer: Paul Farnsworth
Lighting Designer: Paul Anderson
Sound Designer: Gareth Owen
This is entirely like the British TV adverts for Marmite. (if you're Australian, think Vegemite) 'You'll love it … or hate it!' I loved it! Indeed it was one of the better musicals I have been to and certainly the best to0uring one I have seen at the Cliffs Pavilion in Southend.
My American comic idols include Groucho Marx and his brothers, Bob Hope, Woody Allen and Jackie Mason. But I have not been drawn to Mel Brooks and his films. Nevertheless few people will not know about the musical-within-the-story that is 'Springtime for Hitler' which originated in Brooks's cult 1968 film The Producers. I have never seen it in any of its incarnations before, though I have occasionally referenced it myself in reviews of other more highbrow evenings. The current show with its book by Mel Brooks (who also wrote the songs) was first staged on Broadway in 2001, ran for over 2,500 performances and won a staggering 12 Tonys. It was subsequently put on successfully in London and elsewhere throughout the world. There was a 2005 film version and many national tours in the US, as well as, the UK – and this is the latest one.
I therefore came to The Producers as a blank slate and was won over by an in-your-face high-octane evening that is a very affectionate send-up by Brooks of the big Broadway musicals of his formative years in New York. You have to be very thin-skinned to find any of it offensive. To be honest I expected the satire to be much cruder than it was. Of course, some might find the subject matter not to their liking, but those more enlightened people with similar Jewish heritage as myself will be thoroughly entertained. Yes, there are a few swear words (mostly confined to the opening minutes); yes, there are some oversexed geriatric old women (and men in frocks) tap dancing with their walkers and sticks ('Along Came Bialy'); yes, there is a very non-PC depiction of the 'queeniest' of theatre directors and yes, there is Hitler having a Liberace moment downstage in the spotlight. There is much – much – more,a but it is evident that Mel Brooks is absolutely in thrall to the musical heritage he is so riotously sending up here.
Susan Stroman's original staging has been adapted on a smaller scale for the current tour by director, Matthew White, and choreographer, Lee Proud, and seems to be inhabited by one of the happiest casts I have ever had the pleasure to see … in anything. Everyone seemed to be having great fun and this radiated out throughout the Cliffs Pavilion even during the occasional longueurs that still exist in this musical. It is during these times in shows like this that my mind occasionally wanders to important matters, such as, what I might like to eat after the show, but that never happened here. Equally surprising – and to the credit of the excellent cast – is that it all seemed so natural and I never got the impression of performers being desperate to please.
Mel Brooks's The Producers is basically a homage to every show there is about putting on a show and celebrates musical predecessors such as Show Boat, Fiddler on the Roof, Gypsy, A Chorus Line, Follies, 42nd Street etc. etc. In what I suspect is a very pared-down production to that seen on a bigger stage an expert team – Paul Farnsworth (sets and costumes) and Paul Anderson (lighting) – present us with a slightly down-at-heel setting that in its own way is a nod to the 'let's put on a show' concept. More importantly, the small band under Leigh Thompson's direction and with Gareth Owen's sound design was most impressive, so much so, that I had to move  closer in order to check that the music was 'live' – as indeed it was – and the singers were not miming – as indeed they definitely were not!
If you grew up in the 1960s I suspect you will know the plot: the impresario Max Bialystock's recent Broadway show Hamlet – the Musical has closed on opening night and he soon meets Leo Bloom an accountant as repressed as Max is outrageous. They come up with a sure-fire scam; given Max's history, he will produce a play that is absolutely guaranteed to fail. Having raked in all the investment ($2,000,000 'one for me, one for you') they will run off to Rio with their backers' money. Max typically raises money by entertaining old, rich, lonely, women patrons and getting cheques for his 'efforts' made out to 'Cash' … which is commented on as being an unusual title for a play!
What could be a worst possible play than a paean to the Third Reich by Franz Liebkind, a pigeon-fancying Nazi, and called Springtime for Hitler? And for the worst of all possible directors they are convinced they are on a 'winner' when they persuade Roger De Bris to take the project on. We first see him in a glittery ballgown and headpiece that he worries makes him look like New York's Chrysler Building … if you've ever seen it, you would know he's right! His artistic collaborators have a hint of the Village People about them and are overseen by his even more overtly camp assistant, Carmen Ghia, who quickly becomes the butt of the hoary-old 'walk this way' gag. Finally, we meet Ulla, the lithe, blond, gymnastic, sex-loving Swede, with a love of herring and a typically unpronounceable full name. We see Springtime for Hitler come to the stage it all its OTT glitz and glam complete with goose-stepping chorus dancers … and naturally it is a big hit with critics! Scaredy-cat Leo deserts Max to abscond with the money – and Ulla – to Rio before they are reunited. After a spell in New York's appropriately named 'correctional facility' Sing Sing, a traditional happy ending allows for Max and Leo to become the major theatrical producers they both dreamt they could be.
One shining gem, among all the riches, comes towards the end when Corey English's Max – as if he hasn't been involved enough – is in jail awaiting trial when he receives a postcard from Leo in Rio and feeling betrayed, recounts the whole show – including the intermission! – during the tour de force 'Betrayed'. The brilliance of this towards the end of Act II epitomises the unflagging comic energy of English's entire incomparable performance right from the start. He is a veteran of previous productions of The Producers and this shines out. English as Max is lascivious, manipulative and money hungry, part Groucho and part Woody Allen's Broadway Danny Rose … and a lot of Mel Brooks himself.
English also works superbly well with Jason Manford's naïve introverted and totally endearing Leo Bloom. I have seen little before from Manford and he was an absolute revelation. He seemed perfectly at ease in the part – singing and moving well – which is not easy for such an ill-at-ease character and he literally 'blooms' as the musical progresses. He maintains a delightful deadpan innocence throughout even when joining some leggy chorus girls in a fantasy routine as he imagines his name in lights ('I Wanna Be a Producer').
Equally excellent is Tiffany Graves as Ulla who pencils in 11am each day for sex. With a wonderful accent – think Swedish Chef from The Muppets – she catches the eye whenever she is on stage and sings and dances as appealingly as she looks.
On paper some of the casting looked as if The Producers was a Christmas pantomime but it all worked generally well with everyone an accomplished part of one of the hardest-working stage ensembles I have ever seen. After Jason Manford a second piece of audience-attracting 'star casting' involved (Essex local boy) Phill Jupitus as Franz Liebkind, the deluded lederhosen-clad Hitler fanatic playwright who talks to, shoots, and eats pigeons. Whoever cast him should hug themselves as he lit up the stage – even if he made me think quite often of what a young John Cleese or the late Spike Milligan might have made of this part. I doubt Franz has ever been performed with such inspired lunacy as this before and Jupitus displayed true comic genius in the part.
The final star attraction was Louie Spence as Carmen Ghia, the worst director on Broadway's flamboyant common law assistant. Spence is fine in a sort of 'Spence-playing Carmen Ghia-playing Spence' sort of way but his lisping, pirouetting, performance seems to crave the spotlight at bit too much and is slightly at odds with what is happening around him. I could accept nearly all of the virtually seamless onstage nonsense but never fully believed in the relationship between Carmen and the director, Roger. When opening night arrives and Franz – who has won his own part as Hitler – really does 'break a leg', Roger steps in. And West End and Broadway veteran David Bedella is now most at ease as the cheesiest and campest depiction of the Führer there has ever been.
Mel Brooks's upbeat, charming, all-encompassing melodies (in arrangements by Chris Walker that could not be bettered) are a little like the UK game show Name That Tune giving the listener the odd musical phrase that recalls songs you know you have heard before but cannot completely identify. The lyrics are idiomatic, jokey – yes occasionally bawdy – but they never should offend anyone. Recently on British TV the saucy seaside humour and outrageous innuendo of the British Carry On films was celebrated and their unique Britishness never was a hit in the US unlike the more surreally irreverent antics of Monty Python. The Producers mixes the Carry Ons with Python and more than a hint of the Marx Brothers … and it is all as harmless and as fun as that! If that is your sort of thing rush now and get a ticket when it is on near you … if it isn't, well no one expects you'll want to go anyway!
Jim Pritchard
For more about the performances of The Producers on tour visit http://theproducersmusical.co.uk/.
For events at Southend's Cliff Pavilion visit https://southendtheatres.org.uk/.