Argentina Donizetti, L'elisir d'amore: Soloists, Chorus and Orchestra of Teatro Colón. Conductor: Francesco Ivan Ciampa, Teatro Colón, Buenos Aires. 12.5.2015. (JSJ)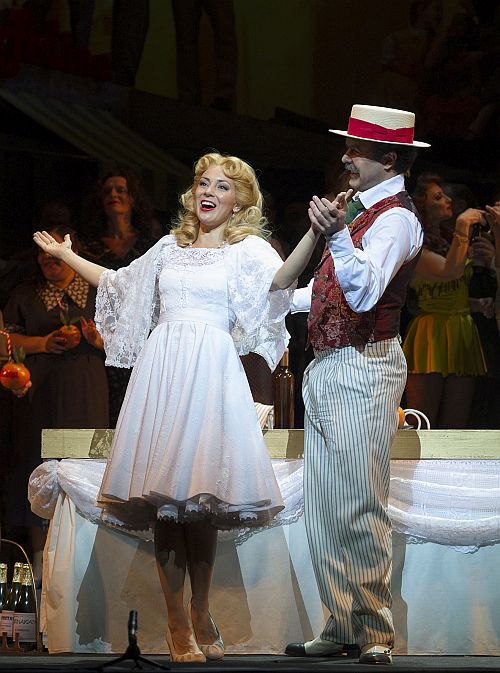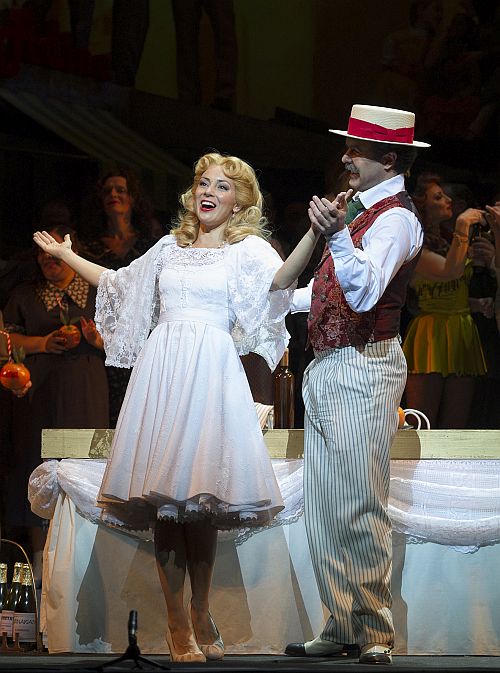 Cast:
Adina: Adriana Kučerová / Paula Almerares
Nemorino: Ivan Magrì / Santiago Burgi
Belcore: Giorgio Caoduro / Omar Carrión
Dulcamara: Simón Orfila / Lucas Debevec Mayer
Giannetta: Jaquelina Livieri / Victoria Gaeta
Production: 
Director: Sergio Renán
Sets: Emilio Basaldúa
Costumes: Gino Bogani
Lighting: Rubén Conde
Video: Álvaro Luna
Chorus: Miguel Fabián Martínez
In a drama filled season, Donizetti's wonderful buffa L'elisir d'amore is a welcome addition to the Teatro Colón 2015 season, despite it coming so early in the year. Dating from 1832, approximately in the middle years of Donizetti's composing career when he was gaining growing international fame, it remains one of his most performed operas, filled with humour and fun. And without unduly provoking incredulity in the storyline, it is very adaptable to a setting – as here, which, with the help of the projections from director Sergio Renán's strong background in cinema, appears to be early 1950s or thereabouts.
In a nutshell, Nemorino, a peasant, is in love with Adina, a wealthy landowner – in this of oranges – but she prefers the attentions of Belcore, sergeant of the local regiment. With the arrival of the travelling quack Dulcamara, Nemorino buys a bottle of his 'love elixir', which is in fact wine, and emboldened by its effects, shows indifference to Adina. By then she has agreed to marry Belcore but the wedding is postponed and finally she admits her love for Nemorino.
This production exuded exuberance – in the sets of Emilio Basaldúa with their brilliance of colour, in the dress of popular local couturier Gino Bogani as much as possible within the constraints of a post-war setting, and in the music under the young Italian conductor Francesco Ivan Ciampa which at times left one almost breathless. Extensive use was made of projections and we saw cars and trucks travelling up and downhill in the background, and these added an additional dimension without being distracting – unlike the 'thought' images of a rustic Tristan and Isolde (who are mentioned early in the opera) which were.
The relatively young singers in the cast were all making their Colón debuts. Simón Orfila is a regular Dulcamara and he is tall, with a fine stage presence and strong voice, giving life to this unscrupulous character without exaggeration. Slovak soprano Adriana Kučerová brought an appropriately young and sweet voiced but no nonsense presence to the role of Adina. Ivan Magrì from Sicily was expressive as Nemorino. Baritone Giorgio Caoduro as Belcore made a promising start but lacked refinement and failed to engage as the evening went on. And Jaquelina Livieri sung her role with style.
This production was also notable for the second innovation of the season – the first introduced at the start of the year being an 8 pm start rather than 8.30 pm as previously. Now the surtitles are in two languages, with English in addition to Spanish, which will benefit the many visitors to these shores.
Jonathan Spencer Jones
Caption: Adriana Kučerová (Adina) and Simón Orfila (Dulcamara) in Teatro Colón's new production of L'elisir d'amore. (Photo Prensa Teatro Colón/Máximo Parpagnoli)