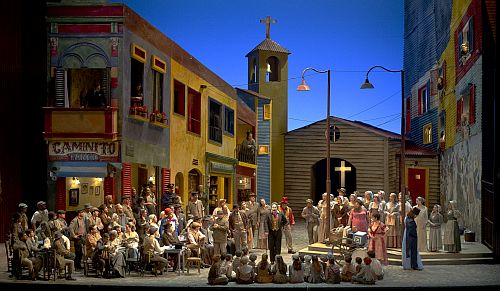 Argentina  Mascagni, Cavalleria rusticana; Leoncavallo, Pagliacci: Soloists, Chorus and Orchestra of Teatro Colón. Conductor: Roberto Paternostro, Teatro Colón, Buenos Aires. 17.7.2015. (JSJ)
Cast:
Cavalleria rusticana
Turiddu: Enrique Folger / Fernando Chalabe
Santuzza: Guadalupe Barrientos
Alfio: Leonardo Estevez / Emiliano Bulacios
Mamma Lucia: Anabella Carnovali / Laura Dominguez
Lola: Mariana Rewerski / Maria Luisa Merino Ronda
Pagliacci
Canio: José Cura
Nedda: Monica Ferracani / Daniela Taberning
Tonio: Fabián Veloz
Silvio: Gustavo Ahualli / Ernesto Bauer
Beppe: Sergio Spina
Villagers: Reinaldo Samaniego, Gabriel Vacas
Prologue: Fabián Veloz
 Production:
Director/sets: José Cura
Lighting: José Cura, adapted by Rubén Conde
Costumes: Fernando Ruiz
Chorus: Miguel Martínez
Children's Chorus: César Bustamante
In a second return to his native land as a producer and participant José Cura (after his 2012 Otello) has brought his Royal Opera of Wallonia production of Cavalleria rusticana and Pagliacci to the Teatro Colón. And it is a very Argentine production, stated as a homage to the Italian immigration of 1900 and featuring the iconic Caminito in the scenery – a street full of colour, music and dance on every tourist's itinerary in La Boca on the eastern side of the city, where many Italian settlers went and tango was born.
On its own the setting could and does effectively serve as both Sicily (in Cavelleria) and Calabria (in Pagliacci). But where it becomes more questionable is the playing of the bandoneón and tango, which are in stark contrast to the verismo music of both Mascagni and Leoncavallo. Such as at the start when we hear Gardel's "Caminito" before dying down to be replaced with the prelude to Cavelleria and in the interval as background (to a semi-darkened auditorium) the bandoneón and tango dance and music again leading into a Pagliacci.
Besides the same scenery, Cura also sought to link the two works physically, with the dead Turiddu's funeral wake at the start of Pagliacci and an estranged Alfio and Lola and a pregnant Santuzza putting in appearances in the second work. And perhaps worst of all, instead of Canio, Mamma Lucia voicing the final "La commedia è finita!" at the end. I suspect it was these production issues, rather than anything else, that elicited the 'boos' alongside the 'bravos' at the end.
Musically both works were sound, ably led by Roberto Paternostro, and notably for the Colón all the singers were Argentine. In Cavelleria, Guadalupe Barrientos particularly impressed as Santuzza, despite a bout of pharyngitis, singing with depth and passion. Enrique Folger brought his usual intensity to the role of Turiddu and Leonardo Estevez was correct as Alfio, as was Anabella Carnovali as Mamma Lucia in a role that doesn't offer much scope and Mariana Rewerski as Lola.
Cura as Canio in Pagliacci was a dramatic presence, yet sounded somewhat restrained compared with his Otello (of which I was reminded, although hardly necessary, when the opening section of his 2012 production was shown when he was presented with the Mention of Honour "Senator Domingo Faustino Sarmiento" for his achievements in the week before this production opened). Fabián Veloz was impeccable in the prologue and ably brought to life the character of Tonio. Monica Ferracani was a fine Nedda, while Gustavo Ahualli was a rather colourless Silvio and Sergio Spina an over the top Beppe.
And all ably supported by the chorus and children's chorus.
Jonathan Spencer Jones