Switzerland Brahms, Mahler, Lili Boulanger, Nadia Boulanger, Sibelius: Liederabend, Nina Stemme (soprano), Matti Hirvonen (piano), Zürich Opernhaus, Zurich, 3.12.2015. (RP)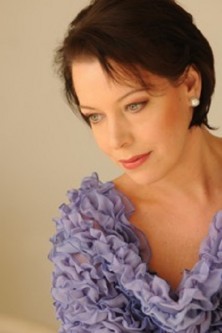 Brahms: "Liebestreu," Op. 3, No.1; "Botschaft," Op. 47, No. 1; "Meine Liebe ist grün," Op. 63, No. 5; "Auf dem Kirchhofe," Op. 105, No. 44; "Von ewiger Liebe," Op. 43, No. 1
Mahler: "Liebst du um Schönheit" (Rückert-Lieder); "Wo die schönen Trompeten blasen" (Des Knaben Wunderhorn); "Blicke mir nicht in die Lieder" (Rückert-Lieder); "Das irdische Leben" (Des Knaben Wunderhorn); "Ich bin der Welt abhanden gekommen" (Rückert-Lieder)
Nadia Boulanger: "Les lilas sont en folie," "Soir d'hiver," "Was will die einsame Träne"
Lili Boulanger:  "Attente," "Au pied de mon lit," "Si tout ceci n'est qu'un rêve"
Sibelius: "Törnet," Op. 88, No. 6; "I systrar, i bröder, i älskande par," Op. 86, No. 6; "Den första kyssen," Op. 37, No. 1; "Soluppgång," Op. 37, No. 3; "Flickan kom ifrån sin älsklings möte," Op. 37, No. 5; "Var det en dröm?," Op. 37, No. 4
Dramatic sopranos face challenges when they venture into the recital hall. Just how do you scale down those magnificent voices that soar above massive orchestras, singing some of the most viscerally thrilling music ever composed, to suit more intimate, small-sale works where a far broader range of dynamics is required? Nina Stemme, in her recital at the Zürich Opernhaus, did so in part by her choice of repertoire, programming dramatic ballads that suited her voice and temperament perfectly. Her middle range is rich and lustrous, with a wide palette of colors at her command. Many of the songs sat there, which displayed her  wonderful way with text and vivid vocal characterizations. However, the more lyrical songs required quick register changes and floating notes a bit lower in her vocal range than is required in opera; at this stage of her career, Stemme does not have that sort of vocal agility.
Matti Hirvonen was her superb partner at the piano. In the Brahms songs, especially "Liebestreu," "Auf dem Kirchhofe" and "Von ewiger Liebe," his playing was full of drama and passion. He can set a mood instantly. Often a piano is an inadequate substitute for an orchestra in Mahler's songs, but not so here. The introduction to "Wo die schönen Trompeten blasen" was stunning in its complex range of dynamics and colors, as was his playing in Mahler's "Ich bin der Welt abhanden gekommen." The piano lid was raised to its highest level, which afforded a perfect balance with Stemme's voice and flooded the hall with sound. However, it also contributed to a certain dynamic sameness throughout the concert. Loud was the order of the evening, but then again, Hirvonen was not accompanying an Emy Ameling.
Leaving the Sibelius and the two encores aside for the moment, Stemme was best in the three most dramatic songs on the program. Brahms' "Von ewiger Liebe" is a dialogue between two young lovers. The lad, concerned that his girlfriend is the subject of shame and ridicule on account of him, suggests they part now rather than later. The maid, unwavering in her devotion, declares that their love is stronger than iron or steel and will last for eternity. Hirvonen set the somber mood instantly in his brief introduction, and Stemme's opening words, "Dunkel, wie dunkel" (Dark, how dark), almost whispered, were rich and resonant in the depths of her voice. The young man's torment and the girl's tender yet firm resolve were vividly depicted. The climax, where she declaims their eternal love, rang out triumphantly. This is a song for a dramatic voice and nature, and a singer needs more than a loud voice to pull it off. Stemme was excellent.
Mahler's "Das irdische Leben" has to be one of the most harrowing songs ever composed. Once again it is a dialogue, this time between a starving child and its mother, who can offer comforting words but little else in terms of sustenance. As the long-promised bread is finally baking, the child lies dead. Stemme captured the desperation in the higher-lying pleas of the hungry child, in marked contrast to the resignation in the mother's voice at the other end of the scale. A final, piercing high note is no challenge for her, and here it was a terrifying conclusion to this tragic tale.
Although set at Christmas, Nadia Boulanger's "Soir d'hiver" does not tell of the peace and joy of the season, but rather of a mother alone with her baby, deserted by the child's father who is off at war. She starts to sing a comforting Christmas song, but falters and wonders aloud whether the father will return to her and his son. Unfamiliar with the song, I assumed that it was influenced by Claude Debussy's "Noël des enfants qui n'ont plus de maison" from 1918, a child's prayer that tells of war orphans without parents, homes or shoes: soldiers have killed everyone and destroyed or stolen everything. Boulanger, however, was first. Her song was composed at the beginning of the Great War, setting a poem from decades earlier. As in the other two songs, Stemme exquisitely captured the poignancy and the hope, however slim it may be.
The Sibelius songs were weighed down by aural fatigue from the dynamic sameness that had come before. That was a pity as they provided some of Stemme's most sensitive singing. In "Den första kyssen" (The first kiss), when she asked the Evening Star what the heavens think when they witness lovers kissing for the first time, her voice was tender and light. Great warmth was evidenced in the final lines of "Soluppgång" (Sunset), one of Sibelius's most atmospheric songs, where she sang of a knight sounding his horn as the sun sets in a wash of red and gold. Stemme ended with "Var det en dröm?" (Was it a dream?), casting a spell with her soft, wistful reminiscence of a long ago love.
The two encores evidenced artistry at a much higher level, as Stemme sang from memory, freed from occasional downward glances at the music stand in front of her. The first was Sibelius' "Svarta rosor" (Black Roses). It is one of the composer's most popular songs, and with it Stemme returned to the themes of lost love, anguish and grief. The chosen key was a bit higher than those of the prior songs: a small but telling difference which permitted Stemme's voice to soar more freely. Announcing that the next encore would be by Wagner (with a tongue-in-cheek profundity), the audience sighed when she said "Träume." These songs resonate at a different level here, as the Wesendonck estate was just across the Lake of Zurich from the opera house. Stemme sang with much warmth, her beaming countenance heightening the intensity of emotions in her voice. It was a long wait, but we did get to hear Stemme at her estimable best.
Rick Perdian