Germany Bizet, Carmen:  Soloists, Sächsischer Staatsopernchor Dresden, Sächsische Staatskapelle Dresden/Giuliano Carella (conductor), Semperoper, Dresden, 14.5.2016. (MC)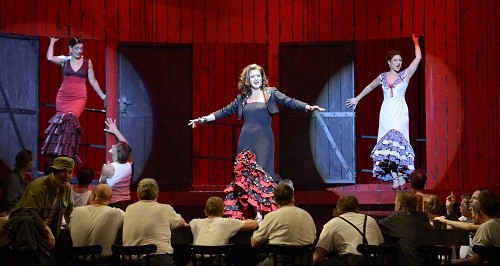 Bizet, Carmen
Cast:
Carmen: Elena Maximova
Don José: Daniel Johansson
Micaëla: Heidi Stober
Escamillo: Kostas Smoriginas
Remendado: Timothy Oliver
Dancairo: Simeon Esper
Zuniga: Tilmann Ronnebeck
Moralès: Bernhard Hansky
Frasquita: Tuuli Takala
Mercédès: Angela Liebold
Lillas Pastia: Michael Auenmuller
Production:
Director: Axel Kohler
Set design: Arne Walther
Costumes: Henrike Bromber
Lighting: Fabio Antoci
Choreography: Katrin Wolfram
Choir: Jorn Hinnerck Andresen
With Bizet's Carmen having such an excellent libretto and containing music where one hit follows another it's hard to believe today that at its 1875 première at the Opéra-Comique, Paris the four act opera was a failure. Poignantly Bizet died three months later without any conception that Carmen would achieve enduring worldwide fame.
As Carmen is one of the most frequently staged of all operas it's not surprising that directors will wish to add their own personal touch to a traditional staging,; naturally some will even want to change things drastically. It's rare to experience a really excellent performance of this great work and I was fortunate to see a 2014 Bayerischen Staatsoper revival of director Lina Wertmüller at Munich. This was a traditional staging by Wertmüller that communicated the essential stifling atmosphere and colourful aspects of Bizet's score, transporting the audience back to nineteenth-century Seville to the mighty iron gates of the distant cigarette factory.
Here at Dresden the vision of director Axel Kohler and set designer Arne Walther was a contemporary one with some imaginative alterations: a gratifying, fast moving scenario which was compelling on the eye as well as the ear, without a suggestion of a whiff of tedium. The set was dominated by what can best be described as the inside of a wooden barrel, as big as a house, hinged to open and shut. This served as the cigarette factory where the women worked, the inside of Lillas Pastia's taverna and also the smuggler's camp. Quite why the cigarette factory was guarded by a corps of armed soldiers checking people with metal detectors as if it were a nuclear plant was a mystery.
Almost made for the part of Carmen Russian mezzo-soprano Elena Maximova, an outstanding actress, was a suitably minx-like, free-spirit, displaying Italianate passion both vocally and in her convincing acting. Although not looking like the stereotypical raven haired, swarthy looking gypsy, whom we have come to expect in the role, Maximova was very much the temptress in her Act 1 'Habanera'. Assured and vocally focused the mezzo displayed excellent projection with a dark, deep and attractive rather than beautiful tone. Dressed initially in a leopard print slip showing almost as much flesh and behaving as badly as Anna Caterina Antonacci in Francesca Zambello's new 2006 Royal Opera House production, Maximova was in flirtatious mood. Suitably seductive in her 'Seguidilla' from act 1 the buoyant Maximova seemed to own the stage.
Don José the army corporal was played by Daniel Johansson. Dressed in a t-shirt and dark blue army trousers the tall Johansson doesn't seem a natural actor, having limited stage presence. Any Don José has to bear comparison to Jonas Kaufmann who set new standards on his role debut in that same Zambello 2006 production, and on this evidence the promising Johansson is a considerable distance away. From Act 2 the famous 'Flower Song' must be a tenor's dream and, red flower in hand, Johansson sang it well. Although the scene involved a near dizzying amount of perambulation between Don José and Carmen, the sexual tension they created is fixed in my memory. The tenor sang well enough and delivered a moderate degree of expression.
Heidi Stober was a delightful Micaëla decked out in a white raincoat and carrying a duffle bag. Acting well as the introverted village girl in Act 1 in her aria 'Je dis que rien ne m'épouvante' Stober displayed a small voice which doesn't seem especially comfortable in lower notes but in her higher range under pressure she flourished.
It can be a thrilling moment when in act 2 the handsome toreador Escamillo, dressed in a colourful chaquetilla, bursts onto the scene with great grandiosity. Here Kostas Smoriginas as Escamillo in a plain white shirt and dark trousers entered with a mere whimper. His bass-baritone, lower than I usually expect for Escamillo, had little vocal colour relying mainly on dynamics. Later Escamillo and his fellow bullfighters were awash with vivid colour. Escamillo's famous 'Toreador Song' was engagingly sung by Smoriginas with confidence but lacking the amount of arrogance that can completely capture the essence of the famous toreador.
It felt as if only the key cast members had been focused on and consequently the quality of the supporting cast was rather workaday. On the large round table at Lillas Pastia's taverna the standard of the flamenco dancing of Frasquita and Mercédès was barely credible and thankfully Carmen soon joined them to demonstrate how it should be done. The same luckless pair could hardly bring any enthusiasm to Carmen's 'Card Song' with its lethal consequences.
Impeccably trained by Jorn Hinnerck Andresen the choir was in excellent voice and made a significant impact. Under conductor Giuliano Carella the playing of the Staatskapelle Dresden was gold standard, with the five double-basses marvellously underpinning the sound, adding significantly to this colourful and satisfying production.
Michael Cookson