United Kingdom Beethoven,  Leonore (or The Triumph of Married Love): Soloists, Buxton Festival Chorus, Northern Chamber Orchestra / Stephen Barlow (conductor), Buxton Festival 2016, Opera House, Buxton, 8.7.2016. (RJF)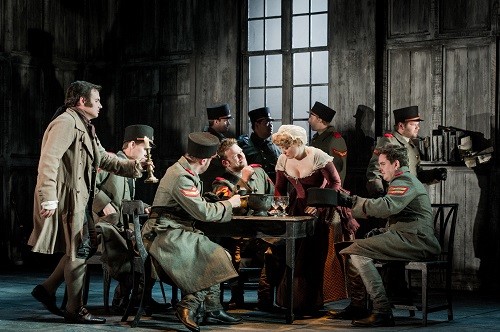 Beethoven, Leonore
Cast:
Leonore, Florestan's wife, disguised as Fidelio – Kirstin Sharpin
Florestan, a prisoner – David Danholt
Rocco, gaoler – Scott Wilde
Marzelline, his daughter – Kristy Swift
Jacquino, assistant to Rocco – Stuart Laing
Don Pizarro, governor of the prison- Hrólfur Saemundsson
Don Fernando, minister and nobleman – Jonathan Best
Production:
Director, Stephen Medcalf
Designer, Francis O'Connor
Lighting Designer, Ella Marchment
Beethoven's opera Leonora was premiered in Vienna's Kärntnertorteater in Novenber 1805. Looking back on musical history it seems strange to us today that Beethoven, widely recognised as the pre-eminent composer of his time, only managed to write one opera and that after two unsatisfactory trials and much revision. As the son of a singer and grandson of a former Kapellmeister, he must have been familiar as a boy with theatrical repertoire and tradition. Aged twelve, his teacher Neefe employed him as his deputy in rehearsals of theatre music. In later years, in Bonn, he became familiar with a wide operatic repertoire and which was further extended by the variety of works that he heard in Vienna after he had settled there in 1792.
In both Bonn and Vienna Beethoven contributed music for theatrical productions. Typically, he provided a score in Vienna for the ballet The Creatures of Prometheus and wrote arias for use in operas by other composers. However it was not until 1804 that he started work on what was to be his only opera. Enitled  Leonore and later Fidelio the work is based on a French play Leonora, or Conjugal love of 1798. Other composers also set the play as an opera. In that form it was a success in Paris and a German version by Paer in Dresden in 1804 followed. The story is that of a typical rescue opera, owing itself to an incident in the French revolution's Reign of Terror
In the period of the work's composition Beethoven was in a golden period of creativity, albeit greatly troubled by his developing deafness. He laboured over the composition for nearly two years as is reflected in the overtures he composed, Number 2 being chosen in this production. But the work was a failure at its premiere and only lasted three performances. Circumstances were mainly to blame as Napoleon's army, a week before the premiere, occupied Vienna. With the aristocrats gone from Vienna, the audience of French speaking troops was hardly ideal for a singspiel dramatic work in German!
Friends encouraged Beethoven to shorten the work with a revised libretto of two acts instead of three. This revision was performed at the end of March 1806 this time with the third of the Leonore overtures, now best known in concert performance. It was then withdrawn after two performances, apparently through Beethoven's dissatisfaction either with the performance or the financial results. After further alteration, cutting and re-orchesration the work emerged as Fidelio in 1814 in two acts and was a great success. This is the work we know today.
In over 60 years of opera going I have never seen the work in its original form as performed at Buxton this year. It is ideal Festival fare, especially when staged, conducted and sung with such excellence as was achieved on this opening night. On the rostrum Stephen Barlow conducted with drama and flare as befitted the various situations, lyric and dramatic. Francis O'Connor's set of two walls, each with numerous cupboards, served throughout with only minor additions including a cage to imprison Florestan instead of a cistern in act two with an area of the remainder of the stage seeming to be a clutter of unused furniture until Rocco begins to dig the grave intended for Florestan. The costumes were of the period of the composition with Stephen Medcalfe's production clearly revealing the emerging interpersonal relationships and drama. The only oddity was the mime show during the overture with a smart looking Beethoven struggling with composition at a five pedalled keyboard instrument and regularly screwing up and throwing away his own efforts. It was OK if that represented the composer's frustrations, but the figure also appeared in the last act as being Florestan! Anyway, Beethoven lived in somewhat untidy state, later described by Rossini as squalor, whilst this figure was much too smart in appearance!
Overall there is significantly more music in Leonore than in the contracted two act Fidelio that Beethoven presented to acclaim in 1814. Most of the additional music comes in acts one and two for Marzelline and Pizarro with both involving significant character development. Overall it extends the performance by more than thirty minutes and there are moments of longueur, I have to admit to preferring the dramatically tauter Fidelio. As to the singing in this performance it was of good standard. As with the later Fidelio, spinto or dramatic voices are needed for the husband and wife, Leonore and Florestan. As the former Kirstin Sharpin has a big voice in the making, a Brünnhilde in the future I guess. She did sound thin a couple of times, but her phrasing and diction were exemplary with her "Abscheulicher" carefully phrased and well delivered. As her imprisoned husband Florestan, David Danholt fielded a strong lyric tenor tone with a touch of baritonal hue that was up to the vocal demands of his opening lines and the dramatic remainder of act three. A notable achievement for both the singers and the casting department!
As I have noted Act One includes much of the music excised in the later contracted Fidelio and includes an appealing trio for Jacquino as he hopes to impress Marzelline as well as her father, Rocco the gaoler. In the former role Kristy Swift acted and sang with significant appeal whether in refuting Jacquino's suit or encouraging Leonore in a duet also excised from Fidelio. An appealing stage presence this Australian has great promise as does her fellow Aussie Stuart Laing as her frustrated would be lover. Both singers were notable in phrasing and characterization as was Hrólfur Saemundsson in the considerably expanded role of Don Pizarro, governor of the prison in a role that demands much strong declamatory singing. As Rocco, Scott Wilde's tall stature, avuncular demeanour and sonorous tones made for an ideal interpretation.
All in all I was pleased to see and hear Beethoven's original conception as well staged and performed, albeit I will be happy to return to the more dramatically taut Fidelio.
Robert J Farr