Piotr Beczała in conversation with Michael Cookson
It was wonderful to have the opportunity to interview star international tenor Piotr Beczała whom I met in the lounge of his Dresden hotel. There was a great feeling of anticipation in the city for the revival of Christine Mielitz's Lohengrin at the Semperoper as in few days time. Piotr was to sing the title role with Anna Netrebko as Elsa; their first Wagner roles.
My first exposure to Beczała was reviewing his albums 'The French Collection' http://www.musicweb-international.com/classrev/2015/Mar/Beczala_French_4794101.htm and 'Slavic Opera Arias' http://www.musicweb-international.com/classrev/2015/Mar/Beczala_Slavic_C814101A.htm both highly recommendable releases.
Dressed impeccably in smart-casual style wearing jeans, a light brown suede blouson and light blue t-shirt with collar up and looking much younger than his near fifty years Beczała seemed remarkably fresh after just finishing the day's Lohengrin rehearsals. I was immediately struck by his intelligence, sincerity and his focused approach, yet he still appeared eminently approachable with a natural charisma that felt slightly understated.
MC: Thank you for agreeing to see me. I know you are currently in the middle of your Lohengrin rehearsal. Actually I've recently been watching a Blu-ray of a Richard Jones staging of Lohengrin with Kaufmann wearing a blue t-shirt not chain mail, carrying a toy swan and joining in a bricklaying project with the other characters on set.
PB: Oh yes, I've seen it. There are so many modern productions of Lohengrin that have very little in common visually with the original staging. [MC: What about your Lohengrin in Dresden?] The Christine Mielitz revival we are doing here is almost like the traditional. I have a big sword, wear chain mail and we have the giant swan and all that. I really am happy to have a near traditional staging so I can concentrate on the most important things rather than the director's concept of the staging.
MC: I would like to start at the beginning, if I may? Were you born into a musical family?
PB: No, not at all, I am the first and only musician from my family. And I started pretty late too. I was 18 or 19 really when I started to sing with a chorus, then I went from one chorus to another. At school then college my education was actually studying for a technical diploma not music. Then the director of the chorus sent me to the Academy of Music at Katowice to develop my music education. Actually Katowice was my first professional opera house when I started in 1992. Then I was 6 years in Linz at the Landestheater. In 1997 I was invited to the Zurich Opera as a guest where I took over one performance from a sick colleague. After the evening's performance they offered me a contract. It was very funny how it happened because that very morning I'd had a stage orchestra rehearsal for Die Entführung aus dem Serail in Linz and sang the whole Belmonte role. Then at 1.00pm they telephoned me to come to Zurich and that same evening I sang Rinuccio (Gianni Schicchi); it was really crazy.
MC: That feels like it was ideal for you. A real break?
 PB: It was just perfect for me. Because someone who has a contract in Linz, which is a very small opera house, has virtually no chance of securing a contract in such a high quality house as Zurich; it's not usually possible. It really was good fortune for me.
MC:  Who would you say has been the most influential person in your life?
PB: To be honest Sena Jurinac [Editor's note: Soprano Jurinac 1921-2011]. She was my first guest professor. I was a student in 1988 and I did my first master class with her in Austria in Linz. She really taught me all I had to do with my voice, especially with my choice of repertory. I'd sung repertory that was too heavy such as Cavaradossi (Tosca), whatever, and she told me to just go back and sing Mozart. Mozart was the right repertory for my voice and personality at that time. At music education level everyone is expecting results. Singing Tamino (The Magic Flute) is not as spectacular a role as it would be singing Cavaradossi, Calaf (Turandot) and Don José (Carmen) for a 21 year old tenor. These are glamorous roles. But to step back and to have more perspective to your repertory is very important in your life as a singer.
MC: Regietheater, Regie-opera is a much used term in the opera world today. Has the role of the director become too important in opera?
 PB: I love to hear the singers from the past, and the great conductors and read all the stories of opera. Sixty years ago the most important figures in the opera house were the conductors but from the 1970s and 80s it has all changed in favour of directors. I don't know the reason, it has just evolved. There is nothing inherently wrong with that, I like really smart productions. You need singers, you need the orchestra and of course you need the conductor. You know in an extreme situation we can do the production ourselves, more or less. The stage director is the bonus, bringing something extra to the production. I believe that the director's time is slowly ending and we will come back to a more balanced situation on the stage, where conductors become more important and singers too are left with more freedom and are not mere toys in the hands of directors. Matters have gone completely the wrong way.
MC: I'm sure audiences don't generally like this over emphasis on directorship.
PB: The directors that we are talking about don't care about the public and audience. I heard a very long interview from one of these directors and he said that actually the art of him, of what he is doing, what he creates, and his creation doesn't need other factors, doesn't need the public. Oh yes! Like a masterpiece. For example, a painter doesn't paint for the public; he paints because he has created something. Michelangelo created something not for someone to see it but because he needs to make this creation. This is the most wrong thing I've ever heard because opera productions are not creations. The creation is the opera itself with the composer and librettist as its creators. There is a huge difference. Yesterday was the start of the Cannes Film Festival. You see a film director has all the freedom in the world to create something because he wrote the scripts, he can perform in it, he can direct it, make it his own creation. Opera, I'm sorry, but the story is already done, the emotions are already in the music and the words. It's a big challenge for an opera or stage director to do something really good on stage because they are under great pressure to do something new, different, extra, and provocative; it's a crazy situation…  I don't want to play this game, you know, because I feel some responsibility for the composer and the librettist. For me that's interesting enough. Take Lohengrin that I'm doing now, it's a fantastic story and it doesn't need anything else.
MC: There must have been situations when you couldn't work with a particular director?
PB: My approach is to try to avoid problems. I have been 25 years on the stage now and so I know virtually everyone involved in stage production. I know those who I believe make very bad productions in my opinion and I try to avoid them. I've never had too much of a serious problem with directors. Once during a production we had some discussions during the first 5 days of rehearsals because the ideas of the director were quite far away from the original story. It was interesting, it wasn't disgusting or anything like that, but we couldn't make it without being ashamed of it. For me modernity is not a bad description of the opera world today. What is really bad is that someone who doesn't like opera is working in opera as a stage director. I can recognise these people immediately. If you spend a couple of days reading reviews and chatting in interviews with people you soon get a picture of the problems of the opera world. Even then it's not always guaranteed to be able to recognise the problems before they happen because someone who is famous for bad productions, crazy productions, and disgusting productions suddenly could make something great. I know colleagues who have quit productions because of the director's intentions.
MC: What about singers at the start of their careers who can't quit?
PB: That's the pressure singers are often put under; the stage director uses the power they have to push singers into doing things. But with me they know they can't. No chance! [MC: Because you're established?] That's right. I wish more of my colleagues would have more distance from all this craziness on stage. But I've noticed that some just don't care, you know. They want to be paid and that's all they care about. But that's not enough in my opinion. I know colleagues who like being naked on stage and have 2 gallons of blood poured over them. [MC: You'd never submit to all that.] Never! It's just not for me… Look, I realise that Salome and Elektra contain a lot of violence. But you don't have to show everything one to one. Not even the notorious film director Quentin Tarantino shows everything that he might with heads cut off etc, etc. It's too much. I think art, especially high art such as opera needs a little distance and space left for the imagination, that's very important. Yes, you must leave something for the imagination of the audience, who are not stupid. They just want to be entertained, have an exciting evening at the opera, but excitement is a word with wide interpretations.
MC: Which of your signature roles do you enjoy playing the most?
PB: For many years I was singing French and Italian repertoire. I did the title roles in Werther one of my favourite roles and Faust which I've done many times and I'm still doing it. In fact, I'm doing a new Faust in August at the Salzburg Festival. For my voice type the French Romantic Opera fits so well. Also Italian Opera such as the Duke in Rigoletto), Riccardo (Un ballo in maschera) and Edgardo (Lucia di Lammermoor) are best suited to me. As I am Polish I admire the role of Stefan in Straszny Dwór by Stanisław Moniuszko and I'm doing the Prince in Rusalka a lot… [MC: It's more than a one-aria opera.] Oh, much more than just the soprano aria Song to the Moon; much more interesting and colourful.
MC: Do you have a particular opera that you consider to be undeservedly neglected?
PB: Well I'm still waiting for Polish opera to be played in major opera houses. [MC: There is Szymanowski's King Roger.] Yes King Roger is performed but apart from that there are a couple more that deserve to be performed. In 2019 we are doing Moniuszko's Halka at Vienna which will be a new production.  The whole world plays
Czech and Russian opera even those which nobody knows like say an unusual Prince Igor or something. Halka is a really special story and there is no reason why a Polish opera cannot be presented in a major opera house. Yes there is a lot of scope and I made the suggestion that we do Moniuszko's Halka in Vienna. It's cool because it's really great music.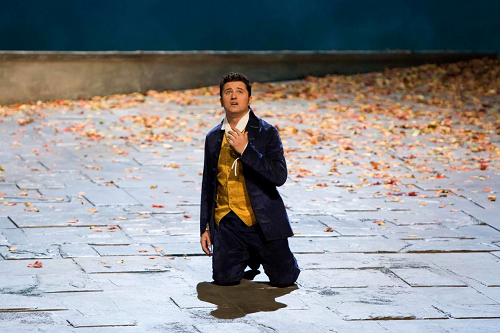 MC: What are your thoughts about streaming live opera to cinemas which seems much more established now?
PB: I like it very much. Because I come from Czechowice-Dziedzice, a small town in Poland of less than 40,000 people. There is no music school there but since 2013 there has been opera streaming into the town cinema from Covent Garden, London and the New York Met and with the modern technology the results are terrific. Because 90% of that audience will never visit the New York Met, maybe London as it's closer to Poland, cinema screenings are their only opportunity to see a substantial, lavish production. It works really well… I remember the first one to be screened that I was appearing in it was in 2009 Lucia di Lammermoor with Netrebko at the Met. Since then I've done 6 or 7 cinema screenings. [MC: What about the forthcoming Lohengrin here, I've seen posters for that?] Well my Lohengrin here in Dresden is something different as it's being screened in the square outside the Semperoper on large LED screens. But for screenings in the cinema you sit as you would in the opera house. Actually some people go wearing tuxedos. Yes, it's a very successful medium and it reaches out worldwide. My parents attend every cinema opera screening and of course people can watch at home on their computers. It's good and it brings opera to the people who wouldn't normally go to an opera house. [MC: Is this concept good for a singer's fee?] No, it makes no difference to my fee; it's the same. [MC: It's additional exposure, it gets your name out there.] Absolutely, absolutely! I like the principle very much.
MC: An internet search of your name brings up a number of web pages concerning the problem you had in 2013 at La Scala, Milan with some hecklers.
PB: Yes, there were some boos but they were from only handful of people not the vast majority of the audience who were applauding. That's all there was to it and it's all in the past now. I love to sing at La Scala and I've been singing there since 2006 when I sang the Duke in Rigoletto with Riccardo Chailly conducting. Next month (16th June) I'm back at La Scala to give a solo recital and I'm looking forward to it.
MC: Now a change of tack if I may. I was wondering what you think of crossover albums?
PB: It's not really my cup of tea. I did this recording of 'Heart's Delight – The Songs of Richard Tauber, a collection of operetta by Franz Lehár, Robert Stolz and Emmerich Kálmán. All these songs were written for operatic tenors like Richard Tauber, Jan Kiepura and Joseph Schmidt. Crossover, well I like Neapolitan songs but we are in the opera world, we are not in the pop world. I realise in England they like this 'going over'. [MC:  Do they?] Oh yes! But it's not my thing really.
MC: I'm looking forward to hearing your Lohengrin. I'm attending the opening night on Thursday the 19th. How do you feel about the production?
PB: Did you know three of the main cast are singing their roles for the first time. This is my first ever Wagner role and Anna Netrebko's too. Tomasz Konieczny the bass-baritone is singing his first Telramund but of course he has sung Wagner lots of times in opera houses around the world. But Anna and I are singing our first ever Wagner productions and we are really excited. The opportunity to work with Christian Thielemann and to come together with Anna is thrilling. Christian Thielemann asked me to sing Lohengrin four years ago. For me he is one of the best conductors I've worked for. [MC: A Wagner specialist too!] Especially in Wagner because he not only understands the music, he loves the music. His knowledge of the whole Wagner world is so extensive. In rehearsal we have been doing fantastic work and now it's about detail. Yesterday was the first orchestra rehearsal; it was just amazing. In 7 days time on the 17th May it's the dress rehearsal and the opening night on the 19th.
MC: What about any rituals or superstitions before you go on stage?
PB: Some small routines. My routines – I eat some pasta some four hours before the performance; not later, because I don't sing on a full stomach. I have my warming up routine. It works for every opera but more importantly I'm not going crazy if a black cat crosses my path, you know.
MC: I have spoken to singers who have tried all sorts of things to overcome terrible nerves and stage fright.
PB: You know when you are well prepared, you know your voice, you can sing well then nothing can happen. You have to be professional. The big art happens on the stage, but everything before is preparation. People who get nervous and have stage fright can go to professionals in that field who can help them.
MC: The mezzo-soprano Brigitte Fassbaender told me that she was on stage during a long Wagner scene and her tenor fell asleep. Have you experienced any amusing incidents on stage?
PB: Well we hear of many amusing incidents but it's not always easy to distinguish reality from what are just stories. Things on the stage do happen and there are funny incidents that usually happen in the last performance in a run. If I'm doing, say ten performances of Rigoletto in the last performance something funny will invariably happen on stage. For example during the run of Eugene Onegin at the Met it involves me coming on stage with a small glass of fruit juice for Anna but for the last performance I took a huge glass of pickles instead and placed it in her hands. Anna then took a pickle and handed it to Onegin and they sing their duet with a pickle in the hand. It was hilarious! But this is only for us; the audience won't see the joke.
MC: What about difficulties with fellow singers on stage?
PB: Not really with me. In this work you have to be very professional. Everyone knows each other really well. We are good friends actually. At my level there are maybe five or six sopranos in the world that I am singing with. The same goes for baritones and basses. We all know each other and have a really good relationship. Of course you get on better with some more than others and when you work with special friends you are happier. It's very individual. You see I love to work with Anna Netrebko. She is a great singer and she is a friend of mine. We have known each other for 11 or 12 years now. We have done Gala Concerts together. We are friends with each other privately and we live in the same building in New York. But I am based in Zurich and also have a place in Vienna which is how my personal life is organised.
MC: I'd like to know about changing roles as you get older?
PB: Well, as singers get older and I'm 49 now, it's probably best to leave some roles to the younger generation. I could keep doing Lensky from Eugene Onegin for the next 20 years. It's not so much fun now. I need more stimulation, more challenges. For example there is the same thing with Anna, she did two comedy roles Adina (L'elisir d'amore) and Norina (Don Pasquale). Now because her voice is bigger, it has changed and she is ready for new challenges too. As the voice changes it happens in two ways. First you don't control it and you are surprised that your voice has changed and you have no idea what to do with that and how to handle it. Secondly you see and feel the change happening and you manage it. This is how I deal with changes in my voice. When I prepare a new role or do exercises for some roles, I'm doing exercises to check in what direction my voice has changed because the process has been happening over years. It can happen when for example you sing incorrectly or sing 25 years of Mozart then sing Lohengrin. The voice has changed because it's too heavy, too different and you have to do something completely different. Then you'll be surprised that your voice doesn't work in the normal way. I am for example singing more Un ballo in maschera (Riccardo), Faust and Rigoletto (Duke) because I'm preparing my voice for heavier repertoire with more tension. I'm preparing for future roles maybe Il trovatore (Manrico) and Aida (Radamès). These are the next step for me. I believe in developing the voice. Of course you can leave it and see what happens or you can manage the situation. It's step by step for me. I have no idea how far my voice will change in the next couple of years. But looking back over the last few years the process is not very fast. There are some roles with which you can check what the process has had on the voice like Faust. The prologue of Gounod's Faust is very deep and very dramatic. When your voice can handle it, it means it is possible to go one step further like I'm doing now with Lohengrin. Or roles that I'm doing next year: Maurizio (Adriana Lecouvreur) with Anna and  then I'm doing Don José (Carmen) in two years for the first time. It's just one step forward and I keep the role in my repertory, not just for one performance or one season, which is very important.
MC: I realise that many singers play the piano and I was wondering if you play?
PB: No, not really. We don't discuss this? [Laughing] No, I don't play to any reasonable level. You see I started my music education relatively late so it was too late to progress to a reasonable level with any instrument. So I give work to a lot of pianists who can perform with me as accompanist. There are many trained pianists around and very few can be concert pianists so they can work with singers like me.
MC: Of all the conductors that you have worked with do you have a particular favourite?
PB: Yes I have a catalogue of favourite conductors. The first conductor who had a big influence on my career was Nello Santi; who is 85 now. In Zurich I did with him two productions Un ballo in maschera and Rigoletto and I learned so much about Verdi singing. Nello Santi has conducted for 65 years already and he's still conducting. He really is a genius. To be admired by someone who has conducted all the great tenors over the last 50-60 years is such a pleasing feeling.
MC: Opera singing seem such a glamorous occupation. How different is the reality?
PB: Well, it mainly depends on the production and where we are. Sometimes we are working like dogs. You see the public see a Gala performance or a Première with all the limousines and the tuxedos, the 5 star hotels. But the reality is not usually like that. I can be in a city, in some apartment, eating sausages for breakfast, drinking instant coffee, all the way to the rehearsal. We are all workers. Of course in the evening you have to be dressed well. Naturally I enjoy the good wine, the fine clothes and all the good things in life which are a bonus.  But mostly in the year nobody cares. We just go to the rehearsals and the process is very simple and normal like the routine of any worker in the world. Even worse for us is that a normal worker goes home at night from their day at work but we are travelling all the time. All the time travelling: a month here, a month there. Then you take the suitcases, and golf bags, and pack them and take them to the next city and repeat the process again and again in another city. What I hate most in my professional life is the day after the final performance. I'm very fortunate that my wife is a master of logistics. She is able to make order out of this chaos. The day after the performance you have to put all your belongings together, all the vocal scores together in one suitcase with all your clothes. You have no butler; you take all your own things to the car and go to the airport. You are tired from everything. [MC: It certainly doesn't sound glamorous.] Oh, it certainly is not… But I have to accept it and somehow try to like it. I am really grounded and know I have to accept things in my life. What I can't accept is stupidity, ignorance and arrogance in people. And all these things are usually found in the same people. [MC: Accepting the things you cannot change.] Exactly, that's a great philosophy for living your life I think. It's human nature to fight things but there comes a time when you have to say to yourself, No!… I do enjoy my life for the most part. We don't have children but my wife and I are 24 years married – I have say to the same wife – which is a long period for an opera singer; it's really rare and makes a big difference. This life is much easier when you are together with someone like my wife. When you are alone, especially a woman singer, that's complicated. I think that the best solution would be for the singers to marry the conductor. [MC: Like Magdalena Kožená with Simon Rattle and Kristīne Opolais with Andris Nelsons.] Yes, it's such a good combination and it applies also with pianists. 2 singers in a partnership or marriage is always a problem as it's unlikely that someone will want to hire 2 singers for the same production. It would be a rare situation. My wife was also a singer so she knows the business.
MC: How do you deal with your performance reviews? Do you read them?
PB: Well I get reviews sent to me through the house press offices. I do look through them. I'm especially interested in them when I'm doing something new. Yes, I am curious what they write. I can soon tell if the writer knows what he is talking about. I like reading them if someone is thinking about what is happening on the stage, about the details of the presentation and the voice. When the review is properly written I like to read them. I also like to look back over reviews of singers of past generations. There is a biography of the great Enrico Caruso which contains a lot of his reviews virtually every performance of his opening nights from say The New York Times, The Washington Post, whatever. It's very interesting; like a reflection of that time.  It really happened, someone was there. [MC: A window into that time] Exactly! A review doesn't have to be a huge explanation of how wonderful a singer was, but just how he was, the reviewer's personal impression of how this singer was in the performance that evening.
MC: Well Piotr, we've been talking for almost an hour and I'm conscious of the time. Thank you so much for giving me the interview.
Michael Cookson