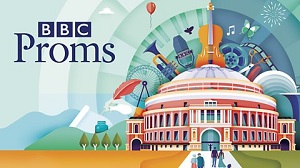 United Kingdom Prom 33 – Mark Simpson, Dutilleux, Maxwell-Davies, Elgar: Johannes Moser (cello); BBC Philharmonic/ Juanjo Mena (conductor), Royal Albert Hall, London 9.8.2016. (CST)
Mark Simpson: Israfel
Henri Dutilleux: 'Tout un monde lointain …'
Sir Peter Maxwell-Davies: Sir Charles his Pavan
Elgar: Symphony No. 1 in A flat major Op. 55
Juanjo Mena's second appearance with the BBC Philharmonic at this year's Proms saw Henri Dutilleux's searingly seductive cello concerto, Tout un monde lointain …, framed by the London premiere of Mark Simpson's Israfel and Elgar's monumental Symphony No. 1 in A flat major, in a programme that showcased the orchestra at the height of its powers.
Simpson is very much a creative man of the moment. The BBC Philharmonic's Composer in Association's dual career as clarinettist and composer certainly keeps him busy but with the recent NMC release of his music, Night Music, having received a highly positive critical reaction, it is as a composer that the former BBC Young Musician of the Year appears to be making his most significant mark.
Drawing its inspiration from Edgar Allan-Poe's response to the Koranic angel Israfel, Simpson's bold intention to create a work that "sang, floated, morphed, moved, moved us, lifted us, had power, had fragility, had hope, uncertainty, beauty – something other worldly, something transcendental – something to shake us" appears an ambitious creative quest indeed, although his kaleidoscopically colourful twelve minute journey from music of mysteriously restless, singing tones to a second half that built with masterful pacing to a bold, almost John Adams-like ecstatic climax certainly packed a punch and revealed a composer with a fine textural ear that isn't afraid to write music of honest, emotional directness.
If the name of German/Canadian cellist Johannes Moser isn't immediately recognisable, it is perhaps due to his devotion to contemporary music, and it was that devotion that shone through his performance of Henri Dutilleux's Tout un monde lointain … (an entire distant world) with piercing intensity.
It's a work that the soloist has known since he was ten-years-old having discovered a recording in his father's record collection (it was also one of Dutilleux's personal favourites amongst his slender, fastidiously crafted catalogue of works), being a concerto of glorious mysticism, colour and harmonic and textural clarity.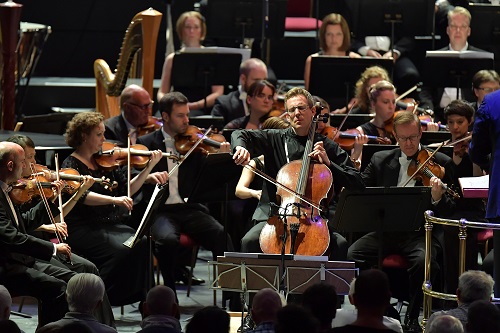 The work is cast in five continuous sections, and Moser's intimate relationship with the music saw him deliver an  evocative, deeply passionate account of the Baudelaire-inspired score, in which he proved equally at ease with the virtuosity of the second movement ('Gaze') in which the composer calls for playing of stratospheric register, as with the erotic sensuality of the final 'Hymne' and its searching, inconclusive dying bars.
With the BBC Philharmonic providing accompaniment every bit as highly charged as the response of the soloist, Dutilleux's mesmeric music was revealed in all its seductive splendour to a highly appreciative, if somewhat smaller than usual Albert Hall audience.
Although not mentioned in the Proms Guide, the inclusion of Peter Maxwell Davies' Sir Charles his Pavan, played in tribute to the late composer by the orchestra to which he was so closely acquainted for many years and eloquently introduced to the audience by first violin player Julian Gregory, proved to be a haunting, tonally ambiguous yet gently dignified choral, originally written upon the death of Sir Charles Groves. Its performance in memoriam 'Max' could hardly have been more fitting.
With Elgar's Richter-revered Symphony No.1 forming the conclusion to Prom 33, Juanjo Menja's ultimately majestic interpretation might have lacked a touch of intensity in the opening movement but more than made up for it in playing of glorious sensitivity in the third movement Adagio.
From the initially hesitant announcement of the principal theme in the opening of the first movement Andante, the BBC Philharmonic's playing was never less than dignified, characterful and at times, radiantly patriotic, yet it also left the nagging feeling that the emotional depths of the music were not quite fully revealed.
There were no such concerns in the ensuing scherzo (Allegro molto), in which the scurrying violins of the opening were announced with startling clarity, aided by bravura brass interjections and playing of both swagger and startling dynamic contrasts. The finest playing however was reserved for the third movement Adagio, in which Mena allowed Elgar's wonderfully emotive melodic lines to unfold with wonderful delicacy, allied with quiet dynamics of heart stopping beauty.
By the time the performance reached the final blaze of glory as the opening theme returned to triumph over all, any doubts about the opening movement had been well and truly forgotten as the BBC Philharmonic brought Prom 33 to a conclusion of radiant affirmation.
Christopher Thomas