China Vine, Ravel, Dvořák: Hélène Grimaud (piano), Australian Youth Orchestra, Manfred Honeck (conductor), Shanghai Oriental Art Center, Shanghai, 31.7.2016. (RP)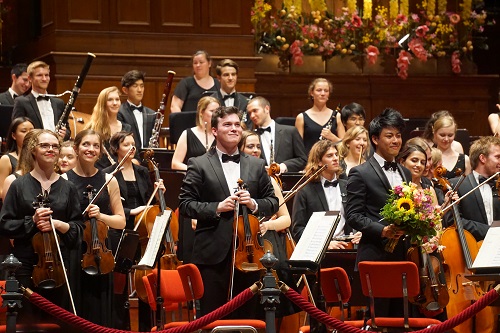 Vine: Celebrare Celeberrime
Ravel: Piano Concerto in G major
Dvořák: Symphony No.9 in E minor, Op.95, 'From the New World'
After two weeks in Europe, the Australian Youth Orchestra (AYO) is wrapping up its 22nd international tour in China, prior to returning home for concerts in Sydney and Melbourne. Since opening its doors on July1, 2005, the Shanghai Oriental Art Center has hosted some of the world's great orchestras. You can add the AYO to the list. Founded in 1957, the AYO is a collection of the finest young musical talent in Australia. Concerts by youth orchestras always give me a lift, but at times I wonder just how far the definition of youth can be stretched. Not so with the AYO: instead you wonder how those astonishingly youthful musicians can play with so much emotion and verve across so many styles.
Carl Vine was born in Perth and made an Officer of the Order of Australia by Queen Elizabeth II in 2014. His works include classical dance, symphonies, concertos and a wide range of chamber music, as well as scores for film, television and theatre. Celebrare Celeberrime was commissioned by the Dayton (Ohio) Philharmonic Orchestra in celebration of its 60th anniversary in 1994, and is dedicated to Isaiah Jackson, then its conductor. The fanfare starts with the growl of a muted bass trombone, followed by a gorgeous swirl of harp and strings, before evolving into a freefall of exciting, driving rhythms which underpin whirling melodies. It is over in a flash. Vine describes it as a joyous work, hopefully leading the audience on to anything that might follow.
Maurice Ravel's Piano Concerto in G major is not just any work, and Hélène Grimaud is not just any pianist. Ravel infused the concerto with the jazz sounds that he had heard in Harlem and New Orleans during his tour of America in 1928. In some ways, the concerto is a glimpse into the future, as Ravel's rhythms, colors and textures become part of the fabric of mid-20th-century American music. Ravel is suited to Grimaud's highly personalized style, with her emphasis on clarity and meaning, and its jazz elements gave her particularly wide expressive berth. Her playing of the long, slow melody that opens the second movement was gentle and dreamlike, with Honeck achieving an astonishing transparency in the soft orchestral accompaniment. Grimaud's playing was so rich and complex that one barely sensed the change in texture when the orchestra was silent.
The luxury casting of Honeck and Grimaud, however, was but a means to an end. Two more generous musical partners for the ASO would be hard to imagine, but the orchestra held up its part of the bargain. Both the Ravel and the New World Symphony are rich with solo passages that showcase individual talents and require entire sections to perform as virtuoso ensembles, especially the Dvořák which demands that the strings play sweeping, throbbing phrases. What a wealth of talent was displayed. The faces of some of the musicians were a study in focus and intensity, while others bore smiles and displayed just a bit of wonder at the music they were making. And as is almost always the case, you have to wonder if insouciance is hard coded in trumpet players; they were the epitome of cool and calm.
Honeck strove not only to achieve a polished performance, but to inspire. One instance was the well-known melody from the New World Symphony's second movement, played with exquisite tenderness and heart-aching beauty by the solo English horn; she knew the part by heart, her eyes never straying from Honeck's baton. (I could have just as easily written of others, but I am an American far from home, so you have to indulge me on this one.) Honeck never compromised his artistic standards, especially in his broad, expansive vision of the Dvořák. There were times when the orchestra had to race to keep pace with his tempi and phrasings, but they did. And isn't that part of the fun, a master taking his young charges a bit by surprise and driving them to new heights?
Shanghai will be home for the next nine months. My first Saturday night here found me at Yuyintang, one of the city's oldest underground live music houses, listening to a trio from Naples, Italy. The music was laid back and so was the crowd. One musical surprise was a John Dowland lute song, sung without accompaniment by the lead singer. The other was that we three Americans were shushed. It was a club! Most, however, listened in silence, all the while taking photos and recording the music on mobile devices.
I am about to commit heresy. In concert halls, Chinese ushers are among the world's most fervent enforcers, wielding illuminated signs with the various thou-shalt-nots in both Chinese and English, and often laser pointers to target offenders, but it's a thankless task and a losing battle. That reality struck as Honeck and the AYO spread joy playing the music of Johann Strauss as their final encore, with countless devices preserving the moment. The temptation is just too hard for many to resist.
Rick Perdian