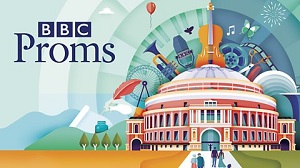 United Kingdom Prom 60 – Bach, Bruckner: Christian Gerhaher (baritone), Bernard Heinrichs (oboe), Gustav Mahler Jugendorchester / Philippe Jordan (conductor). Royal Albert Hall, London. 30.8.2016. (JPr)
Bach – Cantata No.82, Ich habe genug
Bruckner – Symphony No.9 in D minor
Firstly, this was a very well-attended Prom, but the question was why? Clearly the audience are becoming more selective and not turning out in force for everything. It was a strangely programmed evening: there was 20 minutes of intimate Bach followed by a 25-minute interval and then barely one hour of Bruckner and that was it. I know that this was just a stop off on the Gustav Mahler Jugendorchester Summer Tour (website) but surely they could have presented a more substantial evening to their London audience to celebrate these wonderfully talented young musicians.
I haven't researched what other venues the GMJO are performing in, but is the vast Royal Albert Hall the right place for Bach's deeply introspective Cantata Ich habe genug about the last moments in someone's life when they say farewell to the world. It consists of three arias joined by two recitatives. There are several versions apparently but the best known is what we heard and is scored for bass soloist, oboe obbligato and strings. Here an ensemble of 17 supported one of – if not the – leading Lieder interpreters of this generation, Christian Gerhaher. I suspect it would have sounded wonderful on radio but I think the performance – almost over as soon as it had begun – would have benefitted from a resonant bass voice rather than Gerhaher's softer-grained baritone …which almost approaches the timbre of what I describe as a 'lazy tenor'.
Gerhaher's diction went awry at the bottom of his voice and I thought his performance was rather dry (most noticeable in what sounded like some ornamentations) and much too reserved at times. There was plenty of resignation about approaching death in this performance but little rejoicing – as I suspect Bach intended – at the release it will bring in the second recitative and final aria. When he sang 'Freuden' there was little by way of joy in his voice, when 'Schlummert' (Sleep) lay too low for him the word just disappeared and 'Ich freue mich' (I am happy) needed much more transcendence for someone who was embracing the prospect of his death. The recitatives which relied more on Sprechstimme were far more dramatic than the arias. On the plus side he was ably supported by members of the GMJO and refined solos from guest oboist Bernard Heinrichs, though what those who were standing at the top of the Royal Albert Hall heard I cannot be too sure. There was only polite applause, which was correct given the low-key nature of the performance.
Let's not dwell on the composer's curse of a ninth symphony as that is well-documented and Bruckner is one of those who never lived long enough to complete the Finale though others have attempted to. Usually – as here – only the three movements Bruckner did finish in full orchestral score are performed. What a challenge this is for any orchestra, notwithstanding an international youth orchestra whose oldest players are 26. The playing seemed beyond reproach from all concerned. However, with so little life experience could the young players understand the spiritual struggle and self-doubt that is there in some of Bruckner's music or get anywhere near to revealing the composer's soul? I am not sure they did. Much was made in the programme about how his symphonies are 'cathedrals of sound' and after the intimate Bach, which under Philippe Jordan's direction barely left the platform, his Bruckner almost took the roof off the old hall, especially in the triple-fortissimo tuttis which had a tremendous impact. Maestro Jordan dispensed with anything yearning or spiritual for something more dramatic that I can only describe as the musical equivalent of crash-bang-wallop.
Philippe Jordan clearly had his plan for this music which he stuck to and there was a swiftly flowing – but somewhat inflexible – pulse through music that seems schizophrenic in its changes of mood and direction. Bruckner apparently had his idol Beethoven in mind when composing the symphony, however in the first and third movements I heard Mahler's own much-later Ninth Symphony (was that to be a conscious tribute?) and Wagner's Tristan and Isolde. With those aggressive strings in the second movement I could only think I was listening to Shostakovich not Bruckner. Bombast sat uneasily side by side with gemütlichkeit and incandescence in this long opening movement and the tension which built up through it found no release in the orchestral tumult near the end.
This tension never let up during the following Scherzo which – considering the size of the GMJO forces – could only highlight the violence in the music at the expense of any playfulness in the Trio. The Adagio is undoubtedly majestic and Maestro Jordan (who I hope to hear conduct Die Meistersinger at Bayreuth next year) held everything together with consummate skill and sculpted the long, arching phrases which were frequently underpinned by four elegiac Wagner tubas. The music seemed to be striving somewhere but where I was not sure. I suspect the music can have more mystery, soul-searching and valediction than ever was heard from Philippe Jordan and the GMJO. What Stephen Johnson in his programme note describes as 'the culminating discord' is, as he continues, 'left hanging in the air, unresolved.' Unfinished you may say, just like the symphony itself and this performance was destined to be. Perhaps in the end one of Bruckner's 'cathedrals of sound' was overwhelmed by the cathedral-sized Royal Albert Hall. I suspect the final movement's desolation at this point should give way to a transfigurative final few bars when I should have felt a sense of solace and valediction, however ephemeral. For me the music just came to a slightly downbeat end and that was a little unsatisfactory.
Jim Pritchard