United Kingdom Verdi, Macbeth:  (Company Production Premiere) Soloists, Chorus and Orchestra of Welsh National Opera / Andriy Yurkevich (conductor), Wales Millennium Centre, Cardiff, 10.9.2016. (GPu)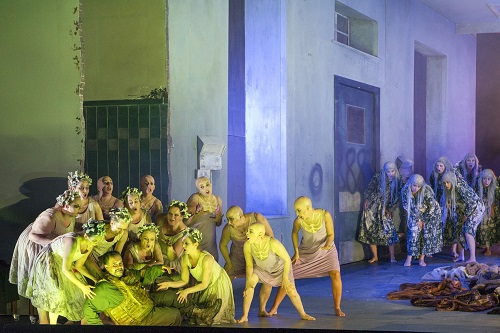 Cast:
Macbeth: Luis Cansino
Lady Macbeth: Mary Elizabeth Williams
Banquo: Miklós Sebestyén
Macduff: Bruce Sledge
Malcolm: Simon Crosby Buttle
Duncan: Stuart Hulse
Lady-in-Waiting: Miriam Murphy
Fleance: Tomi Llewellyn
Doctor: Martin Lloyd
Assassin / Apparition: George Newton-Fitzgerald
Apparitions: Tomi Llewellyn, Jack Irwin
Production:
Director: Oliver Mears
Set and Costume Designer: Annemarie Woods
Lighting Designer: Kevin Treacy
Choreographer: Anna Morrissey
Fight Director: Kevin McCurdy
Chorus Master: Alexander Martin
After more than forty years as an academic, during which I spent much of my time teaching Shakespeare, any encounter with Verdi's Macbeth always prompts in me the desire to talk (fulminate?) about what Verdi and his librettists did to a play which the composer called – in his initial letter about the project, in 1846, to the librettist Francesco Maria Piave – "one of the greatest human creations". I shall endeavour to resist any such temptation in what follows. Even ignoring the ways in which the opera diminishes the play, it is hard not to feel that Verdi's Macbeth is a seriously flawed work. Verdi paid too much service to the conventions of the time and trusted the preparation of the libretto, on the basis of his own scenario, to a less than brilliant librettist. The result was a libretto of almost unremitting banality, despite the later attempts at revision by the more talented Andrea Maffei and Verdi himself. One consequence of the libretto's limitations is that such inner life as the characters have has to be almost entirely the creation of Verdi's music and those who sing it, rather than of the words sung or, indeed, the power of the dramatic structure. This is a shame, since Verdi had the good sense to recognize that the play is not a tragedy of fate, but rather, as Francesco Degrada puts it (in his essay 'Observations on the Genesis of Verdi's Macbeth', in Verdi's 'Macbeth': A Sourcebook, edited by David Rosen and Andrew Porter, Cambridge University Press, 1984, p.158) "a moral drama in which the lacerating conflict of the protagonists with their own conscience is always in the forefront". I am not sure that someone watching – the soon-to-be Director of The Royal Opera – Oliver Mears' production of Verdi's opera would have understood the work in such terms, unless they brought with them to the opera house substantial residual memories of the play itself.
This production by Mears (previously seen, with a different cast, in Belfast in 2014) has a certain crude power, though some of the means used have a degree of tired predictability, as dolls are dismembered and a certain amount of stage blood is deployed. But in some important respects the production was rather blurred of focus. Mears seemed somewhat undecided about how far he wanted to present the work as one specifically about Scotland (albeit not, with good reason, the medieval Scotland of Shakespeare's play) – so that we got a sprinkling of be-kilted figures and (fortunately silent) bagpipers, or how far he saw it as a work primarily concerned with universal themes, the lust for power, the destructiveness of power, tyranny, temptation, psychological dominance – which is why, I imagine, the staging involved unmistakable allusions to Imelda Marcos and Elena Ceauşescu, to the plight of refugees made homeless by war, some film of modern warfare etc. Of course a theatrical production can be both specific and universal; here, however, the effect was largely confusing. And, like pretty well all of his predecessors, Mears struggled to find a way to deal with the witches. In increasing hugely the number of witches, from Shakespeare's three to a choric coven, albeit one split into three distinct groups, Verdi was, of course, conforming to the expectations of an Italian operatic audience in the 1840s; but he was also bequeathing a serious difficulty to modern producers – how to make the witches a genuinely powerful stage presence with real dramatic meaning, rather than, at best, a merely sensational theatrical effect. Very few have ever solved the problem. Oliver Mears (and his designers and choreographer) made some valiant efforts and some scenes worked rather better than others – notably in a bold version of Act III, where the witches and the hallucinations they conjured up seemed to appear to a sleeping / dreaming Macbeth, in a way that was disturbingly effective. At times, however, the production struggles to prevent the witches seeming merely ludicrous – as when, briefly, they turned into a kind of grotesque hip-swinging chorus line! Nor did the production have much success with Verdi's similarly inflated (compared to Shakespeare) number of assassins who, in the varicoloured bobble hats looked more like a crowd of football supporters who might turn rowdy, rather than a gang of paid murderers. Some other scenes were clumsily handled, particularly the banquet scene with Banquo's ghost, in which even the large stage of the Wales Millennium Centre was almost impossibly crowded, in a way that obfuscated key moments.
Musically speaking, things were generally a good deal more successful. For all the oddity of some of the things they were obliged to wear and do, the chorus sang well and, at times, with impressive emotional power, as in the chorus which opens Act IV, 'Patria oppressa!'
Conductor Andriy Yurkevych, making his debut with WNO, oversaw orchestral playing that was fiery and delicate as required. There were times, however, when his choice of tempi and his control of them once chosen was slightly odd or ineffective. The playing of the orchestra contributed much more to the audience's sense of the supernatural and the devilish than any of the stage business. (If any spines were tingled, it was in response to what was heard rather than what was seen). The soloists were all perfectly adequate and in one case much more than that. American soprano Mary Elizabeth Williams, as Lady Macbeth, was compelling both in voice and in stage presence – exercising her power of compulsion as much upon a clearly admiring audience as upon her 'husband'. As Macbeth, Spanish baritone Luis Cansino sang with a convincing sense of Verdi's idiom, though I could have done with a greater dynamic variety, which might have helped him (as his limited acting skills didn't) to bring out the extremes of his character's experience and emotions. He was at his best in the opera's closing scene, facing up to the inevitability of defeat and death. The Macduff of Bruce Sledge didn't really emerge as a distinctive personality until his aria ('O figli, o figli miei') in Act IV, which was sung with impressive expressive power and considerable beauty of tone. Miklós Sebestyén was a solid, if unspectacular Banquo – this isn't the most grateful role created by Verdi.
The Lady Macbeth of Mary Elizabeth Williams, the singing of the Chorus and the playing of the Orchestra, went a good way towards redeeming an evening which the limitations of the production might have led one to deem wasted.
Glyn Pursglove
For more about WNO visit https://www.wno.org.uk/.