Italy Cremona Musica: Cremonafiere 30.9.2016 to 2.10.2016 Fiere di Cremona. Part One of a two-part report. (JB)
Everyone knows that Cremona is the epicentre of Italy's violinmakers, starting with Andrea Amati (1500 – 1577) whose grandson, Nicolo Amati (1596 – 1684) was the maestro of Antonio Stradivari (1644-1733); also, the most sought after member of the Guarneri family, Bartolommeo Giuseppe (1698-1744) who signed his instruments Joseph Guarneri del Gesù and the sign of the cross. Perhaps not everyone knows that the luthiers are alive, well and passing on their extraordinary craftsmanship today.
Visitors to the Cremona Music Fair might even be allowed to try out their hand at a small adjustment to a violin in the making, but only if they arrive at the right pavilion at the right moment. You smell the woodcutters and their wares many yards ahead of seeing them.  It's pleasurable, instructive and salutary for the nostrils too. I had no idea of the distinguishing perfumes of rosewood and willow, all waiting to be made into string instruments.  In another nearby section, varnishes too. Never did movers, makers, musicians, mingle so effortlessly. Movers includes promoters too, not just cumbersome instrument movers: Decca and DGG are here as are leading music publishers like Boosey and Hawkes, Schotts and Peters.
It's Saturday morning when I get to Edgar Russ's workshop in an alley in Cremona's historic centre.  Russ is Austrian, a lively, athletic, fifty-something, thirty-five years in Cremona, passing on the Cremonese art to his apprentices, about to run himself a forty-kilometre marathon in the coming week. The course is five years active apprenticeship and the students are paid by Russ a monthly salary of €800, rising to €1200 by the fifth year.  If all goes well, at the end of the five years they are awarded the coveted Cremona Masters Certificate. The apprenticeships have the benediction of the Italian government and are tax free.  I hope this report may fall into government hands where they are only debating such excellent schemes. When I arrive, the maestro is stringing a copy he has made of a Guarneri cello; a prospective Korean customer will come later to try it out. Edgar Russ says he would like me to meet and see in action Ludovico Zanni (twenty-seven, third year of course): I'll call him, he says with a wry smile, Ludovico is not good at getting out of bed on Saturday morning and Friday night, the student population go wild. [Cremona has a huge university with a very active music faculty with Salvatore Accardo, Bruno Giurano, Antonio Meneses and Franco Petracchi, among others.] Meanwhile, Korean cello customer, Kanghao Feng (resident now in Darmstadt) is trying out the new Russ/Guarneri cello with the Haydn C major concerto.  This is its baptism.  The tone is strikingly powerful, richly lyrical and full-blooded. You have a customer, the cellist tells the maker.  A deal is struck.  We all celebrate with strong coffee and pastries.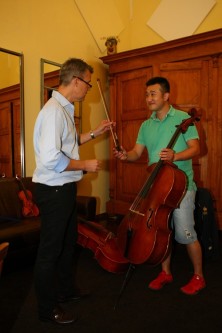 Ludovico now arrives. While the cello sale is going through we converse about his training. He has an arresting air of what can only be called relaxed alertness, and speaks English as well as me. We talk about the values we acquire through making mistakes. He says, Edgar never lets you make the smallest mistake, and I like him enormously for this. Min Jeong Kang (Mini) of South Korea, has been with maestro Russ for fifteen years and now works with ten percent shares in his company. But the last word on the workshop has to go to Edgar Russ himself: The bottom line of this craft is all about developing the finest surgical precision between mind and fingers.   I tell him I'm glad that this doesn't have to involve me: I can't even change a light bulb without fusing the entire house.
Music is communication. Music is storytelling. Music is surprising one idea with another. Music is about warfare. Music is about peace in territories that have never known it.  Music is more knowable when it transcends the knowable. All these ideas were never so crowding into my mind as in the conversation I had with Bruno Monsaingeon, the filmmaker who took us into the souls of Nadia Boulanger, Glenn Gould, Stanislav Richter, Yehudi Menhuin, David Oistrach, among others. We're sitting in his hotel room in the historic centre of Cremona.  He proudly shows me his new viola, made to his specifications by Valerio Ferron, one of Cremona's noted, younger talents. He picks up the bow, plays a few bars and asks me how I like the sound.  Fine I say, clear, not nasal, with the unusual sound of cello resonance. He agrees. His enthusiasm for the new baby is infectious. I'm a violinist, and I'd asked him to make me a smallish viola so that my violinist's fingers didn't have to make too much of an adjustment. Most readers will probably know Monsaingeon as a maker of incomparable films on music. But he insists that that his filmmaking has its foundations in his work as pianist and violinist.
I ask (because I think readers might like to know) what criteria he has in mind before he begins to make a film. It's always the same, he says, They are all ideas I've been thinking about for many years. There are long years of incubation. The ideas are always disturbing. As well as reassuring. They have their own power. Sometimes it may feel like a power independent of me. I smile in recognition of a "vice" which I share myself. Then comes the tricky part of transliterating these ideas into a coherent filmic story.  The scenario. Stories are the powerhouse.  This is the "drama".  It's how you hold the audience's attention a hundred per cent of the time. I ask him if he fictionalizes the film in order to get at the reality of the subject's essence. Yes!  he says with a laugh, You can write that!
I had better admit that I was so engaged by his enormous personality that I am writing this report largely from memory. The resultant paraphrasing may not always be exact. We agree that the promotion of outstanding new musical talent is of great importance in a business which ever increasingly seems to be controlled by commercial interests. I tell him about some of the pianistic talents I have heard in Elissò Virsaladze's Masterclasses in Sermoneta. I had forgotten that he had been in Sermoneta himself, a year when I had been elsewhere. We both hit simultaneously on the name of Emeanuele Rimoldi, whose playing, unlike all the other young lions, is exquisitely understated, and uniquely poetic for that reason.
By this time we've joined ten pianists at table for supper. The Ukrainian pianist, Anna Kravtchenko (who had won first prize at the Busoni Competition when she was sixteen) tells us that Rimoldi recently won the Pogorelich Prize in NewYork.  We both stop eating to take in the good news. Bruno insists that I take down the name of an Algerian pianist – Mehdi Ghezz, who he heard when he was on the jury of the Busoni competition. The others couldn't hear his unique pianistic voice, he says, The boy was an Algerian peasant who spoke French. So Bruno sponsored him to study in Montreal, where he also won a scholarship. I asked Bruno if he had met Rob Overman, in this great melting pot of CremonaMusica.  But unfortunately he hadn't. Because Dr Overman had been the most stimulating speaker at the roundtable on Music in Television (more on the second part of this report). Rob Overman is Head of Music for Dutch television but with a company whose headquarters is in Montreal. Two other Ukrainians have had Monsaingion sponsorship. Valery Sokolov (no relation to Grigory, who is still incubating at the ideas stage for a documentary) is a violinist, by now established in Munich.  While in turn, Valery, is helping cellist, Alexei Shadrun, to launch his career. I might just add that George Soros's Foundation also works often with those sponsored recommending others worthy of sponsorship,
I had expected the meeting with Bruno Monsaingeon to be stimulating.  But the reality exceeded all expectations.
Jack Buckley