Sweden John Adams, Nixon in China: Soloists, Dancers, Royal Swedish Opera Chorus and Orchestra, Lawrence Renes (conductor). Royal Swedish Opera, Stockholm, 1.10.2016 (premiere) (GF)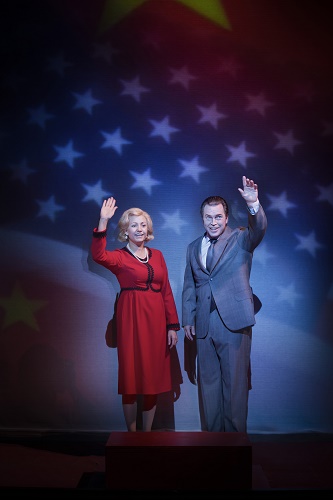 Cast:
Chou En-lai – Jeremy Carpenter
Richard Nixon – Ola Eliasson
Henry Kissinger – Olle Persson
Nancy Tang, Mao's first secretary – Susann Eégh
Mao's second secretary – Katarina Leoson
Mao's third secretary – Kristina Martling
Mao Tse-tung – Michael Weinius
Pat Nixon – Hanna Husáhr
Chiang Ch'ing – Marianne Hellgren Staykov
Wu Ching-hua – Arina Trostyanetskaya
Hung Chang-ching – Sigge Modigh
Production:
Direction – Michael Cavanagh
Choreography – Arsen Mehrabyan
Set design – Erhard Rom
Costume design – Parvin Mirhady
Lighting design – Thorsten Dahn
Video: Sean Nieuwenhuis
It is indeed a remarkable work, this John Adams' first excursion into the field of opera. Today it is more or less an historical opera, based on a real event almost 45 years ago. When it was premiered in Houston in 1987, however, most people had the actual occurrences in fresh memory and the three American protagonists were still alive (Kissinger is still among us, aged 93). The Chinese representatives passed away all three in 1976. How realistically the characters are depicted may be an uninteresting question, but the Nixon couple are given a very sympathetic image while Kissinger stands out as a buffoon. I wonder how he reacted if he ever saw the opera. But historical correctness apart Alice Goodman has written a masterly libretto with many facets and made something as dull as a political summit-meeting both interesting and entertaining. There isn't a dull moment in the opera which with two intervals runs for three hours and fifteen minutes. And John Adams' jazzily swinging minimalistic music hasn't aged a minute. The motoric opening sequence with its patriotic chorus – this is grand opera in the best sense of the word – and its hypnotizing crescendo that reaches its climax with the landing of Spirit of '76 is irresistible, the gradually more chaotic banquet in the Great Hall of the People with the Nixons finally jiving on a table is one of the heftiest party scenes in all opera. Pat Nixon's long beautiful aria in act II is a lyrical high-spot, further enhanced by the ravishing singing of Hanna Husáhr, the ballet performance at the Peking Opera with phenomenal achievements by the dancers. These are just some grains of gold in this rich canvas of marvellous musical images.
The production, originally launched in Vancouver in 2010 and then seen in San Francisco and Dublin, is so closely integrated with the music and surprises with exquisitely chiselled details – just note the hundreds of individually modelled on the curtain between the acts, moving nervously when the interval is drawing near the end. The landing of Spirit of '76 is breathtaking when suddenly the enormous Boeing 707 fills the whole width of the stage. Sometimes the realism – which is rather stylized anyway – gives way for dreamlike sequences. It is so admirably done.
And the backing-up from the pit is just as admirable. Lawrence Renes, chief-conductor since August 2012, knows Adams' music inside-out and conducted the San Francisco performances of Nixon in China. He has done a terrific job with the Royal Orchestra, which awarded him a flourish – the first time I can remember hearing in an opera house. Well-deserved indeed! The chorus has a great deal to do in this opera and they did it powerfully and with finesse.
The cast of soloists could hardly be bettered either. I have already mentioned Hanna Husáhr's excellently sung Pat Nixon and her visual approach is just as attractive. Ola Eliasson adds another great impersonation to his well-filled CV with a well-balanced portrait of the President, while Olle Persson – impossible to recognise behind Kissinger's big horn-rimmed – is just enough over-the-top in this caricature of the Secretary of State.
The Chinese trio is also superb. Jeremy Carpenter, whom I previously saw six years ago as Gérard in Andrea Chenier, is a noble, philosophic Chou En-lai, Michael Weinius, a lifelike Mao Tse-tung, is brilliantly heroic in some outbursts from the tired and ageing chairman, and Marianne Hellgren Staykov as his dominant wife excels in stratospheric dramatic solos. Mao's three secretaries – this opera's equivalent to Ping, Pang and Pong in Turandot are utterly convincing.
An aural and visual spectacular that with some margin is my performance of the year!
Göran Forsling