United Kingdom Britten, Billy Budd: Soloists, Chorus and Orchestra of Opera North / Garry Walker (conductor), The Lowry Theatre, Salford Quays, 10.11.2016. (RJF)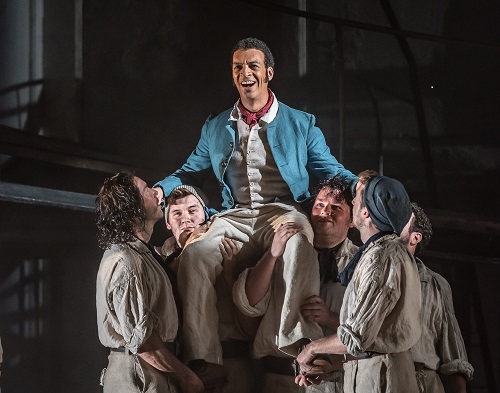 Cast:
Captain Vere: Alan Oke
Billy Budd: Roderick Williams
John Claggart: Alastair Miles
Mr Redburn: Peter Savidge
Mr Flint: Adrian Clarke
Lieutenant Ratcliffe: Callum Thorpe
Red Whiskers: Daniel Norman
Donald: Eddie Wade
Dansker: Stephen Richardson
Novice: Oliver Johnston
Novice's Friend: Gavan Ring
Squeak: David Llewellyn
First Mate: Paul Gibson
Second Mate: Nicholas Butterfield
Maintop: Aled Hall
Arthur Jones:Tim Ochala-Greenough
Children: Cormac Keating, James Slingsby, Jakub Packo, Daniel Simpson, Lucas Walker.
Production:
Director: Orpha Phelan
Set and Costume Designer: Leslie Travers
Lighting Designer: Thomas C. Hase
Movement Directory: Lynne Hockney
No British opera company has done as much Britten as Opera North in recent years, or indeed at all perhaps, with some memorably evocative sets and costumes to go along with imaginatively creative productions, not least of Peter Grimes. With that history in mind I found Orpha Phelan's production, and particularly Leslie Travers' set, underwhelming in their portrayal of the harrowing story. After the opulence and realism of the Der Rosenkavalier set the previous evening, this new production of Billy Budd left me distinctly frustrated. Only the hammocks in the under deck, slung so closely together, really set the location as on board a ship of war in the late eighteenth century. Surely a better representation of the Captain's deck could have easily and cheaply been included, if cost was an issue. A few sails would not have come amiss either. The moving of tables and chairs for interviews, and Billy's trial, were hardly sufficient to create the scene.
As with the previous evening's Der Rosenkavalier the core of the cast were Opera North regulars. Alan Oke as Captain Vere with his opening and closing soliloquies created an agonised man of conscience with his varied and well articulated vocal expression. Veteran Alastair Miles has lost some of the sap from his voice as the years have passed and sounds a little cavernous at times, but his imposing stage presence as Master of Arms Claggart could hardly be bettered. Stephen Richardson, another Opera North veteran, sang and acted a sympathetic Dansker giving support for Billy in his hour of most need. New boy to the company, Oliver Johnston as the flogged novice, created a positive impression and I look forward to Opera North having a part to play in his future. However, it is the singer of the title role who needs to stand out. He must portray the idealist whilst avoiding being seen a revolutionary who might disturb the cohesion of the crew at a time in history when, post 1789 and the rise of the proletariat, mutiny on ships was not unknown. Some years ago, in one of his earlier portrayals for Opera North, as Papagano in Mozart's Magic Flute (review), I suggested his was the best young British baritone voice I had heard in the role since a now famous predecessor, Thomas Allen, in the late 1960's. In most respects Roderick Williams has fulfilled that expectation. A musical, polymath he has been heard at some of the world's best operatic addresses. He brought all his vocal and acting skills to the eponymous role in this performance. Still lithe, even athletic of figure, he created a very sympathetic character vocally and in his acting, the only feature of the set that pleased me was not seeing an effigy of Billy's body swinging from the yardarm at the close!
The all male Opera North chorus were outstanding as singers and actors, covering several smaller parts too. On the rostrum Garry Walker paced and controlled the modulation of the enfolding drama well. I found the narrative titles to be a great help in following incidental bits and pieces, which is not to implicitly criticise the diction of the soloists or chorus, on the contrary in fact.
Robert J Farr
For a previous review by John Leeman in Leeds click here.