United States Mozart, The Abduction from the Seraglio: Soloists, Chorus and Orchestra of LA Opera / James Conlon (conductor), Dorothy Chandler Pavilion, Los Angeles, 28.1.2017. (JRo)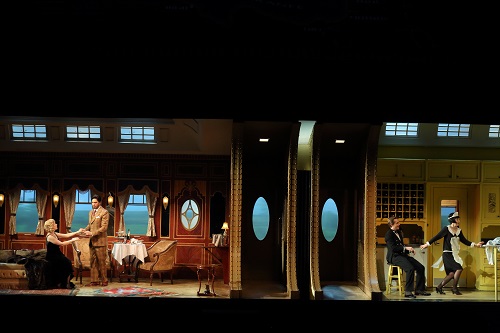 Cast:
Konstanze – Sally Matthews
Belmonte – Joel Prieto
Blonde – So Young Park
Pedrillo – Brenton Ryan
Osmin – Morris Robinson
Pasha Selim – Hamish Linklater
Production:
Director – James Robinson
Set Design – Allen Moyer
Costume Design – Anna R. Oliver
Lighting Design – Paul Palazzo
Chorus Director – Grant Gershon
For sheer entertainment value, LA Opera's new co-production of The Abduction from the Seraglio, has it all: marvelous singing, sublime music from the pit, laugh-out-loud humor and equal measures of sexiness, beauty and opulence. What it lacks is sensitivity to the more ennobling aspects of Mozart's vision.
Director James Robinson and set designer Allen Moyer have updated the original setting from an eighteenth-century Turkish palace to the 1920s aboard the Orient Express bound for Paris from Istanbul. And what a gorgeous set it is! Moyer has created a cutaway of sumptuous cars with mahogany-paneled walls, brass fittings, period furniture and Persian rugs; there's even a complete kitchen. The train's windows allow one to see (via video projections) the perpetually changing and moving scenery. I wanted to move in and live there.
To understand the opera, however, one must understand the original setting and plot. Belmonte's beloved, Konstanze, along with her English maid, Blonde, and Belmonte's servant, Pedrillo, have been abducted by pirates and sold in slavery to Pasha Selim. Belmonte, a Spanish nobleman, arrives at Selim's palace planning to rescue them, only to be thwarted by Osmin, the powerful overseer of the Pasha's harem. And with romantic entanglements galore, we find Osmin in love with Blonde who is loved by Pedrillo, and Selim in love with the pure Konstanze who remains true to Belmonte. Selim could force himself on Konstanze but wants her to love him freely. Belmonte encounters Pedrillo outside the gates of the palace and, with much scheming (as befits a comic opera), Pedrillo initiates a plan that allows Belmonte to infiltrate the palace and reunite with Konstanze. Their attempt to escape with the women is derailed by Osmin and all is lost until, through the wisdom of Pasha Selim, they are given their freedom and allowed to leave in peace.
The dangers the principals confront are difficult to achieve aboard a train. When set in a Turkish palace, walls need to be scaled, guards are everywhere and women are under lock and key. On this train bound for Paris, the damsels in distress move freely, as do those who seek their release. Threats of torture, which originate with Osmin and the Pasha, ring hollow. How do you torture someone when your destination is Paris and you're not within the confines of your own palace or your own kingdom? The director must realize this conundrum, because he has changed the import of the threats by both Osmin and the Pasha.
When the Pasha threatens torments of the worst sort to procure Konstanze's love, he lavishes jewels, carpets, perfume, champagne, chocolates, silk stockings and furs upon her. Though Konstanze is tempted, she manages to control herself. It's wonderfully clever, but at the same time we lose the danger faced by Konstanze, and her captivity becomes less vital, her resistance less courageous. It makes for a funnier evening but removes the sense of jeopardy inherent in the original.
Osmin, too, becomes a more problematic character. Played here for all-out laughs, the threatening edges of his nature are subdued and he becomes one- dimensional. Osmin should be both frightening and humorous – lovable beneath the sharp barbs of his more violent inclinations. Played here by the delightful Morris Robinson, he's a teddy bear of a tyrant, easily subdued and rendered harmless.
And what of the lovers? Belmonte and Konstanze are played for broad humor, whereas Mozart's lovers are the sympathetic lovers of Shakespeare's comedies, born out of the stock characters of the Commedia dell'Arte, and the servants are the humorous foils. Aboard this Orient Express, everyone packs comical tricks. Fortunately, Belmonte and Konstanze's nobility of spirit is finally allowed to shine through in their Act III duet ('Welch ein Geschick'), which is sung in absolute seriousness as they face imminent death.
Given these dramatic problems, it was still a glorious night at the opera, as musically engaging, bubbly and delightful as any hit musical on Broadway. But unlike Broadway, one had an orchestra under James Conlon that gave full meaning to Mozart's intentions. LAO musicians celebrated both the vigor and transparency of the score, its humor and pathos, its passion and delicacy.
Sally Matthews as Konstanze had a warm coloratura that was particularly glowing in her Act III duet with Belmonte, and in the magnificent quartet at the conclusion of the second act. Joel Prieto was an attractive Belmonte, a believable combination of young rich boy and ardent lover, with a sweet and mellow tenor. Osmin, sung by the lush-voiced bass Morris Robinson, was a force of nature. He had both the enormous vocal gifts and stage presence to carry the day, singing the famously low D of his third-act aria (and every other note) without strain.
So Young Park as Blonde was delightful at every turn, her bright and agile soprano so at home with Mozart. Park is often part of LAO productions and was particularly memorable in last year's The Magic Flute as Queen of the Night. Brenton Ryan made a deft Pedrillo, Belmonte's wily servant. His comic timing was spot-on and his fresh and nimble tenor well suited to the role. One of the most appealing melodies of the opera is given to Pedrillo – the graceful serenade that signals the Act III escape. Unfortunately, he was forced to sing it in the darkened vestibule between trains to put the guards to sleep, rather than, as is usual, as a love song to his Blondchen.
The final cast member in this singspiel was actor Hamish Linklater as Pasha Selim, a non-singing role. (Though the singing was in German, the dialogue was spoken in English.) It's an important but thankless job, akin to sitting in a chair while angels dance. He made the most of it with his physical grace and a not-to-be-underestimated ability to listen in repose while singing exploded around him, but he yelled rather than spoke his lines, presumably to be heard in the back of the theatre. The Pasha, the fearful foreigner, who turns out to be the wisest and most judicious of men, reflects Mozart's cherished humanistic and enlightenment beliefs. In this production, Selim was more comic than wise, and so the concept faltered a bit.
For all its inconsistencies with the original intention of Mozart's glorious work, this production maintained essential elements: the democratic nature of the master/servant relationship, the power of love to unite and the underlying humanity of all his characters. Listening to the stunning quartet 'Ach, Belmonte! Ach, mein Leben!' one was in a heaven of Mozart's making. Don't miss it.
Jane Rosenberg