United Kingdom Verdi, Rigoletto: Soloists, Chorus and Orchestra of English National Opera / Sir Richard Armstrong (conductor). London Coliseum, London, 4.2.2017. (JPr)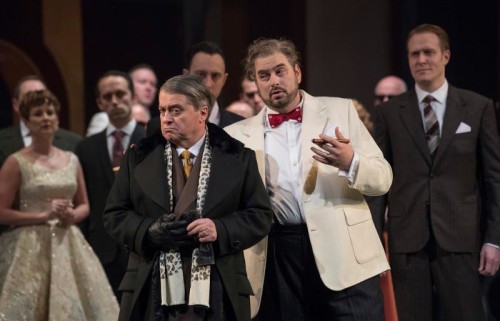 Cast:
Nicholas Pallesen – Rigoletto
Joshua Guerrero – Duke
Sydney Mancasola – Gilda
Barnaby Rea – Sparafucile
Madeleine Shaw – Maddalena
Nicholas Folwell –  Monterone
Matthew Durkan – Marullo
Anthony Flaum – Borsa
Andri Björn Róbertsson – Ceprano
Production:
Director – Sir Jonathan Miller
Revival Director – Elaine Tyler-Hall
Designer – Patrick Robertson & Rosemary Vercoe
Lighting Designer – Robert Bryan
Translator – James Fenton
When English National Opera had a brief flirtation three years ago with a new Rigoletto production by Christopher Alden I wrote (review here) 'Hopefully the sets for Jonathan Miller's cult Mafia version of the opera have not been broken down after their valiant 30 years in the repertory because there might be some clamouring for them to be used again, sooner or later.' Thankfully they weren't and back this Rigoletto came for its thirteenth outing since 1982 – and first since 2009 – hoping to boost ENO's income with a tried and tested box office 'banker'.
Jonathan Miller's note on the production in the programme justifies his iconic updating by writing 'Meddlesome antics of this sort are just one of the ways in which posterity guarantees an afterlife for works which were written in the rapidly vanishing past.' However what was new in 1982 seems rather 'old hat' now as the world of the New York Mafia in the 1950s has become the setting for many other things. It is not Dr Miller's fault that the production has lost that shock-value the relocated setting – which seemed such a bold step – had when I was there in 1982. Oh, where have these 35 years gone? There is a certain blandness to this revival which made me think of West End musicals that could be staged in the three-dimensionality of Patrick Robertson and Rosemary Vercoe sets. The cocktail lounge scenes reminded me of High Society or The Rat Pack Show, the tenement building where Gilda is somewhat implausibly closeted away is straight out of West Side Story and the Edward Hopper-inspired bar for Act III would grace Guys and Dolls or any other production with a Cosa Nostra theme such as Jersey Boys.
According to the libretto, of course, we should be sometime in the Renaissance watching the hunchbacked and mentally scarred court jester Rigoletto hurling bitter and continuous jibes at his employer's party guests. Rigoletto's only joy in life is his innocent daughter Gilda and when the jester finally goes too far, a curse from one of his victims sets a trail of events in motion that ends with Gilda's murder. Sadly, Dr Miller had not apparently directed this revival himself and it was left to Elaine Tyler-Hall to oversee the routine exhumation. Despite current sensibilities there is still some smoking to be seen on stage – though not much for Little Italy of the 1950s – and Rigoletto does have his hunchback and a limp, though Nicholas Pallesen did not always seem to remember which leg was affected.
The original 'Duke' in 1982 was to have been Graham Clark before he decided to relinquish roles like this and begin his conquest of character parts in, most notably, the German repertoire. He did a straight swap with Arthur Davies and a role in Janáček's From the House of the Dead at Welsh National Opera. Reminiscing like this made me wonder where the opportunities are for British tenors these days. In the current revival, the 'Duke' is the young American tenor, Joshua Guerrero, another disappointing singer from across the pond. A Dean Martin lookalike, he didn't do a lot wrong but was more of a crooner than a full-throated opera singer with the Italianate 'ping' needed for Verdi. Comments about his singing – and that of his two(!) American colleagues – should be tempered, of course, by the fact that they were singing in English here. Even so, that shouldn't really affect the dramatic bite they could bring to their performances. Perhaps they were not helped by Sir Richard Armstrong's choice to conduct an uncut and unadorned version of the score. I cannot remember if the false start to the Duke's Act III jukebox La donna è mobile (Women abandon us) was there in the original staging, but because of the constriction at the top of Guerrero's voice this canzone was more of a miss than a hit.
Nicholas Pallesen as Rigoletto acted his frustration, resentment, obsession and love for his daughter very well but did not play up the jester's sardonic humour sufficiently. There was an announcement after the interval that he was suffering from a cold. Whether it was illness I cannot be sure, but his baritone voice was somewhat lacking in lyricism and warm Italianate tone – though again singing in English may not help him. Wagnerian tenors are mostly 'pushed up baritones' and I hear a hint of that in Pallesen's voice for the future, but it may have just been his cold!
More successful was a third American, Sydney Mancasola, as Gilda. She began nervously and 'Caro nome' (Dearest name) was sung with great care offset by bell-like precision and poignant reflectiveness. At this point Mancasola's voice seemed on the small side for the London Coliseum, though she improved considerably as the evening went on. Further to her credit is that Mancasola's acting does make Gilda a credible character whose infatuation leads to her self-sacrifice. To improve her singing she really does need to pay more attention to consonants which will make the words really mean something and not just be beautiful sounds.
In this regard three British singers – Nicholas Folwell as the vengeful Monterone, Barnaby Rea's cultured bass as the menacing Sparafucile and Madeleine Shaw's suitably seductive sounding Maddalena – gave a masterclass of how opera can be performed in English. Their ally in 'showing how it should be done' was ENO's absolutely stunning chorus whose contribution, especially in Act II, I will remember as a highlight of this performance. It is just me of does the moaning chorus – which they did just perfectly – bring to mind 'They Call The Wind Maria' from Paint Your Wagon – another musicals reference for an evening that was full of them! They were a credit to their chorus master, James Henshaw.
For me the first two acts meandered and were underwhelming, however, for the opera's tragic denouement in Act III everything seemed to just click from the famous 'Bella figlia dell'amore' (If you want a faithful lover) to its heartbreaking conclusion as Gilda dies in his arms and Rigoletto realised the power of Monterones's Act I curse.
Sir Richard Armstrong and the orchestra were also at their best at the end of the opera. Overall however, it was a forthright performance but one that became becalmed too often, lacking energy. This seemed to coincide with the 'big moments' for his three inexperienced singers so perhaps Armstrong's wariness was understandable. The orchestra played generally well for him but it was little more – for me – than a creditable accompaniment to the singers and – until near the end – rarely as viscerally compelling as a good Rigoletto should be.
Jim Pritchard
For further details of the remaining Rigoletto performances visit the English National Opera website http://www.eno.org.