United Kingdom Adams, Doctor Atomic (semi-staged): Soloists, BBC Singers and BBC Symphony Orchestra / John Adams (conductor), Barbican Hall, London, 25.4.2017. (CC)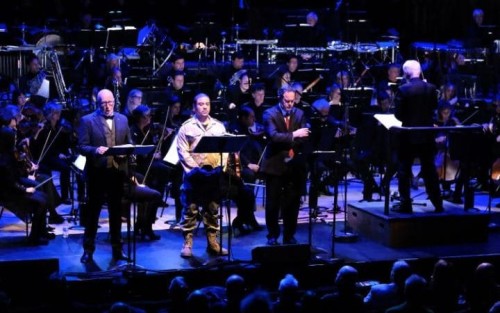 Cast:
J. Robert Oppenheimer – Gerald Finley
Kitty – Julia Bullock
Edward Teller – Brindley Sherratt
Robert Wilson – Andrew Staple
Pasqualita – Jennifer Johnston
General Leslie Groves – Aubrey Allicock
Jack Hubbard – Marcus Farnsworth
Nolan – Samuel Sakker
Production:
Kenneth Richardson – Director
We as Londoners are truly blessed to be in a position to experience two major contemporary operas performed on consecutive nights both with major casts and both conducted by the composers. Thomas Adès' The Exterminating Angel proved a fruitful and powerful affair (review here); much the same could be said of John Adams' Doctor Atomic, although the power was achieved by very different means.
While I was present at ENO's Doctor Atomic in its UK premiere in 2009, this performance seemed more assured and yet at the same time more raw, more powerful. Peter Sellars' libretto is a collection of texts around the atomic test as a result of Dr J. Robert Oppenheimer's research at Los Alamos which also includes external poetry, referring to Oppenheimer's alleged love for that form (act one ends with an astonishing setting of John Donne's Holy Sonnet "Batter My Heart, Three-person'd God"), as well as passages from the Bhagavad Gita. A pre-concert presentation by Alex Ross ("The sounds that changed America") gave a fascinating overview of Adams' output with many political references. Referring to Doctor Atomic as "a portrait of the divided American soul," one emerged with a sense of a work that speaks from Adams' heart. The semi-staged production was extremely simple – a desk with an old-fashioned analogue telephone on one side (from which desk Ross gave his lecture) and a seat on the other. The stage was bathed in a variety of colours as the situation implied.
The BBC Symphony Orchestra is a bit of a chameleon orchestra, by which I mean, put a conductor it does not respect at the helm, and mediocrity flows. Put someone it admires there, it becomes a truly international standard band. The latter is clearly the case here; rarely have the strings had such depth and unanimity, or the wind and brass soloists such excellence (a special mention to the horn soloist, Nicholas Korth, who negotiated Adams' many tricky and often high-lying lines with seeming ease). The BBC Singers, too, reacted to Adams' demands with consistent excellence.
The performance began and ended in darkness, the final void leaving us with the recorded Japanese pleas for water resonating in our minds. Electronics were superbly done, including the aircraft of the opening. Voices were amplified, a necessity perhaps against such a large orchestra. Central to the performance is of course Oppenheimer, sung here as so often by the impeccable Gerald Finley, whose ease with Adams' lines spoke of great familiarity, yet whose delivery of the Donne setting was truly heart-rending as well as astonishingly lyrical; elegant, in fact. Finley's vocal legato is seamless, his delivery faultless. More, his assumption of the role felt fresh.
Kitty Oppenheimer, the female balancing of conscience, was taken by American soprano Julia Bullock. Her Act 1 Scene 2 aria "Am I in your light?" was delivered with a mezzo aspect to her voice that seemed to imply a knowing befitting a seeress (the text comes from a poem by Muriel Rukeyser, Three Sides of a Coin).
Joining Oppenheimer as an absolute equal of vocal excellence was Brindley Sherratt's Edward Teller, Sherratt's every word perfectly enunciated, his voice superbly focused. Another great pairing was American bass-baritone Aubrey Allicock's General Leslie Groves and Marcus Farnsworth's Frank Hubbard. Of the the smaller roles, Jennifer Johnston was a compelling Pasqualita, Andrew Staples a wonderfully characterized, Geek-chic Robert Wilson while the strong tenor of Samuel Sakker provided our Captain James Nolan.
This was, though, a case of the performance being more than the sum of its parts. Doctor Atomic remains one of Adams' finest works.
The BBCSO left a booklet of its 2017/18 season; included, on Saturday, April 28, 2018, is a performance of Adams' The Wound-Dresser (conductor George Madaras). Also ahead, although sadly not in London, is Adams' next opera, Girls of the Golden West, set for World Premiere in November this year in San Francisco.
Colin Clarke