United Kingdom Handel, Ariodante (semi-staged): Soloists, The English Concert / Harry Bicket (conductor/harpsichord). Barbican Hall, London, 16.5.2017. (CC)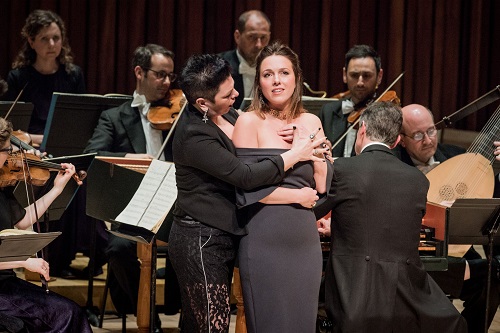 Cast:
Ariodante – Alice Coote
Ginevra – Christiane Karg
Dalinda – Mary Bevan
Polinesso – Sonia Prina
Lurcanio – David Portillo
King of Scotland – Matthew Brook
Odoardo – Bradley Smith
Cancellations and cast changes seem to be hitting hard on the London scene this season. This was the most recent victim: Joyce DiDonato cancelled the European performances of Ariodante, ceding her role to Alice Coote. Then Joélle Harvey, who was down to sing Dalinda, cancelled due to ill health, to be replaced at short notice by Mary Bevan. It was a nice gesture from Joyce DiDonato, though, to leave a five-minute YouTube video explaining her circumstances and offering unwavering support for her replacement, Alice Coote.
There is no doubt that The English Concert's ongoing Handel series is a source of constant joy. Last year I had the privilege of covering Orlando; previous to this, there was Theodora and Radamisto). Next up in 2018 will be Rinaldo.
As to Ariodante (1735), this is no short opera. But it is tremendously worthwhile, the standard of the music always Handel at his best. The plot is not hugely convoluted: the malevolent Polinesso plots and connives to create havoc for Ginevra, who has rejected his advances (Polinesso is a trouser role). Ginevra is betrothed to Prince Ariodante (another trouser role). All seems to be lost, with Ariodante attempting suicide and Ginevra sentenced to death, until Polinesso, about to die, confesses all. The final tying up of the plot is achieved with astonishing and suspicious rapidity, given the hours previous that the various strands took to create. Still, this is Handel opera and it is his music that sees it through, and Ariodante is one of his most fertile creations.
The singers provided a modicum of dramatic thrust through their interpersonal interactions in the centre of the stage space. Seats at the side of the stage provided respite when not singing. Sonia Prina's goth trouser costume and punk hairstyle and demeanour suited Polinesso's character perfectly; in total contrast was the demure femininity of the slickly bedressed Mary Bevan (Dalinda). What really provided the thrust of the evening was the impeccably judged contribution of The English Concert directed from the harpsichord by Harry Bicket. Fast tempi tended to zip along yet there was full contrast for lyricism. Da capo arias from just about everyone found the second "A" section nicely decorated.
It must have been hard for Alice Coote to step into DiDonato's shoes, but she acquitted herself brilliantly, perhaps most unforgettably in the extended aria 'Scherza infida' in the second act. The sadness was palpable, as Coote paid huge attention to the shaping of phrases, completely believable in her pain as she imagines her love with another. Coote portrayed Ariodante as feisty and strong; yet the more interior emotions were just as touching. A lithe orchestral introduction brought Coote to her most agile in 'Dopo notte'.
Coote was surrounded by high talent, particularly from the female (if occasionally trousered) side of things. Christiane Karg's voice has a piercing aspect to it, but there is never any doubt about her immersion into her character. In this case, Ginevra's 'Orrida agli occhi miei' was almost uncomfortable to listen to (appropriately so, given its subject matter); yet the softer-edged 'Il mio crudel martoro' found Karg in meltingly beautiful form.
The "baddie" contralto (and a proper contralto she is, too) Sonia Prina was just outstanding, her scatter-gun runs almost frightening in the sheer belief of their delivery. She dominated the stage with her malevolence and the way her actions matched her voice as she plotted and manipulated. All credit, too, to lyric soprano Mary Bevan's Dalinda, particularly considering the late cover involved. The purity of her voice in 'Apri le luci, e mira' was splendid, as was her agility in 'Neghittosi, or voi che fate'.
As Lurciano (Ariodante's brother), tenor David Portillo took every chance to shine, his voice easy on the ear and fluid. Bradley Smith's Odoardo was strongly taken.
The two horn players, Ursula Paludan Monberg and Martin Lawrence, excelled in their short contributions, particularly in the King of Scotland's 'Voli colla sua tromba' (the vocal part beautifully given by bass-baritone Matthew Brook). Lip trills were a particular delight, as was the sheer rusticity the players conveyed. Strings were perfectly on the ball throughout the long evening, and Bicket's own harpsichord contributions were tireless in their excellence and perfect style.
It was quite an achievement to have one wishing for more after a long evening of Handel, but Bickett and his forces managed it. Superb.
Colin Clarke