Argentina Wagner, Das Liebesverbot: Soloists, Chorus and Orchestra / Oliver von Dohnányi (conductor), Teatro Colón, Buenos Aires. 2.5.2017. (JSJ)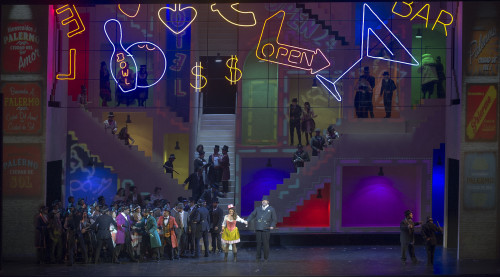 Cast:
Isabella – Lise Davidsen
Dorella – María Hinojosa
Luzio – Peter Lodahl
Brighella – Christian Hübner
Friedrich – Hernán Iturralde
Claudio – Carlos Ullán
Antonio – Sergio Spina
Pontio Pilato – Fernando Chalabe
Angelo – Norberto Marcos
Danieli – Emiliano Bulacios
Mariana – Marisú Pavón
Production:
Direction – Kasper Holten
Sets/costumes – Steffen Aarfing
Lighting – Bruno Poet
Projections – Luke Halls
Chorus – Miguel Martínez
Choreography – Signe Fabricius
Wagner must have had a soft spot for Das Liebesverbot, his second opera but first to be performed, describing it as a "youthful sin". Written and composed when he was just 21, nevertheless it was a failure at the premiere and was taken off after the first performance, not to see the light of day again in his lifetime.
The work is loosely based on Shakespeare's Measure for Measure and is one of the two comic works – along with Die Meistersinger – that Wagner penned.
Fortunately, the growing but still occasional number of productions since the 1983 revival by Wolfgang Sawallisch (his Bayerische Staatsoper live recording is well worth seeking out) enable it to be enjoyed by modern audiences. But it must be taken on its own terms – the work of the composer very much at the outset of his career and while pointing towards his later works, cannot fairly be compared with them.
This was the Argentine premiere of the work.
This production by the Teatro Real in Madrid in co-production with the Teatro Colón and the Royal Opera House was premiered in March 2016. The production – described in an detailed review by a fellow reviewer, and with which I fully concur – has a modern spin entirely appropriate to the work. It is lively and colourful, with the fairly basic setting with its stairs and rooms used imaginatively, and it successfully portrays the varying emotions of the protagonists, which need to be seen rather than just heard to be fully appreciated.
The cast, a mix of visiting and local singers, was led by the young Norwegian soprano Lise Davidsen as a dramatic Isabella. Vocally strong and tall to boot, she has a powerful presence.
Her friend Dorella, almost on the fringes of the main storyline but still frequently present, was delightfully played by María Hinojosa.
Much of the drama revolves around the two young noblemen, Luzio and Claudio, both tenors, and convincingly brought to life by Peter Lodahl and Carlos Ullán respectively.
On the other hand the buffo roles are those of the police chief Brighella, blusteringly sung by bass Christian Hübner, and the governor Friedrich, well played by bass-baritone Hernán Iturralde.
The other roles were credibly filled and the chorus performed well in its numerous interventions.
Oliver von Dohnányi was on the podium and elicited excellent playing with well chosen tempi in what ultimately will be a long remembered production.
Jonathan Spencer Jones