United Kingdom Total Immersion: The Complete Edgard Varèse: Artists included BBC Symphony Orchestra / Sakari Oramo (conductor), Guildhall New Music Ensemble / Geoffrey Paterson (conductor), Fulham Symphony Orchestra / Marc Dooley (conductor), Barbican Hall, London, Milton Court Concert Hall, London, 6.5.2017. (AS)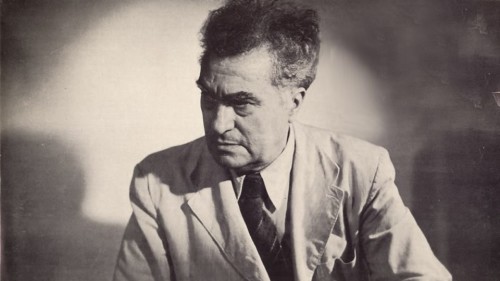 As Paul Griffith's informative introductory talk revealed, there was just one work that would not be heard in an otherwise complete survey of Varèse's music to be performed during this day-long event. In the 1950s he wrote some material for a film, but the original was held privately and the owners would not allow access to it.
Before this talk and at three other points during the day Poème électronique, for pre-recorded magnetic tape, was played at the Barbican Centre's so-called Freestage, an area in one of its foyers. Varèse had put this composition together over the course of several months during 1957-58 at the Philips Laboratories in Holland, with technical support provided by that company. It was created for the 1958 Brussels World Fair in the form of a  three-track eight-minute long tape, and was played frequently for visitors to the Philips Pavilion, being fed via 20 amplifiers and telephone relays to 400 loudspeakers buried within the walls of the specially constructed building. After the Fair ended the Pavilion was dismantled but the Poème was preserved in two-channel form and later transferred to computer.
If I go into this work's origin in some detail, it is to show that it is surely one of the composer's most important creations, for it only exists in the form prepared personally by Varèse himself, it was heard by two million visitors, it is cast in a medium that finally, late in life, gave the composer full reign to his imagination, and shows his genius at its best.
No doubt it seemed a good idea to try and represent the conditions of the original performances, but to hear the work played over two conventionally spaced speakers in an environment that competed not only with a perhaps authentic buzz of conversation but also other intrusive ambient noise including the banging of utensils used in the preparation of coffee at a nearby bar, was a sad travesty. We should have heard Poème électronique even just once in the main Barbican Hall. (Fortunately the tape has been published in Riccardo Chailly's two-disc Decca set of Varèse's so-called "complete" output and also elsewhere.)
To venture outside the chronological sequence of events for a moment, the same Freestage area hosted early evening performances of two works played by members of the Fulham Symphony Orchestra under Marc Dooley, with guests. The first was the unimportant Dance for Burgess, a contribution to a 1949 Broadway musical that closed after one performance. In the second work, Ecuatorial, of 1932-34, the amateur Fulham ensemble, including six percussionists, piano and (electronic) organ was augmented by two Ondes Martinots, played by Valérie Hartmann-Claverie and Nathalie Forget, and four doughty bass members of the BBC Singers. This novel score, an evocation of ancient pre-Colombian central America, with Mayan prayer chants, should have made a big impression, but despite the brave efforts of the performers, competition from the surrounding noise was really too much for them.
Prior to this free event, there had been an early afternoon concert at Milton Court, given by the youthful student performers of the Guildhall New Music Ensemble under the calm and assured direction of the young British conductor Geoffrey Paterson. Both Paul Griffith and the programme notes commented on the fact that Varèse deliberately destroyed his early works, while others were destroyed in a 1918 warehouse fire. Still later, during an episode of depression in the 1960s, the composer culled yet more of his output. The first item of the Milton Court concert provided a poignant indication of how much of value might have been lost, for it was the only early composition that has survived. The 1906 song Un grand sommeil noir, a setting of words by Verlaine, is an exquisite little miniature, somewhat in the style of Debussy, but with a slightly tougher edge. It was most beautifully sung by the soprano Harriet Burns, accompanied by the pianist Sebastían Espinosa Carrasco. We then heard the Ensemble in Hyperprism, for nine wind instruments and percussion, and then Offrandes, with soloist Harriet Burns now required to show a good deal of vocal agility in her rendering of the two songs that comprise this piece, followed by Octandre, for eight wind players plus double-bass. All three works are short but show astonishingly daring invention and sonorities for their early 1920s dates. Ionisation, which followed, was completed in 1931, and is still more radical in apparently being the first ever Western classical work to be scored entirely for percussion instruments. The solo piece Density 21.5, written in 1936 for Georges Barrère's new platinum flute, provided a calm interlude through a lovely performance by Antonia Berg, and the concert ended with Intégrales, for 11 wind instruments and percussion, another extraordinarily forward looking composition for 1924-25, with its contrastingly scored episodes of violence punctuated by moments of reflective calm.
All these formidable works were tackled with admirable skill by the young players, though just occasionally one became aware through inexact ensemble or slight roughness of sound that these were inexperienced performers near the start of their careers.
Next on the event menu was Frank Scheffer's 2009 film Varèse: the One All Alone, shown in the Barbican's Cinema 2, in which there was some interesting archive material, and insightful interview clips contributed by Elliott Carter and Pierre Boulez. There was a good deal of commentary from Varèse's pupil Chou Wen-Chung, whose self-important posturing became a little irritating.
And so we came to the last and the biggest event, an evening concert in the Barbican Hall by the BBC Symphony Orchestra under its chief conductor, Sakari Oramo. First up was Aracana, with its huge orchestral forces, written in 1925-27. The title apparently refers to the study of "hermetic philosophy", but no matter: it's easy to enjoy this extraordinarily brash, inventive and fascinating work without any knowledge of such a rarified subject. Then the orchestra was joined by the soprano Alison Bell and male members of the BBC Singers in Varèse's last and uncompleted work, Nocturnal, which sets words from Anaïs Nin's House of Incest. Enter Professor Wen-Chung again, for it was he who completed the work, with "great reluctance". Be that as it may, the result is an atmospheric, spooky essay, vividly characterised in particular by Ms Bell. Interestingly, Oramo used a full body of strings to good effect and in apparent contradiction of the composer's (or Wen-Chung's) intentions that the ensemble should be a small one.
For 20 years and more Varèse was occupied with thoughts of a magnum opus comprising a grand choral symphony with the theme of humanity on the march. During his 1960s purge Varèse destroyed most of the sketches for this work, and only one fragment survived in a performable state. In this case Chou Wen-Chung was "persuaded" to produce a newly revised work called Etude pour 'Espace', using a body of wind instruments in place of the original two pianos, plus the original percussion. Perhaps unsurprisingly, this piece sounded much less convincing than the surrounding works. Déserts, a late work completed in 1954, is particularly interesting in that it uses the live orchestra and pre-recorded electronic sounds. The three taped "interpolations", created by Varèse using French Radio facilities, do not at any point combine with the four orchestral episodes: the live ensemble comprises wind, brass, percussion and piano, with no string instruments. The desert visions, in which man is portrayed as a lonely figure, embrace empty city streets, space that no telescope can reach, as well as vast areas of sand. This quite long work, lasting some 26 minutes, features "stark pillars of sound" and is understandably dark and austere in mood.
The need to rearrange seating (and to change no doubt complicated microphone placements – the concert was being recorded for future Radio 3 transmission) necessitated two intervals. After the second we heard the brief Tuning Up, music written in satirical fashion during 1946 to accompany a scene in the film Carnegie Hall of an orchestra tuning up. Unfortunately Varèse rushed into composing two sketches before terms were settled, and the idea was abandoned by the film producer Boris Moross. But in 1998 the ubiquitous Chou Wen-Cheng controversially decided to edit the two sketches in such a fashion that they were to be played sequentially. It's amusing to hear this fantasy on the tuning up note of A, but the result sounds rather more like Charles Ives than Varèse.
The last work in the programme was Amériques, a heady evocation of the composer's early impressions of New York and the New World in general, started soon after his arrival in 1915, completed in 1921, revised in 1927 and "edited and corrected" in 1973 by none other than Chou Wen-Chung. The orchestra remains huge, with numerous wind instruments and enough percussion, including two sirens and "Lion's Roar", to require nine players. It's a deliciously chaotic, highly entertaining but highly imaginative score.
Oramo threw himself into all the performances with evident enjoyment and conviction, and the orchestra played the taxing scores brilliantly, even if a few of its members occasionally looked as if they would prefer to be somewhere else that evening.
One can only thank and congratulate the BBC music department for promoting such a magnificent event. To hear all the works of Varèse in the space of ten or 11 hours was a rich experience and underlined, if this were needed, how great a composer he was, and how under-estimated. Unlike some of today's music, which doesn't necessarily sound any more "advanced" than Varèse, his output almost always makes a strong initial impact, clear and quite easy to digest, despite its often apparently outrageous and self-indulgently complex invention.
Alan Sanders