United States Bizet, The Pearl Fishers: Soloists, Chorus and Orchestra of LA Opera / Plácido Domingo (conductor), Dorothy Chandler Pavilion, Los Angeles, 7.10.2017. (JRo)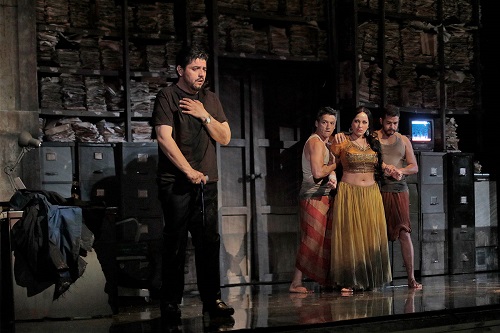 Cast:
Leïla – Nino Machaidze
Nadir – Javier Camarena
Zurga – Alfredo Daza
Nourabad – Nicholas Brownlee
Production:
Director – Penny Woolcock
Chorus Director – Grant Gershon
Set Design – Dick Bird
Costume Design – Kevin Pollard
Lighting Design – Jen Schriever
Projection Design – 59 Productions
Movement Director – Andrew Dawson
This co-production of Georges Bizet's The Pearl Fishers from the Metropolitan Opera and English National Opera is now making an appearance in Los Angeles. In an attempt to create a politically responsible version of Michel Carré and Eugène Cormon's 1863 libretto – a noble enterprise to be sure – director Penny Woolcock worked hard to rid the story of its Orientalist baggage. In the process, however, she undermined the action by forcing it into a mold that couldn't accommodate the slim fable.
The opening – a vast video projection of undersea depths, illuminated by flickering light where pearl divers plunged through a watery realm – was a transporting moment and boded well for a trip to ancient Ceylon, the opera's setting. But this was the first and last hint of oceanic depths where oysters are hunted for their hidden treasures. The remainder of the opera took place in vaguely contemporary times in a Far Eastern shantytown on a pier, while Scene 1 of Act III appeared to be set in a third-world concrete office building complete with a room of Kafkaesque file cabinets and floor-to-ceiling shelves overflowing with paper.
With some of the most exquisite music ever written, Bizet's opera tells of a love triangle between a virgin priestess, Leïla, a hunter, Nadir, and the king of the pearl fishers, Zurga. Brought to the village to pray to appease the evil spirits of the sea, Leïla is threatened with death if she fails to uphold her oath of purity. As fate would have it, Nadir and Zurga realize she is the same girl who, in the distant past, they both loved. Lust, jealous wrath and destruction follow when Leïla admits her love for Nadir. The sea roils, lightning strikes and flames engulf the community all because Leila and Nadir exchanged torrid kisses under cover of night.
This isn't your coherent opera tale of jealous husbands (think Pagliacci) or vengeful lovers (Don José), with its verismo underpinnings of working-class heroes tormented by socioeconomic and romantic vulnerabilities; yet Woolcock tries to tame this little fable and train it to fit that genre. In her striving for realism, Woolcock has created a stilted world: all these farfetched occurrences become preposterous when transported to a humdrum world of shacks, telephone poles, billboards and television sets. (References, through massive video projections, to hurricane-level waves and destruction brought on by global warming also make an appearance.) It's easier to suspend one's disbelief when the opera exists in a fairytale world – a tropical isle of palm trees, sandy beaches, blue waters and Hindu gods.
As for the singing, the LA Opera chorus was at their very best, both mighty and vulnerable, playing the villagers in thrall to their environment, priest and newly chosen king, Zurga. As Leïla, the chaste priestess, Nino Machaidze brought a delicate beauty and floating pianissimo to her arias and a passionate intensity to her duets with Javier Camarena's Nadir and Alfredo Daza's Zurga.
Camarena was unable to achieve the otherworldly quality so vivid in some performances in the arrestingly beautiful 'Je crois entendre encore'. Nor was he the perfect partner in the famous duet with Zurga, 'Au fond du temple saint', but he shone in his duets with Machaidze, most notably in Act II's 'Ton coeur n'as pas compris le mien'.
In the role of Zurga, the lovesick and betrayed friend, Daza was an arresting presence, with a rich and modulated baritone; he conveyed the paradoxical qualities of dignity and blind rage so central to the character. As Nourabad, the priest, bass baritone Nicholas Brownlee once again showed LA audiences that he can deliver memorable performances.
Serviceably conducted, Plácido Domingo's interpretation of the score never truly soared to the sublime heights of beauty inherent in Bizet's music, though in the first scene of Act III, orchestra, singers and narrative tension fused into one organic whole.
In a plot twist of cataclysmic proportions, Zurga, who has condemned the lovers to death, decides at the last moment to spare them: he has discovered that Leila was the very child who once saved his life. But how to distract the villagers who, riled up by Zurga, are now out for blood? The answer: set fire to the shacks full of children so the villagers must fly to the rescue from the scene of execution. It's not very carefully considered by Carré and Cormon, who were happy to sacrifice helpless children to flames to resolve the plot, but it does give one pause to consider what Woolcock was up against in these times of displacement and destruction, when much of the world seems to turn a blind eye to the violence around them.
Yet this fragile opera hardly has the shoulders to bear such a burden. Go see it for the chance to hear a live production of this most beautiful music by a composer who died all too young at the age of 36.
Jane Rosenberg