United States Bellini, Norma: Soloists, Chorus and Orchestra of the Metropolitan Opera / Carlo Rizzi (conductor). Broadcast live to Cineworld Basildon, Essex, from the Metropolitan Opera, New York, 7.10.2017. (JPr)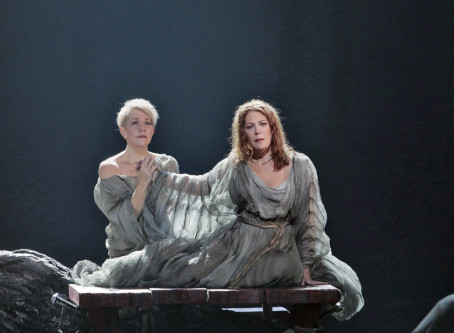 Production:
Production – Sir David McVicar
Set designer – Robert Jones
Costume designer – Moritz Junge
Lighting designer – Paule Constable
Movement director – Leah Hausman
Cast:
Sondra Radvanovsky – Norma
Joyce DiDonato – Adalgisa
Joseph Calleja – Pollione
Matthew Rose – Oroveso
Michelle Bradley – Clotilde
Adam Diegel – Flavio
Live in HD director – Gary Halvorson
Live in HD host – Susanna Phillips
When he completed the score in 1831 Bellini believed Norma to be 'The best thing I have done so far'. The opera has had some famous admirers; it apparently made Mahler cry, and Wagner was once so carried away during the final scene that he considered it had been written by God! He also said: '[Norma is] the richest in the profoundly realistic way in which true melody is united with intimate passion' and even wrote an additional aria for it once, though it was never performed in Wagner's lifetime.
The libretto by Felice Romani concerns the secret love of Norma, a seer, for the Roman proconsul, Pollione, who is the father of her two children. As people do in such stories, he is now tired of the aging Druid and has become infatuated with a young temple virgin, Adalgisa. She agrees to flee to Rome with Pollione, but innocently tells Norma of her love, resulting in Norma cursing Pollione for his treachery and vowing to have her revenge. She is set to kill their children, but her love for them stops her, and because she is now reconciled with Adalgisa, Norma puts them in her care. When Pollione comes to take Adalgisa away, Norma denounces him and he is captured by the Druids after having refused to give Adalgisa up. Norma reveals herself as equally guilty with him, and the opera ends with Norma and her lover immolating themselves on a pyre after his passion for her has been rekindled. I wonder if Wagner found some inspiration in this ending?
Norma is indisputably one of the most difficult roles in the soprano repertoire, requiring a tremendous control of vocal range, dynamics, and flexibility. The singer also need to portray a wide range of emotions; including the conflict between personal and public life, motherly love, jealousy, friendship, murderous anger and resignation to one's fate. Lilli Lehmann famously remarked that singing the three Brünnhildes in Wagner's Ring in one evening would be less stressful than singing Norma. Lehmann developed what she meant by this by explaining that 'When you sing Wagner, you are so carried away by the dramatic emotion, the action, and the scene that you do not have to think how to sing the words. That comes of itself. But in Bellini you must always have a care for beauty of tone and correct emission.'
Sir David McVicar spoke about his new production and said: 'I'm Scottish, I'm Celtish, so I personally have learnt a great deal about my people's ancient culture in doing research in the opera … We have tried to find an ascetic which matches the beauty of Bellini's score, in that Bellini's score has a kind of classical austerity to it, the simplicity to it, a purity to it … They worshipped in forests, they worshipped in groves, they worshipped nature very much in the way Native Americans do and there was a god in everything for them. The oak tree was especially sacred to them. In our setting the roots of sacred oak go into the ground and then the ground lifts up and you discover the roots of the oak become the house of Norma. So she is always connected to this sacred oak. Her relationship with the oppressor – with the Roman colonialists – deflects her from her true vocation and detaches her from her sense of belonging to the earth and the world around her.' McVicar considers her immolation to be a 'return to the earth'.
Unfortunately this interview was at the interval and not before the broadcast, that would have allowed the audiences in cinemas around the world to understand more about what they were seeing. As it was McVicar's Norma – with designs by Robert Jones (sets) and Moritz Junge (costumes) – opened in a gloomy forest full of spindly black trees back in 50BCE (or BC if you prefer?). Everything was rather dark and the costumes unremittingly grey. There seemed to be some dirt, woad and tattooing on many of the Gauls, but none of this extended to Norma and Adalgisa themselves. The singers of these roles (Sondra Radvanovsky and Joyce DiDonato) looked to have been given a (virtually) freehand over their costumes, hair and makeup and were the cleanest and best dressed Druids in the forest. Certainly, the gown DiDonato wore in Act II was good enough for any aftershow party. For the first scene, there was the sacred oak centre stage; Norma's dwelling – before we knew what it was actually supposed to be – looked like a huge yurt; and for the final scenes Norma's gong-like shield was there at first and then replaced by a huge standing stone. At the end Norma and Pollione just wander towards a red glow at the back of the stage.
Radvanovsky is an experienced Norma and DiDonato was making her role debut. Radvanovsky portrayed all three of Donizetti's Tudor queens recently at the Met and here was replacing the originally announced Anna Netrebko who decided against singing this role. Her performance got stronger and stronger as she relaxed through the opera. Perhaps coming on to sing 'Casta diva' shortly after midday in New York would challenge any singer and she was never really at her ease during it (particularly in Gary Halvorson's closeup direction for the broadcast). Despite the odd gear change in her voice she had plenty of stamina and there was some wonderful vocal control in the coloratura passages. Her singing offered a variety of shading and dynamics with her pianissimos sounding exquisite through the cinema loudspeakers. Radvanovsky could never entirely disguise the difficulties of the role and rarely evinced much warmth; her Norma clearly had anger-management issues.
As good as Radvanovsky was, Joyce DiDonato was the star of this performance. Vocally she sounded as if she could have been capable of singing Norma herself and her Adalgisa displayed all the great qualities of her refined high mezzo, with its wide range from rich chest voice to refulgent top notes. Her voice blended dramatically with Radvanovsky's in their great confrontations, such as 'Mira, o Norma', and throughout they presented two very strong female characters.
Joseph Calleja – in the rather thankless role of the love rat Pollione – had trouble keeping up with his soprano and mezzo colleagues. There was a little uncertainty – but also a radiant top C – during his opening 'Meco all'altar di Venere', and his voice is just a little too soft-grained and without the heft needed for Pollione. He didn't act the role very well, though it must be admitted he isn't given much help by Romani and Bellini. Singing with DiDonato his highlight was the 'Vieni in Roma' duet when Pollione implores Adalgisa to go to Rome with him.
Matthew Rose was a bluff Druid chief Oroveso – another two-dimensional role – but he brought his customary gravitas to it and was suitably paternal when agreeing to spare Norma's children at the end of the opera. Both Michelle Bradley, as Norma's confidant Clotilde, and Adam Diegel as Flavio, Pollione's friend, did well with what little the composer gives them to work with. The Met chorus were typically impressive, singing with gusto in their brief interventions.
Carlo Rizzi was conducting the always excellent orchestra and appeared to have a thorough understanding of Bellini's score. He was able to smooth over the longueurs of its stop-go nature, and – as appropriate – the accompaniment had great refinement and much engrossing dramatic expression. His concentration on refined musical detail made this Norma sound very fresh and its over 2½ hours of music flew by.
Jim Pritchard
For more about opera at the Met and in the cinema click here.