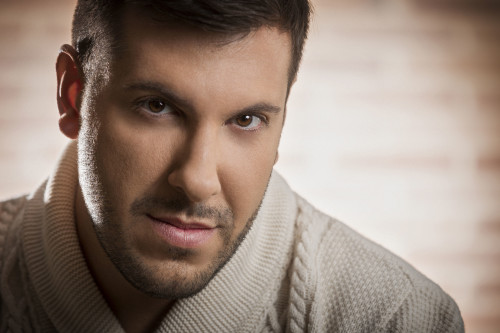 The Italian tenor Andrea Carè has recently appeared at the Teatro Real in Madrid – in Puccini's Madama Butterfly (Puccini) and Bizet's Carmen – and at the Palau de Les Arts in Valencia – in Verdi's Don Carlo alongside Plácido Domingo – and he returns to Covent Garden's Royal Opera House (February 16, 27 and March 8, 12, 16) in the role of Don José in Carmen, a role he first performed there in 2015. He has previously said: 'In spite of the brutality and intolerance of what Don José does, I still believe that in reality he is a pure man who finds himself in the wrong place at the wrong time. He is a passionate man, as many of us are, but he does not have the luck or intelligence to realise that Carmen represents a danger to his own life, his heart and his mental stability. I believe that, however mistakenly and violently he behaves, there is a Don José in every one of us, constantly struggling not to fall into the abyss of insanity'.
In advance of these performances at Covent Garden Andrea Carè answers Seen and Heard International's questions about this current role, as well as, looking back on his life and his career.
Where were you born and were there any musicians in your family?
I was born in Turin in Italy and I had everything from my family but music. No singer or any kind of artist before me.
What music did you listen to at home as a child?
Popular music, rock and myself I started around 15 years old to listen to jazz. I listened and discovered opera for the first time very late, when I was 19 years old.
Do you play any musical instruments?
Not really. I studied some piano at the Turin Conservatory, but I can't say I'm a pianist or even that I can properly play the piano. I saw and heard my first real piano when I was 20 years old.
Was it at school you first started singing and how did it progress from there?
I was singing from a really young age. It's something I have always done it seems. From two years old I was singing each kind of song or tune I heard on radio or television or learned at the kindergarten.
What was the first opera you saw? Have you always liked opera?
The first opera that I heard was Tosca and the first that I saw live was Mefistofele by Boito. Yes, I always loved opera, from the first second I heard it.
When did you first consider singing as a career?
I'm still waiting for that! :-) I'm joking but it's just to say that I had never really considered a singing career. I just did it without planning it. It came by itself without any pressure. The only need was to make enough money to survive without economical help, and thankfully I've always managed: first singing pop and jazz music in a piano bar, then starting an operatic career after just 3 years of full immersion in the conservatory's studies.
Who do you credit for telling you that you had a voice and encouraging you as a singer?
My parents always loved my singing even when others thought it was just a need to make some noise! Then it was my neighbour – a 60 years old lady lawyer and a music lover – who after hearing me singing came to speak to me and told me I had a really important voice and that I could sing opera.
How good was your win at the 2005 Spoleto International Opera Competition in helping your career?
It was crucial for my development as a man and as a singer. I met there the real music business, far from the idea they give you at the conservatory.
Are competitions like this in general a good thing for a young singer?
They are always good. The final results don't matter. I always suggest that young singers should go and test themselves and their nerves.
Tell me more about working with Luciano Pavarotti and Raina Kabaivanska on your voice?
The president of the jury at the Spoleto International Competition was Raina Kabaivanska. The winner had the great chance to have two masterclasses with her and I had an even bigger chance: she loved my voice and my love for this art and she gave me the chance to study with her for free. In this business it's so rare that a great teacher and, first of all, a great artist as Raina Kabaivanska can give their busy time and their amazing knowledge and technique experiences for free. She did it and her help was so important that I wouldn't be here telling you my story if it wasn't for her generosity. Luciano Pavarotti was another big gift that Raina gave me. She spoke with him, we did an audition and he accepted me as a student. The beginning of 2007 was for me a really important time for my technique and development: I was having classes each day for six months from two of the greatest singers of opera history and all this without paying a penny. I still can't believe how lucky I've been.
Do you have a teacher now and how do they help you?
Raina Kabaivanska is still helping me. Between the performances or the productions, I'm meeting her and seeking advice to clean a bit the technique and the interpretation. It's like having to go for a service on your car: each few months we need to reset things.
When and where was the first opera role you sang on stage?
If we consider my first opera and with a full orchestra, it was in Nichelino, a small town near Torino, where in 2004 I sang the role of Flavio in Norma by Bellini.
You first appeared at Covent Garden in 2013 with Domingo in Nabucco what do you remember about that?
It was a really exciting moment in my career, debuting at Covent Garden alongside one of my favourite artists. Meeting him it was like a dream; working together with him, sharing the stage and singing together was something I wouldn't have dared dreaming about before it happened.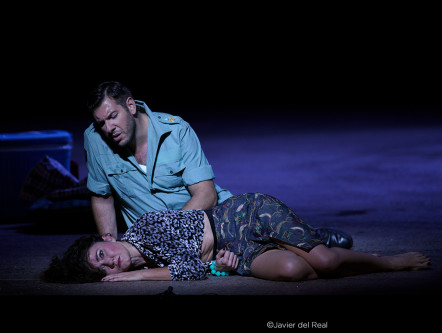 You sang Don José first at Covent Garden in the very different production to the one you are now in. Does this make a difference in the way you approach the character?
I sang in 2015 in Francesca Zambello's production. I would have loved to work with her on the character but since I jumped-in because of a last-minute cancellation, it was impossible to go so deep into the character with just two hours of rehearsals. Obviously, she was not there but I had fabulous assistants helping me to fully immerse myself in that production.
How has it been working with Barrie Kosky on Carmen?
This time it was not a jump-in, but my cast was called to rehearse much later since we'll have our première ten days after the other cast. This was then a problem because when we arrived Barrie was really busy with the last rehearsals before the first première. So we worked more with his assistant. The few rehearsals I had with Barrie were so intense and interesting that I can't wait to have a new production with him and work more specifically on his own ideas, trying to be as close as I can to the character he is picturing in his mind.
How has it been working with Jakub Hrůsá and is it your first time with him?
Yes. it was my first time with him and it was a big surprise. He is a really talented conductor, precise, easy to understand and that knows when it's time to lead and when it's time to help a voice to flow properly.
Is there anything you want to say about your colleagues in this production?
I had the pleasure to work in Madrid with Gaëlle Arquez on another interesting Carmen production and I'm happy to work again with her. The rest of the cast is completely new for me and I've to say that I feel pretty lucky to be surrounded by such really nice people and artists.
Are there any challenges for a tenor who is singing Don José?
There are many challenges. It especially depends on which type of voice you are. For me the most difficult thing is the first duet because it's pretty light for my voice, and then it is to keep cool while I sing. Often I feel the torment of Don José so deeply that it can be dangerous for my singing. A good singer/actor has the hard mission to give a deep picture of the character without completely giving all of him/herself.
I know there are some additions to this version of the score, does Don José get anything new to sing?
Not as much as Carmen or Moralès. Don José had some changes from the first version but it's almost the same. There are few lines that are different in lyrics and music but not big new parts to add.
You sing a number of Verdi and Puccini roles, what is special about their music?
I love the operas of Verdi and Puccini, but I know many people who can't stand their music and prefer Rossini, Mozart or Donizetti. You see, art is so subjective. It's such a mystery and can't be explained, that's the beautiful thing about art: nothing is an absolute masterpiece, and nothing is an absolute fail. The perception may change from heart to heart.
What other composers do you particularly admire?
I had the chance to sing two Janáček's operas (Šárka and Jenůfa) and I simply love his music as well as I love composers (Schubert, Schumann, Brahms, Dvořák, Debussy, Grieg and many others) that wrote Lieder or chansons even if I don't have much chance to sing this repertoire.
Do different composers make you need to use your voice in any different ways?
Of course. The big deal is in fact to connect their way of writing to your way of singing and don't let one of these two facts prevail.
What is your favourite role and why?
I am literally crazy for Otello, I think because of the complexity and the elegance of Verdi's music and of course because of the story; because of the development of this character that requires high skills both as an actor and as a singer.
How do you expect you voice to change as years pass?
When I started to study opera, many teachers were unsure about my voice type. I had really dark and timbred low notes and no way to reach the tenor higher register, so they thought I was a baritone. I fought against that because I felt that it was clear that my voice was blooming in the higher register and it was just a problem of control and education. It would have been much easier for me to sing as a baritone and I would have no problem to sing in that range of notes, but it's much more interesting as a tenor with a natural dark sound than a baritone with an easy high register. I believe that with passing years my voice is gaining even more weight in the central and lower register but as well much more stability in the higher parts of a tenor's tessitura. Life is unpredictable and not every singer has the same changes as time goes by. Who knows what the future will bring.
What roles are you hoping to be invited to sing in future that you do not sing now?
Of course, Otello, but I was already invited many times to sing it and I didn't because I thought it was too early. Then I can't wait to sing Manon Lescaut, Trovatore, Cavalleria, Pagliacci, Andrea Chénier, Tabarro, Turandot and many others.
If you have to learn a new role how do you prepare for it?
It depends and changes from time to time. I start by reading closely the story, the libretto, getting to know the characters and going deep in my role. Then I listen to different recordings, then I work with the music, with my pianist or some maestro available in the city where I'm working while I've time to study and finally I put it all together. The last step is a teamwork on the production.
Where do you call home?
Torino is my hometown, where I was born, where I'm based and where most of my beloved ones and good memories are. But nowadays I call home Finland as well, the country of my wife.
Do you enjoy all the travelling a singer's life entails?
In the beginning it was so much fun. I was so curious and excited, and it felt much more fun than recently. Sometimes you miss home and family so much that you lose the fun of travelling and meeting new people and getting to know so many different cultures. I guess 14 years of career, of travelling around the world and basically having home in your suitcase, starts to be less fun than in the beginning but it's still an incredibly interesting chance that I'm so grateful to have.
If you can say … what has been your most memorable performance?
I had many memorable evenings but perhaps that Carmen here in London in 2015, when I jumped-in for Jonas Kaufmann. It was of course a big disappointment for the audience when the artistic director announced it, because everyone was waiting so much for another superb performance of this amazing artist. I felt the audience angry and sad because they lost the performance of their favourite tenor and they had never heard this young Italian singer coming to substitute for him. The end of the evening was a great surprise, the audience loved the performance and liked my acting and my singing, and I felt all their love.
If you can say … what is your favourite theatre to sing in?
One of my favourite theatres is Stockholm's Royal Opera. I like how they organize things, I love their productions, their attention for young artists, the advertisement process and the love of their audience. But of course, I loved to perform and work in London, Madrid, Rome, Naples, Berlin and Venice.
What are you most looking forward to singing in the near future?
I'm looking forward for my debuts in Staatsoper in Wien and Metropolitan Opera in New York, as well as, my debuts in Manon Lescaut, Cavalleria and Adriana Lecouvreur.
Has anything funny happened to you on stage you can tell us about?
Many funny things can always happen on stage, but the most embarrassing moment was when in the end of a performance of Carmen, in a wild movement I split my pants … nothing too big thanks to the red underpants I was wearing that night…:-)
Thank you for answering our questions and Toi, Toi, Toi for your performances at Covent Garden and in the future.
For more about Andrea Carè click here.