United Kingdom Beethoven, Schoenberg, and Haydn: Imogen Cooper (piano). Wigmore Hall, London, 26.6.2018. (MB)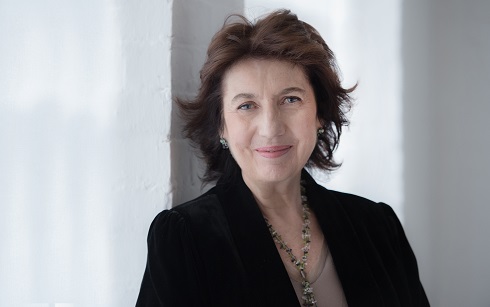 Beethoven – Eleven Bagatelles, op.119; Thirty-Three Variations on a Waltz by Anton Diabelli, op.120
Schoenberg – Six Little Piano Pieces, op.19
Haydn – Piano Sonata in C major, Hob.XVI:50
Any programme including the Diabelli Variations will offer an extraordinary challenge for pianist and audience alike; so too, after all, would a programme in which Beethoven's op.120 was the only work on the programme. With a first half of works by Beethoven, Schoenberg, and Haydn – a programme of which, I hasten to add, I wholeheartedly approve – the difficulties but also the opportunities multiply. Whilst not everything here in Imogen Cooper's recital proved equally convincing, there was certainly more than enough to enjoy and to make one think.
First came the op.119 Bagatelles, the opening G minor piece notable for its nobility of utterance, with more than a glance back to Mozart's use of that key. E-flat major warmth – again, perhaps not entirely without reference to Mozart or indeed to Haydn – offered welcome, illuminating contrast and association. Cooper phrased beautifully, shading tellingly yet without pedantry. Beethoven's counterpoint sounded unusually Bach-like, refreshingly so. As the set progressed, we heard intimations of Schumann, Chopin, even, I fancied in the seventh piece with its strange inner-part trills, of Janáček; we felt musically as well as technically – if that makes any sense – the need to cross hands; above all, we experienced Beethoven's need to develop, even when there is barely time to do so. Sublime melodic simplicity left us in no doubt as to the composer, likewise the strangeness and difficulty of late Beethoven (irrespective of the precise dating of individual pieces). A heavy-handedness that went beyond mere vigour, boisterousness, or resolve (no.6: 'Risoluto') occasionally detracted – yet only occasionally.
Further illumination was had from placing Schoenberg's aphoristic op.19 Little Piano Pieces after those Beethoven 'trifles' (anything but, of course). There were again a few occasions when heavy-handedness slightly hampered proceedings, not least in the free-floating of these wisps from another planet. That should not, however, be exaggerated. The will-o'-the-wisp quality to the first in particular was well captured, as were the twin requirements of voice-leading and characterisation. The obstinacy of the second's major-third figure gained very much from juxtaposition with Beethoven's not entirely dissimilar games. The sixth spoke as much of Schoenberg's orchestral experiments – the all-too-little-known, posthumous Three Pieces for Chamber Orchestra, yes, but also the preceding op.16 Orchestral Pieces – as of Mahlerian funeral bells. Harmonies suggested timbre, but timbres we could not quite year, yet fancied we did, also in turn suggested harmonies.
Haydn's C major Piano Sonata, Hob.XVI:50 was taken attacca: an obvious ploy, perhaps, but a fruitful one nevertheless. The quirkiness – please forgive the cliché – of its opening emerged with still greater freshness from the still strange harmonic world of 'freely atonal' Schoenberg. A sonata form thus formed itself, almost as if from a lower-case representation of chaos. Cooper's tempo was judicious, permitting of necessary subdivision without garbling. I found the musical argument utterly absorbing. Beethovenian connections suggested themselves, but the individuality of Haydn's imagination and intellect were undimmed, not least in a development that is surely like no other. The Adagio sounded with almost Schoenbergian complexity, with Mozartian echoes equally apparent, indeed related. It always sang – as is crucial to the music of both. The finale, however, I found somewhat bewildering. Lack of clarity seemed a deliberate interpretative decision, but I could not understand why.
And so to the Diabelli Variations. Cooper certainly conveyed a necessary sense of, and incitement to, intellectual struggle, likewise the variety of response – to put it mildly – in Beethoven's treatment of the 'cobbler's path' of a theme. Her way with his humour was excellent: straight-faced, even mock straight-laced, speaking in earnest so that Beethoven could make his point. The second variation could then, for instance, sound all the more disconcerting una corda following the march rhythms of the first. Tenderness of melodic line made connections with, or perhaps better developed from, what we had heard in the opening Bagatelles. Schumann again came to mind. So even did Schoenberg, when tonality – dialectically – came to sound most under strain the more it was insisted upon. The variety of insistence was, of course, very much a thing in itself; such was certainly the case in performance. And yet, there was, particularly in the middle variations, sometimes a sense of having lost our way. Perhaps that was just me, but I was not sure, even after the event, where I was being taken or why. Thrill of discovery is an absolute necessity, but some variations began to sound a little arbitrary. It was, at any rate, a considerable relief to reach the C minor Adagio ma non troppo of the twenty-second variation. Was, however, Beethoven's 'ma non troppo' heeded? The fugue sounded properly uncompromising, although it was perhaps also a little lacking in chiaroscuro to begin with. Perhaps, though, that had been the point, for light and shade were soon to be heard and indeed felt in abundance. Cooper will doubtless have more to say about this work in the future; this, however, was more than just a start.
Mark Berry