United Kingdom Mozart: Arthur and Lucas Jussen (pianos), London Chamber Orchestra / Christopher Warren-Green (conductor). Cadogan Hall, London, 30.10.2018. (JB)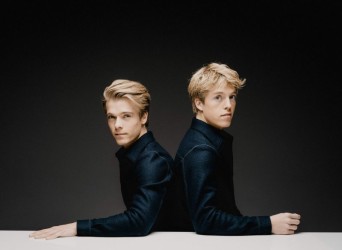 Mozart – Serenade No.6 in D K239 (Serenata Notturna); Concerto for 2 Pianos No.7 K242 (Lodron); Symphony No.40 in G minor K550
It's no longer a surprise that some of the most insightful performances of so-called classical music are coming from some of the youngest performers on the planet. It's clear that this is a question of identity. The performance of the Schubert F minor Fantasy by the Jussen brothers at a South Korean Festival (YouTube here) sounds as though the boys have had a transfusion of Schubert's blood. It's not simply that others – including the greatest – have missed Schubert's intentions or that the Jussens have more conviction. They do, but they also have the profound humility to inhabit Schubertian language right down to the smallest nuances. Especially the smallest nuances.
The Jussens are the perfect masters. They are also the perfect servants. The serva padrona par excellence. 
Cadogan Hall was crowded for their performance of Mozart's Concerto for Two Pianos with the London Chamber Orchestra. The concerto was commissioned by the Countess Antonia Lodron to play with her two daughters in 1766, the youngest of whom was only starting out as a pianist and had thus to be give an undemanding part. Fourteen years later, Mozart rearranged this concerto for three pianos, for two, and gave the premiere of the 1780 version with himself as soloist with another pianist – probably his gifted sister.
Christopher Warren-Green told us that he had introduced to Jussen brothers to London a decade ago when they were still children. Also with the London Chamber Orchestra. What is required of the orchestra here is to give the soloists support. And Maestro Warren-Green turns out to be supreme in this too frequently neglected art.
Unlike the usual concerto, there is almost no dialogue between soloists and orchestra. The dialogue is hyperactive, but it is all between the soloists themselves. This duo positively feed off one another. Incestuous? Maybe.
Moreover, this dialogue doesn't sound like two musicians having a conversation, rather a single voice taking stock of itself. Here are two players who understand one another to the degree that they comfortably interchange parts. Mozart and his sister come to mind again.
I wondered aloud about the Jussen parents, in an after-concert chat. Yes, Arthur confirmed, our parents are musicians. Their father is a timpanist, mother a flautist. That too is audible in their playing. Their cushioning of every note is the timpanist's softheaded stick's contact with his instrument, while their frequent flights through a legato flurry, evokes the sound of the gentle-sounding flute. My imagination? Maybe. But I could hear in the spontaneous ovation they received, that every imagination in that audience had been activated. Possibly in a different way to mine. All the same, audience and players were in live conversation. A concert is never more alive than the rare occasions when this specific communication sparks.
There are moments in the Adagio (second movement), as well as, in the sparkling Rondo finale, when the two pianists pass phrases and sometimes fragments to one another with a diminuendo going through each phrase. Yes, the volume is reduced, but in proportion with the diminuendo, the sound becomes enriched, taking on a hue of its own. This is an accomplishment of only the finest bel canto singers. I have never heard a pianist attempt it, let alone deliver it with an almost cheeky ease of gathering nuts in May.
Murmurs of breathtaking were coming from the audience at the interval, with many of the audience seeming puzzled as to precisely what it was that had taken their breath away.
When I reviewed the Jussens YouTube performance of the Schubert Fantasy, I commented, in invoking other recordings, how close theirs was to Maria João Pires's with one of that lady's own pupils. The closeness was closer than I could have guessed. The boys write in the LCO programme … a very important period for both of us was the time we spent with Maria João Pires. We lived with her for a year in Portugal and Brazil at the ages of 10 and 13. At that age you're very malleable and we think that having lessons with her, hearing her practise, and being close to her was a very important step in becoming the musicians we are today. 
 There was no way the LCO audience was going to let the brothers go without an encore. Animated conversation was going on between the two as to what it was to be. They settled for a piece which had been tailor-made for them by the Swiss virtuoso pianist and composer, Igor Roma. The virtuoso romp to crown all virtuoso romps. Like all the best musical parodies it's written in affection for the items being parodied, opening with a nod in the direction of Mozart's 40th Symphony. Very fitting. Mozart himself was a witty self-parodist. The piece then jazzed off into a tango and other delicious South American improbabilities.
They may need to repair the roof of Cadogan Hall after the audience's thunderous response to such fun.
Having been catapulted to such heights, most of the audience had not got back to earth after the interval. And Mozart's 40th Symphony was on the programme. The players stood up to play this with strings on 8:6:4:4.2. double wind and timpani (the excellent Tristan Fry). Standing up does indeed aid projection
But what was Maestro Warren-Green to do with Mozart's sublime masterpiece, following on from the Jussen's send-up? The only thing he could do: play it straight.
Mozart's music belongs to a unique category whereby the less you 'interpret' it, the better you will deliver it. He is a composer who requires his players to get out of the way of what is written in order that it may speak for itself. Christopher Warren-Green is exactly the right conductor to elicit what becomes an intimate chamber music performance of Mozart's ideas.
Enough showmanship for tonight chaps (oops: they were mostly women!); let's quietly enjoy Mozart's ensembles among ourselves. Playing straight with this approach doesn't mean playing dull. It means exactly the opposite. It does mean some subtle, gentle, hardly-noticeable archaeological digging to hint at what lies behind these notes. The LCO players are with their maestro all the way.
There were finely judged wind solos throughout, from the horns (Hugh Sisley and Gavin Edwards), flute (Karen Jones), oboes (Gordon Hunt and Alison Aity), clarinets (Mark van de Wiel and Jordan Black) and bassoons (Meyrick Alexander and Richard Skinner).
The strings came more into their own in the evening's opening Serenade No.6 K239, the 'Nocturnal'. This is made up of three movements: a rumbustious march with Mozart's tongue-in-cheek humour, a dignified but fun minuet, and a lively rondo finale.
Warren-Green explained to the audience that Mozart was trading in antiphonal dialogue between a quartet of soloists – two violins a viola and a double bass – and the rest of the strings. He placed the solo quartet on an inbuilt balcony at the back of the stage, looking down on the other players. An inspired choice of positioning, which gave something of what must have been the atmosphere in Mozart's day. At that time, audiences were drinking, eating and yes – even chattering – during the performance, falling into silence for only the solo bits that especially struck their ears. Certainly, they would have been struck by Gina McCormack's memorable, solo violin playing.
Jack Buckley