United Kingdom Primeiro Bailarino (Principal Dancer): Regent Street Cinema, London, 7.11.2018. (JO'D)
Cast – Thiago Soares, Alessio Carbone, Lauren Cuthbertson, Sarah Lamb, Marianela Nuñez
Director – Felipe Braga
Choreographer and Movement Director – Deborah Colker
During a post-screening talk in the auditorium of the Regent Street Cinema, Thiago Soares made it clear that the documentary Primeiro Bailarino is not about him being 'better' than someone else. It is not meant as a celebration of a trajectory that saw a fifteen-year-old hip-hop star from Brazil become a principal dancer at The Royal Ballet. In one of the film's many revealing moments Soares himself says that memories at The Royal Ballet, where he has been for sixteen years, are short. However good your performance on a particular night: 'In three days you're old news.'
Instead of tracing a rise-to-stardom narrative, Brazilian director Felipe Braga (whose previous documentaries have been about a footballer, a fighter and an ice-skater) simply films the dancer at a particular stage in his career. Hand-held, restless, the camera tracks Soares from behind as he walks through the streets of London and the passageways of the Royal Opera House, as he rehearses Kenneth MacMillan's Romeo and Juliet and Wayne McGregor's Raven Girl in a studio. Staying close to its subject (it is there as he cuts his toenails) the camera seems to be still only when it lingers on Soares's nearly naked, dancer's body as he sits in a dressing room or alone on the floor of what could be his flat, with an ice-pack balanced on his knee.
In voiceover or on film, in Brazilian Portuguese or in English, Soares talks of 'artistic humility', of performing in shopping centres and in the rain on the beach at Cannes, of at one point eating twelve bananas a day. Most of all, perhaps, he talks of pain. 'Pain is my little friend,' he says to explain that it is no use for a dancer to complain about something that is always there. And even when it isn't there, the memory of pain is so strong it can still be felt.
The middle section of the documentary switches from London to Brazil, where the dancer both produces and performs in a programme of four works: classical, neo-classical, contemporary and dance-theatre. Positioned in wings of Rio de Janeiro's Municipal Theatre, the camera films him, with fellow principal of The Royal Ballet, Marianela Nuñez (his ex-wife), in the 'black' pas de deux from Swan Lake. At the end of 2018 Soares will become a Guest Principal with The Royal Ballet. This Brazil episode, overlong and slightly tedious as it is, may be intended to show the work he will be doing, and where he might be doing it, in the future.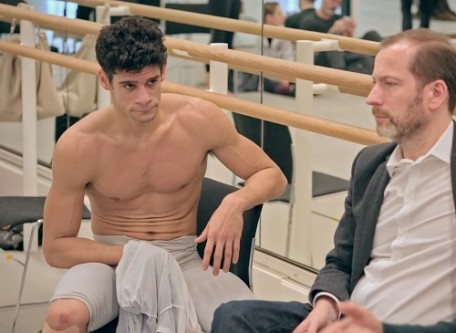 Back in London, the dancer is seen rehearsing Romeo and Juliet as Director of The Royal Ballet, Kevin O'Hare and Senior Teacher, Alexander Agadzhanov, look on. In voiceover, Soares explains, with humility, that he cannot hope to impress either of them by the way he dances the steps: Kevin O'Hare worked with MacMillan, Agadzhanov with Nureyev. He can only hope to bring something to the role that comes from the 'nuances' of his life; to be better, as he says in another part of the film, 'than myself'.
John O'Dwyer
Primeiro Bailarino (Principal Dancer) will be screened in the Linbury Theatre of the Royal Opera House on 21 January 2019 at 7.30pm. To book tickets click here.