United States Schubert, Poulenc, Brahms, Ravel: Sir Simon Keenlyside (baritone), Malcolm Martineau (piano), Perelman Theater, Kimmel Center, Philadelphia, 7.12.2018. (BJ)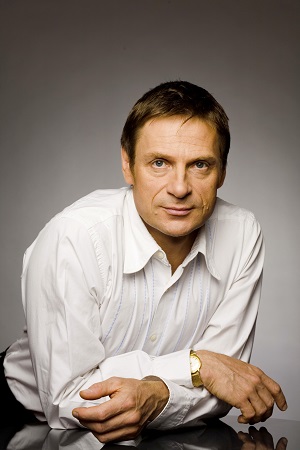 Schubert – Eight songs
Poulenc – Quatre Poèmes de Guillaume Apollinaire; Suite française: Pavane (piano solo)
Brahms – Six songs
Ravel – Histoires naturelles
Sir Simon Keenlyside is a great artist, and I count myself among this phenomenally gifted performer's most enthusiastic admirers. His assumption of operatic roles ranging from Count Almaviva in Le nozze Figaro to Prospero in Adès's The Tempest have won him a supreme status among his colleagues. And no more than half a dozen notes from his recorded account of Vaughan Williams's A Sea Symphony suffice to transport the listener, or at least this one, to a different plane of imagination and high poetry.
But this Philadelphia Chamber Music Society debut was my first encounter with him live on the recital platform, and the experience left me totally baffled. First of all, the cliché of the strolling gypsy violinist is familiar enough, but I had never previously encountered the strolling gypsy baritone that his deportment on stage seemed to embody. Oh, there was nothing wrong with the thoroughly attractive personality immediately evident from his stage manner. But his extravagance of gesture and distaste for staying in one place made it very hard to concentrate on, or even perceive, the line and texture of the well-chosen music he offered, in sympathetic partnership with a pianist in the person of Malcolm Martineau who achieved the highest level of expressive warmth and of rhythmic brilliance throughout the evening.
Just a week earlier I had taken a soprano to task for a degree of flouncing around that made it hard for her to project her voice with the fine quality she achieved the moment she stood still. The paradox is this: Keenlyside possesses one of the most ravishing baritone voices you are likely to hear anywhere in the world today, and the smoothest of legatos to go with it. As if to invalidate my quarrel with the soprano, his much more extreme antics in no way impaired the beauty of his sound. And yet with every lunge, with each aggressive forearm jab that evoked nothing so vividly as a hyperactive traffic policeman, and with each jaunt around the stage, the continuity of the music and its message were, for me, irretrievably damaged. Despite the impeccable clarity of his diction and the unrivaled smoothness of his legato, words and line emerged distractingly chopped up.
The sheer beauty of Keenlyside's sound continued to charm the ear. But under the circumstances I do not feel able to offer any coherent evaluation of his way with this or that song on the program. Three encores rewarded an ovation from an audience (including my wife) clearly out of sync with my disappointment at a recital that, ever since PCMS announced its season's schedule, had been one of the programs I looked most avidly forward to.
I look forward with no less keen anticipation to my next encounter with Sir Simon, when I fervently hope he may prove me wrong. There are, after all, few singers alive with so much musical enlightenment to offer their audiences. My complaints notwithstanding, he is indeed a great artist.
Bernard Jacobson