United States Brahms [I]: Yefim Bronfman (piano), Los Angeles Philharmonic / Zubin Mehta (conductor), Walt Disney Concert Hall, Los Angeles. (DD)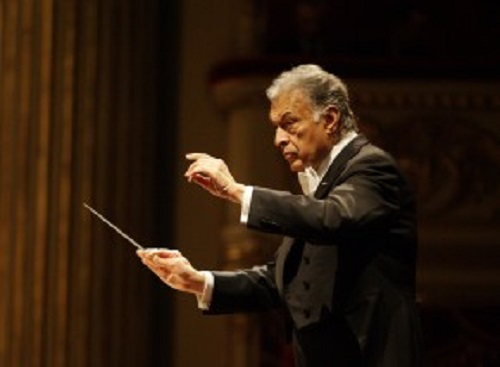 14.12.2018
Brahms – Piano Concerto No.1 in D minor Op.15, Symphony No.1 in C minor Op.68
15.12.2018
Brahms – Piano Concerto No.2 in B flat major Op.83, Symphony No.2 in D major Op.73
The Los Angeles Philharmonic under the direction of Zubin Mehta, their conductor emeritus, have embarked on a series of concerts dedicated to the music of Johannes Brahms – a traversal of his four symphonies and four concertos. This may be thought of as atypical of the Los Angeles Phil, an orchestra that has been given in recent years to adventuresome programs and odd juxtapositions of pieces that didn't overtly suggest complementary aspects.
The soloists in the concertos include veteran pianist Yefim Bronfman, who performs both piano concertos over two concerts, and violinist Pinchas Zuckerman in the Violin Concerto in D major (paired with Brahms' Symphony No.3). The latter will be joined by cellist (and wife) Amanda Forsyth in the closing concert, the Concerto for Violin and Cello in A minor paired with Brahms' Fourth Symphony.
Immediately prior to the entrance of Maestro Mehta in this opening concert, a presenter's amplified voice announced to the audience that the conductor had recently taken a serious fall and would have to lead the concert while seated. Shortly thereafter Mehta made his entry, supported by none other than violin soloist Yefim Bronfman. As Maestro Mehta mounted the podium ('mounted' is truly the correct word), the audience, many of whom have been applauding his entries for decades, rose from their seats and cheered. It was an especially affecting moment for those of us who have followed the conductor for decades.
Bronfman began the series with the Piano Concerto No.1, and he did not disappoint. The focused opening of the concerto, echoed with no-nonsense directness by Bronfman, possessed not a trace of sentimentality. He had certainly found his own footing. The nobility (how else to put it?) of the theme that opens the second movement and the drive of the last movement's materials – plural intended – were played with the directness and precision that one has come to expect from this orchestra. It showed the pliability of both soloist and orchestra: grandeur, power and volume when called for, and delicacy and sweetness when required.
There is a fugue, or at least a fugato, that appears towards the middle of the last movement. It is a bridge passage – I cannot help thinking that Brahms wrote it with his tongue tightly tucked into his cheek – and acts as a link to the more lyrical theme that follows in the piano. At least three orchestral players were smiling during that section which proves to me, at least, that the composer had a sophisticated sense of humor.
The counterbalance to the concertos in this series are the individual symphonies. Brahms' Symphony No.1 may be his best known, and certainly the celebrated melody of the finale is a touchstone of sorts. The similarities between this movement, indeed, the entire symphony, and Beethoven's Ninth are undeniable, but that doesn't detract one iota from the virtues, beauties and greatness of this work. The opportunities for solo stints are many, and among them here were Concertmaster Martin Chalifour, cellist Robert deMaine, flutists Denis Bouriakov and Catherine Ransom Karoly, principal oboist Ramón Ortega, clarinetists Boris Allakhverdyan and Burt Hara and bassoonist Whitney Crockett. The horn section carries a disproportionate burden – bravos to all – and one has to ask if principal French horn Andrew Bain ever plays a sour note.
The Los Angeles Philharmonic was made for music like this, and for Mehta to conduct it. Both dramatic and comic, it is filled with hidden, wordless narratives that alternate with passages of repose, humor, elation, dread, the buffa and the seria. Brahms demonstrates again and again that words are, more often than not, inadequate.
The second Brahms program under the direction of Zubin Mehta followed tight on the heels of the LA Phil's initial offering: in less than twenty-four hours we were hearing Brahms' second foray into each form.
Yefim Bronfman, who had played the Piano Concerto No.1, was the soloist again for the Second Piano Concerto. This is a performer who knows his repertoire, even if there was the occasional error and miscue, especially in the opening movement. From the languid, rising horn call that opens the concerto and the descending second phrase, also answered by the piano, the listener is immediately on the harmonic path that will define this piece. Brahms always does this with great subtlety – the rapid changes in modality (as in the passage that immediately follows the piano/horn opening), perceived tempo, denser texture, explosive dynamics…these are the constants in Brahms: continuous change on the primary level, amazing continuity on secondary and tertiary levels.
All was right in this serenely controlled performance. That is not to say that there weren't plenty of deep and tumultuous feelings on display, but with no overstraining, melodramatic displays or tempestuous passions. The spirit of this restraint was probably best represented in the miraculous third movement, the Andante, with the extended, unforgettable melody played by principal cellist Robert deMaine in a performance marked by clarity, beauty and a completely schmaltz-free rendition. In the measures that precede the cellist's thematic return to the original theme, there is a section of ineluctable beauty with the two clarinets leading the orchestral procession back to the restatement of the original cello melody. It is a passage without any precedent I know of – it wanders and meanders, but the composer knows exactly where it's directed. It would be remiss not to credit the two clarinetists, Boris Allakhverdyan and Burt Hara, who sounded as one.
Bronfman rewarded his audience with an encore: Debussy's popular Clair de lune. It is a piece that occupies an honored place in the piano repertoire, certainly far from Brahms and his stylistic milieu. Aside from providing a short breath of air from the dense and thick world of the late Romantics, it also exhibited Bronfman's wonderful pianistic breadth.
The concert concluded with a well-tempered, unencumbered reading of Brahms' Symphony No.2. I have seen and heard conductors draw out climaxes, add unnecessary rubato and underscore with sentiment, but there was none of it here. The pleasures of this symphony are many. I have long felt this is Brahms' most perfectly conceived and constructed symphony; lacking in any contrivance, and as fulsome and rich as it is, it has also been pared down to the essentials. But what a rich trove of essentials it contains!
Brahms symphonies don't lend themselves comfortably to general, nontechnical or verbal description. Even when listening to professional musicians and academics speak, I often hear forced and contrived descriptions that attempt to relate the music to tactile or visual phenomena. To my ears, those descriptions seem strained. But having said that, I will confess that I am able to openly and happily imagine a variety of visuals and non-technical cues and contrivances while following the course of a Brahms symphony: dawns, sunsets, clouds, night skies, trees in autumn and green, flower-filled meadows in spring. If it flows, it is in a Brahms symphony. Likewise, if it takes flight, mourns, accepts and rejects, questions, wonders, wanders or wends its tonal way through discord and chaos to repose and fulfillment: these and even more imaginative matter can all be found his work.
Mehta knows his way through this material. His tempos are always 'right', which means I don't find myself wondering why one movement is dragging while another is racing; he calibrates dynamics and balance precisely and wrings a great wash of emotion while still celebrating the dignity and stance of these majestic compositions. This is a big, broad, expansive Brahms, with no mawkishness, sentimentality or schmaltz. It is Brahms as it ought to be and, to these ears, that is more than enough.
Douglas Dutton
For more about the LA Phil click here.