United States Verdi, Il trovatore: Soloists and Chorus of the Seattle Opera, Seattle Symphony / Carlo Montanaro (conductor), Seattle, Washington, 12.1.2019. (ZC)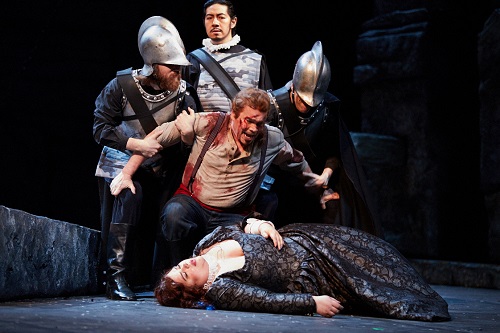 Cast:
Ferrando – Adam Lau
Inez – Nerys Jones
Leonora – Leah Crocetto
Count di Luna – Lester Lynch
Manrico – Arnold Rawls
Azucena – Elena Gabouri
Ruiz – John Marzano
Production:
Director – Dan Wallace Miller
Choreographer – Kathryn Van Meter
Set Designer – John Conklin
Costume Designer – Candace Frank
Lighting Designer – Christophe Forey
Projection Designer – Adam Larsen
Chorus master – John Keene
Verdi's Il trovatore has something for everyone: drama, a ridiculous plot, vengeance, battles, and hours of complex melodious music. Beloved by audiences, together they don't always form a compelling whole. The opera can be difficult to pull off in the theater without both an eye and an ear to how everything should fit together. During its current run with Seattle Opera, an effective aesthetic — combined with an excellent quartet of singers in the main roles — helped to make the best case possible for this complex work.
The story stems from a grisly tragedy that unfolded a generation before the first act begins: Azucena's mother is burned at the stake on the orders of Count di Luna. As she dies, the accused witch implores Azucena to avenge her death. Azucena tries by flinging what she thinks is Count di Luna's younger son into the flames, but mistakenly tosses her own child into the fire instead. Instead, Azucena raises the child she intended to kill as her own. He grows up to become Manrico — the opera's title troubadour.
But the plot thickens when Manrico falls in love with Leonora, as does the current Count di Luna, son of the former count who had ordered the execution of Azucena's mother. Unbeknownst to the members of this love triangle, di Luna and Manrico are brothers. The complex love story between the two of them and Leonora unfolds with predictable back and forth, with plenty of misunderstandings, plots, desperation, and deception. In the final act, Leonora takes her own life, di Luna kills Manrico, and Azucena grimly announces that the Count has killed his own brother — finally avenging Azucena's mother.
John Conklin's craggy, bleak sets, originally created for the Cincinnati Opera, were well-utilized for this production. Their imposing, generic structure enclosed all of the action, alternately evoking a rebel camp, a convent, a dungeon, and a castle. With each new scene, the sets built a sense of place that assisted and pushed the underlying drama. Christophe Forey's dim lighting, replete with shadowplay and spotlights, added a foreboding quality. The effects and dark, stark hues reinforced the characters' complicated motives.
The two weak links were the direction and choreography. The sword brandishing, pacing, and faux battles added little. That said, while much of the direction seemed perfunctory, there were moments that worked, such as during Act II at the convent, where soldiers, rebels, and the four main characters were swept up in a swirl of action and pursuit. In the midst of this frenzy, everyone on stage froze except Manrico and Leonora — the isolation drawing attention to the two lovers. These directorial choices infused the sequence with poignancy, and highlighted Verdi's music, which describes the couple's thoughts and feelings as the drama careens toward its tragic conclusion.
One of the hardest feats for any production of Il trovatore to overcome is assembling a quartet of singers for the four leading roles — artists who can command equal attention from the audience. By far, the star here is Leah Corcetto as Leonora, a character expected to convey a vast range of feelings. One moment she is head over heels in love, the next she is preparing to poison herself. Corcetto's singing was expressive throughout, conveying true emotion and conflict.
Capably at her side was Arnold Rawls as Manrico. Rawls previously sang the role in 2010, when he made his Seattle Opera debut. His tenor was tender when his lines intermingled with Corcetto's, and heroic when challenging Count di Luna, played expertly by Lester Lynch. A baritone whose voice is suitably shadowy, Lynch fit perfectly as both a foil for Rawls and a tormenter for Corcetto's Leonora.
Finally came a treat: a most memorable Azucena by Elena Gabouri. As a character, Azucena is uncomfortably both villain and victim. She is easy to both pity and revile. At the start of Act II, Gabouri enlisted the sympathy of the audience with a raw, aching aria, 'Stride la vampa' ('The flames are roaring'). Later, Gabouri cackled with satisfaction when Azucena finally achieved vengeance for the death of her mother, through the loss of her adopted son at the hand of his brother. It is a hard balance to strike, but Gabouri was more than up to the task.
Zach Carstensen