Lancaster Music Makers Present Arthur Butterworth and David Jennings Premieres 
The programme of music by members of Lakeland Composers, presented by Lancaster Music Makers on 1st March 2019, will include the first performance of the 'Three Songs', Op.144 which were the last compositions by Arthur Butterworth.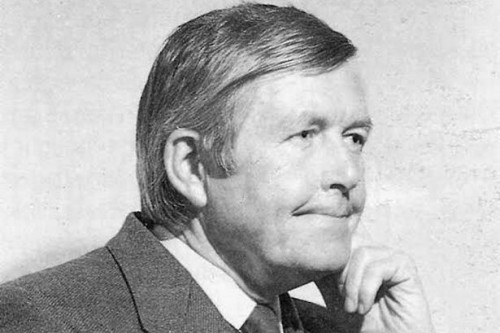 Butterworth, who died in 2014, was a highly respected composer and conductor. He was particularly well known for his work with brass bands, but his compositions span a much wider range. They include 7 symphonies, concertos for a variety of solo instruments, several other symphonic works whose titles reflect his northern roots. His works are performed by leading orchestras and bands in this country and around the world.
Arthur Butterworth was a leading spirit of Lakeland Composers from its founding in 1998. Despite the length of the journey from his home near Skipton he continued coming to the Group's meetings until the year he died. These songs for bass voice, dedicated to Julian Godlee, were the last pieces that he offered for inclusion in one of the Group's concerts. On 19 January 2014 he wrote in an email to the composer Christopher Gibbs: 'Last summer I was asked to write some songs for a bass-singer in Suffolk – a doctor who is the nephew of  my close student-friends of RMCM days, and members of the distinguished Godlee family in Manchester (Philip Godlee was the driving force who brought Barbirolli to re-build the Hallé Orchestra in 1943; three of his children being some of my best friends in the Hallé). So these three songs for basso-profundo and piano might just be appropriate for a Lakeland recital.'
The words of these songs (which he wrote himself) depict the countryside surrounding The Wash and his settings evocatively heighten the atmosphere of the scenes they portray. The three poems describe respectively: the old windmill at Cley-next-the-Sea, Holt (North Norfolk), the inspiring sounds of the bells of St Botolph's Church in Boston and an Easter evening twilight near Gedney (South Lincolnshire).
The concert also includes another significant premiere; the 'Passacaglia and Fugue' (In Memory of Arthur Butterworth) for violin and piano by David Jennings. The work is based on material that was originally intended for Jennings's Piano Sonata of 1988, a piece much admired by Arthur Butterworth.
This Lakeland Composers concert on 1st March will be held in the Chapel of The University of Cumbria, Lancaster campus starting at 7.30 p.m.
For more about Arthur Butterworth click here.
For more about David Jennings click here.
For more information about Lancaster Music Makers click here.