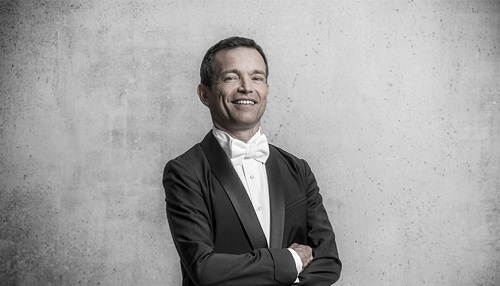 I meet Christophe Rousset in a café that is part of the Strasbourg opera complex; pop music (rap? hip-hop?) issues forth from the speakers; a stark contrast to the subject of our interview, Legrenzi's opera La Divisione del Mondo. The interview takes place just a couple of hours prior to the last performance at Strasbourg, after which the production moves on to fresh venues.
CC: Maestro, A little about yourself first, maybe? I know you won first prize at the International Harpsichord Competition in Bruges in 1983; you studied with Huguette Dreyfuss and Bob Van Asperen;  and you have a passion for French Baroque music. I'm always very interested in what we take from our teachers, be it passion, knowledge or both. What did you learn from each of them, and how do you see the development of your own individual path?
Christophe Rousset: Well, Madame Dreyfuss was more of a mum; she was really very affective and with her I discovered the repertoire for the harpsichord, but I must say that I learned the proper harpsichord technique with Bob van Asperen in Holland; so that's how it was divided. My choice was to go to Holland and to try to understand how the School of Gustav Leonhardt was working, how was their perception of the instrument, because obviously I liked their interpretations but I didn't understand well how to achieve them. So, going to those lessons I got the key, let's say, and developed an idiomatic technique for the instrument, because you can't really play the harpsichord like the piano or the organ; it has a specific production of sound and you really have to be very conscious about it. That's what I learned: I certainly didn't learn passion!
My own path was to actually learn a lot from original instruments, original harpsichords, they taught me a lot, especially regarding sound palette. Often people think – students coming to me – that the harpsichord has just one colour and no possibility of dynamics, but it's not true, there is a wide range of quality of sounds possible on the instrument. Once we know that, we develop an idea of sound and we try to synthesise this idea on modern instruments.
CC: I want to explore the fact that an early interest of yours was archaeology: now, in a sense, you are a musical archaeologist. So, did you have the choice between the two disciplines? Could you have been an archaeologist?
CR: Probably I could have, but to follow that idea. you need your own money. Archaeology I did in the library, with the scores.
CC: A vital part of your path has been the founding of your own group who play tonight, Les Talens Lyriques who tackle repertoire as diverse as Jomelli (Armida abbandonata), Tomasso Traetta (Antigona), Cimarosa (Matrimonio segreto), Mozart (Mitridate, with Bartoli and Dessay) and Salieri (Les Horaces). You've also done film, early on (Farinelli). And a real part of that recently has been the exploration of the dialogue between two cultures, France and Italy. Could you expand on that exchange?
CR: Let's say the whole of Europe was looking at Italy as the birthplace of music. Everything came from Italy in music, especially in the sixteenth and seventeenth centuries. French music really came from Italy, and so I think the link is very clear in that direction. Then with the propaganda art of Louis XIV, France became important in Europe politically, so then he wanted the French music to be a model. So, someone like Bach looks at the French school as a model but also Italian people made some reforms of the opera looking at the tragédie of the French opéra, so that dialogue is very rich and quite amazing; this is a real mixture, an interplay.
CC: Moving on to tonight, we will hear Legrenzi's La Divisione del Mondo, premiered in Venice. Would you first of all like to place Legrenzi (1626-90) in the musical timeline? Also, his importance to Venice, and the importance of Venice to yourself?
CR: So, it's North Italy, and he went East. Venice was a very important centre for music and for opera. Opera wasn't born in Venice but that's the place where the theatres opened more and it was a private enterprise. So, at the time of Legrenzi there were five or seven theatres for opera, a huge number for the time. Legrenzi is very interesting as he inherited the tradition of Monteverdi and Cavalli, so it is very clear you still have the flavour of the recitar cantando you find in Cavalli, but it is going to the eighteenth century in the sense of clear recitative and clear aria.
CC: The arias are quite short …
CR: They are short but still you get the form of the da capo aria coming through, and also the melismas. Its not virtuoso yet but you feel the flavour, and its very charming. It is enchanting, I would say. The vocal lines are really beautiful, this is really the birth of bel canto. I invite you to listen carefully to that. You have the flavour of the previous school but also it opens to Handel, somehow, to Lully. So, Lully was more or less active in the same years. You have a sleeping scene there [in the Legrenzi] that recalls the sleeping scene in Atis, which is one year later, so I don't know if the music was circulating that well …
Perhaps it was in the air? Also, there is your national genius, Purcell. Purcell you say he is of course very English, he has the English tradition, especially the church tradition, but there are also French influences, for example in Dido the French tragédie is there, dances and so on, and generally people say also an Italian flavour, but where from? Legrenzi is a good answer … I felt some flavours, melodically, sometimes, or with the ostinato of the beginning of the third act, with the descending chromatic bass (as in 'Dido's Lament'). Of course, it is not the same singing lines, but there are flavours, and the dates are perfect.
CC: The reference to the 'Lament' at the opening of the third act is indeed undeniable, it turned out. Dido is a tragedy; La Divisione has been described as a soap opera of the Gods, as opposed to a Götterdämmerung. Could you give us a quick précis of the plot?
CR: The Gods are a big family. Saturn and Rhea are the grandparents, then the second generation is Jupiter, Pluto, Neptune and so on and then there is the younger generation of Apollo, Diana, Mars and Venus, then the children, with Cupid. This whole family is actually in a big crisis because Venus is involved in some way with every male in the situation, which makes a big mess. So, she doesn't want Pluto or Neptune, but both are crazy about her. Jupiter is in love; she wants to get Apollo but he is resisting. It is a soap opera, it is not based on mythology at all but is a fantasy. The stage director shows how near to our characters these gods are, how they react. It is a comedy, it was written for the carnival, but still in this agitation, this mess, these loves, there are moments of despair, so it also gives a place for laments, for tragic music.
CC: I refer to the previous performances of this by Hengelbrock, and his sources. The MS is in the Bibliothèque Nationale de France, while the score is freely available on IMSLP.
CR: We used Hengelbrock's edition, which was based on the only remaining MS, so it is full of mistakes. This MS was not used for performances, so I have corrected, perhaps not in the same way as he did. It is a very long score, so it has been cut for this show. And that's our version. This music doesn't say what instrument is to be used, so all the palette or colours of woodwind instruments are mine. What you hear is a personal view on it, but it needs a personal view. You can't deliver the music as it is.
CC: So, with regard to your singers: you generally don't work with 'superstars' as such (although you have with Bartoli and Dessay for Mitridate), what is the selection process regarding singers?
CR: Actually, we were conscious about their looks also. If you are Venus, you can't really look ugly or fat, unless you change the purpose, of course you could make a funny story out of it. But I think in the casting you will recognise the characters, just physically, which is a good thing. And then I think the level of singing is very even, it is a good and even cast without any stars and with very good singing.
CC: Will you be recording the piece?
CR: It will be taken for DVD. You will have something; it is quite unknown, and Hengelbrock's is not available.
CC: I am interested in the dynamic between conductor and director. Last time I saw you was in Amsterdam, for Stefano Landi La Morte d'Orfeo, at the Muziekgebouw, Amsterdam; that was with Pierre Audi. Do you choose who to work with?
CR: Very rarely. You know why? Maybe I shouldn't say it but let's say it: directors of opera houses believe they are creators, just putting together a musical director and a stage director. So, they are making chemistry, putting two names together. Nowadays it's quite rare and the priority is for the stage directors these days. That's the tendency; unfortunately, I would say. Because all the opera houses are fighting for the same names. Do we really always want to see the same sort of show?
CC: In terms of this Legrenzi, how would you describe this Jetske Mijnssen production?
CR: It's very bourgeois. She took the idea of the soap opera and played with it, and it is quite funny. The unique set, the costumes, the whole thing is light in the spirit of the piece. Sometimes a stage director modernises things and tries to put a concept on them, but then it works for maybe ten minutes and then we get tired of it. Here, it's a very light thing, and respects the spirt of the work. So, if you are not in the letter of the score, or the aesthetics, it is in the spirit of it. Which is exactly what we need. We don't need to have machinery and things like this because we don't expect the same thing, but the spirit is important and Mijnssen really got it and really created some touching moments, not just funny.
CC: This was the last performance in Strasbourg; the production then moves to Mulhouse (March 1st and 3rd) and then Colmar (March 9th), reaching Verseilles on the 13th and 14th of April. And given that Rousset is bringing his group to London's Wigmore Hall on February 21st, this was the ideal time to bring this up as a postscriptum to the main event, the Legrenzi.
At the Wigmore, you're wearing your other hat, as it were, and you're entering the world of Monteverdi, in a programme entitled 'Guerrieri e amorosi'. (Incidentally, on the same day, there is also an 11am concert with Soraya Mafi, who sings in the Legrenzi).
CR: We are touring with this programme, which is mostly centred on Il Combattimento di Tancredi e Corilla. This is war and love together, and perhaps the jewel of Monteverdi. If anything is a jewel, it's this. It's very short, it is fantastic music with all the contrasts, and so inventive. This is the centre of it; we use the three voices with other Monteverdi music, so we have the Lamento d'Arianna, we have duets for two tenors, and the music is just exquisite. We mix Monterverdi with some other composers for the instrumental music.
CC: This performance will be reviewed by Seen and Heard-International; it sounds almost as mouth-watering as the Legrenzi.