United Kingdom Duruflé, Jenkins: Charlotte Forfar (soprano), Matt Hulbert (baritone), Peter King (organ), Clive Bell (shakuhachi). Dartington Community Choir, Dartington Sinfonietta / Simon Capet (conductor). Great Hall, Dartington, 14.4.2019. (PRB)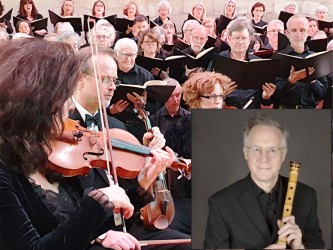 Maurice Duruflé – Requiem
Karl Jenkins – Requiem
For their Christmas Concert, Dartington Community Choir (DCC) chose to put on two very contrasting works, rather than adopt the somewhat less flexible plan of a single large work with a strategically-placed interval to allow everyone to stretch their legs before more of the same in the second half. DCC's format worked exceedingly well then (see review), so it certainly seemed like a plan for this Easter musical offering.
Performing two Requiems back to back with an interval might not appear as fortuitous a pairing as the earlier Christmas one was on the night. For example, would there be sufficient variety? After all, a Requiem is essentially a Mass for the repose of the souls of the dead. Of course, this is not to reckon with the programming skills of DCC's highly-enthusiastic and personable conductor Simon Capet, who ensured that the two works he selected would provide equally as much contrast, while still forming a perfect stylistic partnership. Maurice Duruflé's Requiem was first performed in 1947, while Karl Jenkins's appeared over fifty years later, in 2005. While both are based on the Latin Mass, each departs in a number of significant ways from the traditional setting – thereby providing the contrast. They are also both instantly appealing in their different ways – thereby the similarity.
Duruflé's setting is essentially a lyrical one, modelled unsurprisingly on Fauré's of half a century earlier. Absent is the heart-rending anguish and dramatic fear of hell so characteristic of some other Requiems. Instead, we enter the world of Gregorian plainchant, and contrapuntal techniques from the Renaissance, in a hazy mix of the sensuous harmonic textures of Fauré, Debussy, and Ravel. To this end, the composer even dispenses with the horrors of the Dies Irae section, concentrating instead on his overall notion of forgiveness, consolation, and faith.
Despite the apparent simplicity of the setting, this is by no means an easy sing for the choir. The harmonies are often complex and sophisticated, which can compromise pitch in the less wary. But Capet simply inspires immense confidence in the final performance. It will not lose pitch, entries will always be taut, and diction will be well-maintained, irrespective of dynamic level. This belief is communicated to the performers, and consequently they scarcely put a foot wrong. This is also all achieved with the bare minimum of gesture, while still ensuring that tricky entries – both for singers and orchestra – are always adequately indicated. There were many wonderfully moments of muted serenity, but when volume was called for, the singers responded; they produced a well-rounded rich sound, which the Great Hall's glorious acoustic was more than happy to enhance even more.
While the orchestra was listed in the programme as the Dartington Sinfonietta, there were some changes in personnel, occasioned, no doubt, by the simultaneous performance of another major choral work in the area, which would have involved some of the Sinfonietta's regular players. In the event, the players did an absolutely sterling job in providing a most sympathetic accompaniment, and a lot of credit for this, apart from the clear and concise direction from the front, must go to the leader, Lindsay Braga. Equally, the organ part is well-known for its difficulty. Peter King proved himself more than equal to the challenge, and he constantly monitored volume levels to maintain a healthy balance between voices and instruments.
Soprano Charlotte Forfar brought a youthful sincerity and bell-like quality to her contribution and was particularly effective in her moving account of the Pie Jesu. A baritone soloist is also required, but economies must always be considered, if possible, though never to the detriment of the performance itself. Matt Hulbert was the former DCC chair, and initially got into choral singing in a big way, as a rank-and-file member of the baritone section. With growing confidence, and by dint of some excellent tuition from a leading ex-opera singer, now turned teacher – who quite by chance lives locally – Hulbert was able to take on the relatively short, yet still challenging solo sections with true élan.
In complete contrast, Karl Jenkins's Requiem is, like most of his work, an unashamed, multicultural melting pot of ideas and musical styles. He interposes movements featuring five Japanese funeral poems – in the form of a haiku sung in Japanese – with those traditionally found in the Mass for the Dead. He also includes oriental instruments like the shakuhachi (Japanese flute) in his orchestration, alongside an extended percussion section, all to great effect. In Jenkins's work, the unruly Dies Irae, which Duruflé omitted altogether, even has a hip-hop, rap-style beat to it.
It has now become the norm for Capet to share a few thoughts with his Dartington audiences, and here was no exception. His musical sensitivity, which extends far beyond the performance itself, rightly convinced him that it was essential for the Duruflé to open without any invasive spoken introduction, to create immediate and palpable calm from the very outset. Having a few words with the audience at the start of the Jenkins felt absolutely right, and in no way irreverent. After all, quite a few of those present will never have been up close and personal with a Japanese shakuhachi, so it offered a perfect opportunity to introduce both player and instrument at this juncture.
As a completely different animal from the Duruflé, Jenkins's Requiem understandably threw a fresh set of challenges at the choir, particularly in having to cope not only with a number of different, and quite exotic musical textures, but more so in the often-abrupt juxtapositions of these. As a male chorister, you get few opportunities to intone monastic chant as a counterpoint to female voices singing Japanese poetry. But, as ever, the DCC singers did what they do best, and tackled the various challenges with their usual enthusiasm, and sheer drive to succeed.
The orchestra, especially harp and percussion, were on fine form again, enhanced by some especially assured solo horn playing, all adding to a wealth of varied sonorities throughout the work. The quite stunning shakuhachi playing from Clive Bell proved a most vital part in the proceedings. His expressive, sensitive, and totally idiomatic playing was one of the evening's many highlights. This was by no means an easy ask when one plays against the might of a fair-sized orchestra and percussion, on what is essentially an instrument of more intimate qualities and dynamic range.
So yet again the packed auditorium was treated to another magical night of high-quality music-making. Two seemingly disparate works had one more thing in common. Each composer dedicated the Requiem to the memory of his late father. That, for some of us in the audience, afforded even greater poignancy to an already emotional, yet nonetheless highly-entertaining concert.
Philip R Buttall