United Kingdom Bax, Walton, Vaughan Williams: James Ehnes (violin), BBC Philharmonic / John Wilson (conductor). Bridgewater Hall, Manchester, 13.4.2019. (RBa)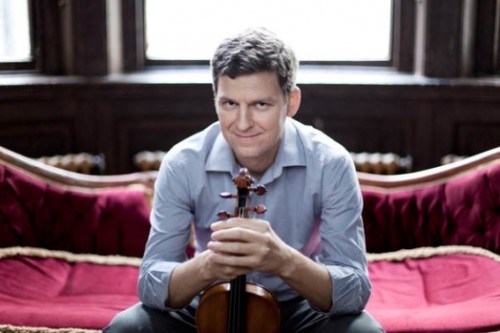 Bax – November Woods (1917)
Walton – Violin Concerto (1939, re-orch. 1943)
Vaughan Williams – Symphony No.4 (1934)
Only four days ago John Wilson was casting enchantment at Salford Quays' MediaCity concert hall. This he did with a comparatively short programme of Holst, Ireland, Walton and Bax (review click here). That early afternoon fixture was packed out.
With this, much more substantial, Saturday evening programme at Bridgewater Hall there were more than a few empty seats. RVW is usually a major draw for people. The Walton concerto is well recognised as an attractive act, balancing spiky adrenaline and generously oozing romance. The BBC Phil are well loved, and rightly so. They were again conducted by this younger superstar of a conductor, John Wilson. He combines adventurous musicianship with extrovert personality. Well known from CDs and years of sell-out BBC Proms, he is a known quantity. He has the sort of Bernstein or Previn brilliance that will see him on the front-page of GQ and the Sunday supplements. Was it the Bax, then, that put people off, or the hard-nosed RVW symphony? Go figure!
The concert started with the least familiar work, Arnold Bax's November Woods. The BBC Phil know Bax, over the years, from concerts (Groves and Handley) and CDs. Wilson has done at least one Tintagel and, a couple of years back, November Woods alongside two RVW pieces in Birmingham with the CBSO. After the quick fantasy of Fand and the virile gusty Tintagel, this work had similar qualities. November Woods, with its interweaving of biographical and intimations of weather and landscape, was given an urgent rather than a washy reading. Fand attracts for its Atlantic Gaelic fantasy, while this work speaks of life's gales 'that ply the saplings double'. The effect is heightened by the clatter of the cellos' bows. The gale suggests the furies as the music whirls and skirls, tenses and erupts – a bit like Tchaikovsky's Francesca da Rimini. On the other hand, Wilson allowed the big melody to emerge from among the two harps and celesta, and to blossom. A big tune from Bax is always an event, as Baxians know from the Second Symphony, Piano Quintet and First String Quartet. I should also mention the leader, Zoe Bayers, whose solo violin was heard twice in an echo of similar but more extended pages in Fand. Wilson has the measure of the piece, as we are reminded at the passive close which in Wilson's hands seemed to imply more poise than replete exhaustion.
There is a bit of connection with the next work. Bax wrote a violin concerto for Heifetz at the end of the 1930s. Heifetz took no interest in it; it was premiered by Eda Kersey in the early 1940s. Walton also wrote his Violin Concerto for Heifetz, who did perform and record it, although he left the UK premiere to Henry Holst.
James Ehnes is a well-known figure in Manchester and beyond. Not only has he graced the CD catalogue with a significant and well-loved concerto disc but he has also done the Barber concerto live in the Bridgewater Hall. Cool and confident, Ehnes at first held in check the full access of romance. This idyllic-kinetic work initially suggests Mediterranean land- and sea-scapes but, as the temperature rises, human passions are mingled and become ascendant. As they should be, textures were well defined, transparent but registering with deep fine etching – a sort of oral analogue of the filigree glass-work of Laurence Whistler. Bax often favours a deeper lusher canvas; Walton goes for a sort of muscular transparency. Wilson and Ehnes make hay with exciting syncopated writing, which for me recalls the foot-tapping ferality at the end of the first movement of Walton's much under-estimated Sinfonia Concertante.
Ehnes generously offered two solos in response to the considerable applause. Ysaÿe's solo Violin Sonata No.3 was perfectly shaped and registered more as a concerto-poem than death-defying didactics. Whispers, half-lights and foggy diffusion were the poetic order of the day. The slow movement from Bach's Sonata No.3 was a silky sonnet in spun sincerity. The encores and applause could have gone on all night.
After the interval, we came to the latest leg of Wilson's RVW journey. Earlier stages have included the First, Second, Seventh, Eighth and Ninth symphonies. Here there was a link of sorts with the first item in the programme. The dedication of Vaughan Williams's Fourth Symphony is to Arnold Bax. This is a work in grating conflict, especially in the two outer movements. The contrast comes in the second subject, which sings out, under pressure, in the violins. When it returns, it never blooms in quite the same untrammelled way. A similar episode appears soon after the start of the Sixth Symphony but with a prelude of a harp ostinato. The middle movement is distinguished amongst other things by a mournful passage for solo bassoon. As a reading, this had about it as much tension as eloquence. It was given a performance that balanced gasping precision with furious impact and these aspects were in fullest pomp, spark and jolt in the Scherzo-into-Finale.
Rob Barnett