Canada Debussy, Beethoven, Tchaikovsky: Louis Lortie (piano), Vancouver Symphony Orchestra / Bramwell Tovey (conductor), Orpheum Theatre, Vancouver, 5.5.2019. (GN)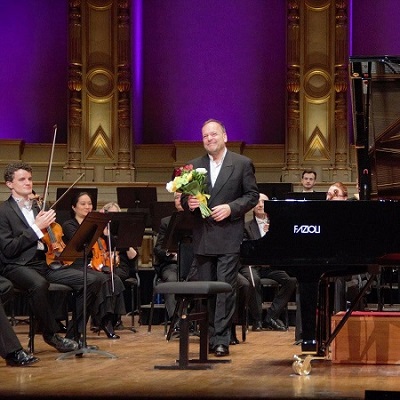 Debussy – Prélude à l'après-midi d'un faune
Beethoven – Piano Concerto No.2 in B flat major Op.19
Tchaikovsky – The Sleeping Beauty Op.66 Act II
It is always interesting when a conductor comes back to lead his previous orchestra. In Bramwell Tovey's case, it has not yet been a year since he completed his 18-year stint with the VSO, so one would hardly expect any appreciable difference in his art. One did sense a degree of detachment as he initially came on stage, but this didn't last for long: his characteristic cavalcade of humorous anecdotes started off the second half, as he introduced himself to the audience curtly with 'I'm Bramwell Tovey. I used to work here'. This was Tovey's second visit in 2019, and the orchestra played very well for him. A potential disappointment was that the scheduled world premiere of his new Concerto for Orchestra had to be postponed. It was replaced by the complete ballet music from Act II of Tchaikovsky's Sleeping Beauty, music the maestro has relished since his early days and which likely provided equal, if not greater, bounty for the attendees. The highlight of this concert was the appearance of Louis Lortie, fresh off his 60th birthday concert at Wigmore Hall, who gave a beautifully elegant and considered treatment of Beethoven's Piano Concerto No.2.
Tovey's first return in February 2019 featured enticing performances by the Philharmonia Orchestra's principal harp, Heidi Krutzen, and the VSO's former principal cello, Ariel Barnes, in Debussy's Danses sacrée et profane and Kelly-Marie Murphy's En escuro es todo uno. Perhaps the question mark was the performance of Bruckner's Sixth Symphony in the second half, which tended to breeze over its carefully etched triplets and contrapuntal complexity in the opening movement, often bursting forward with Elgarian colour. In fact, the first two movements seemed to bear a debt to Elgar's Second Symphony while the last two injected much of the wit and ardour of the Enigma Variations. Granted, this work has been deemed cheeky and enigmatic by commentators and, while Sir Neville Cardus once strongly linked the two composers, the spirit still seemed foreign.
A very patient account of Debussy's Prélude à l'après-midi d'un faune began this current concert, instating a less suspended and dreamy fabric than usual after Christie Reside's sublime opening flute, but compensating with a greater feeling of seascape colour and detail – as in La Mer. Though not a voluptuous reading, it was still evocative and possessed an attractive balance and concentration throughout. The contributions from the horns and harp were noteworthy.
The Sleeping Beauty largely lived up to its billing. Tovey started his characteristic preamble by recounting an early experience rehearsing the ballet in London with the tempestuous Rudolf Nureyev: we learned that the revered dancer could summon more swear words than anyone could possibly think of. In discussing the narrative of the ballet, Tovey also affectionately questioned the wisdom of any prince actually kissing a sleeping woman in a forest, as assessed by 2019 #MeToo standards. Tovey secured a fine line through the ballet's Act II proceedings, building the climaxes with rhythmic strength and gusto though not quite coaxing all the fantasy and caprice out of the quieter episodes. The winds might sometimes have been more sensual. Nonetheless, the orchestral climax after Janet Steinberg's fine solo cello spawned lovely feeling and amplitude, while Nicolas Wright's worthy violin effectively presaged the wonderfully floating, gossamer strings that set up the act's stirring coda. Very enjoyable overall.
Even more entrancing was Louis Lortie's Beethoven. After giving some bolder concerts here in recent years, it was nice to witness the beauty and refinement that Lortie can achieve in more classical works. He has recorded the complete cycle of Beethoven Sonatas for Chandos to wide acclaim, but this was the first time I heard him in one of the concertos. Beethoven's Concerto No.2 is actually the first that the composer wrote, and a Mozartian treatment is fully consistent with its scale, even if some interpreters might wish to make it a bigger work. The distinguishing features of this performance were its deliberate speeds, beautifully appointed detail and sense of relaxed, frolicsome ease. Mozartian characteristics were present both in the interaction between the piano and winds and in the natural fluidity of the pianistic contours (similar to those one might find in Mozart's Concertos K459 and K 482).
Lortie's pianism was a joy from start to finish, exhibiting a lovely composure and sense of direction. Beautifully clean runs and a refined sense of lyrical undulation distinguished much of the opening Allegro, creating considerable keyboard variety, but Lortie was always able to bring things together with moments of point and strength. The harmonic interaction with the winds was noteworthy. The almost sauntering quality of the earlier exposition was nicely broken by the pianist's stronger counterpoint that cued Beethoven's own cadenza, written 20 years later and having noticeably greater dramatic range. Lortie's poetic absorption in the Adagio was as striking, cultivating an inexorable flow with full concentration of feeling, and securing a wonderful stillness at the movement's close. Deliberate speeds also carried into the Rondo finale – taken far below its 'molto allegro' marking – yet Lortie found so much wit, interpretative space and detail, and sheer affability that it seemed freshly minted. This turned out as a delightful Mozartian rondo, not one in the spirit of Haydn per se.
It was a beautifully self-contained reading overall, and the orchestra matched the approach of the soloist. One can find many interpretations with faster tempos and a more truculent demeanour, but this reading had a beauty all its own. Both this and the Tchaikovsky were indeed estimable souvenirs of Bramwell Tovey's return.
Geoffrey Newman
Previously published in a slightly different form on http://www.vanclassicalmusic.com.