Argentina Verdi, Il trovatore: Soloists, Chorus and Orchestra of Ensamble Lírico Orquestal / Gustavo Codina (conductor), Auditorio de Belgrano, Buenos Aires. 27.4.2019. (JSJ)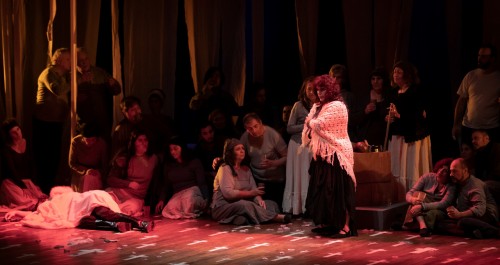 Production:
Direction & sets – Raúl Marego
Sets & costumes – Jessica Barredo Díaz
Lighting – Luis Bolster
Cast:
Count di Luna – Enrique Gibert Mella
Manrico – Andrés Novero
Leonora – Rocío Cereceda
Azucena – María Luján Mirabelli
Ferrando – Juan Pablo Labourdette
Inés – Angie Maya
Ruiz – Fabián Quenard
Despite its evident popularity, Verdi's Il trovatore is a relative stranger to Buenos Aires stages and for no obvious reason.
Coming in the oeuvre between Rigoletto and La traviata, which also comprise the composer's most popular works, it is a different from these as they are from each other. With a production of the former recent and one (another!) of the latter to come, this new offering from Ensamble Lírico Orquestal was particularly welcome.
With the current financial crisis in Argentina, with impacts across not only the arts but all aspects of society, the smaller independent companies such as Ensamble Lírico Orquestal are continuing to perform only through the dedication of their founders and in this case also collaboration with the other organisations, Magna Lirica and Compañia Lirica G. Verdi.
Thus, budgets are low and productions must be seen in this light. Sets, here little more than torn sheets – which were eventually torn down – formed an effective backdrop with the mood and setting created with carefully worked lighting.
Against this some aspects of the production and the dress were something of a hotchpotch, in the case of the latter for the principals period, but the military and gipsy attire of a more modern appearance. According to director Raúl Marego it was meant as a production for our century. Nevertheless, the significance of sunglassed nuns was not clear and an 'Anvil Chorus' without any in sight gave it something of a folklorish air to reminisce with over a drink.
If the production was something of a mixed bag, the musical side was almost uniformly good. With a reduced orchestra of just 19 players, conductor Gustavo Codina elicited a depth of sound belying its small size.
The chorus was likewise on par, except for some mismatches, particularly in the opening.
Among the principals, Enrique Gibert Mella as Count Luna and María Luján Mirabelli as the gipsy Azucena, are the best known and brought their long experience to bear in outstanding performances, Mella steely and commanding and Mirabelli tuneful and entirely convincing.
Of the others all are new names to this reviewer and with this production in hand, will be ones to look for in the future. Andrés Novero – albeit in looks a very much younger brother to Luna – was a spirited Manrico and Rocío Cereceda an attractive but feisty Leonora. Juan Pablo Labourdette also was notable as Luna's officer Ferrando.
With this production complete, an ambitious season follows with Il barbiere di Siviglia in May, La rondine (in co-production with Magna Lirica) in June, and L'elisir d'amore in August.
Jonathan Spencer Jones