United States Puccini, La bohème: Soloists, Chorus and Orchestra of Opera Philadelphia, Philadelphia Girls & Boys Choirs, Children's Chorus / Corrado Rovaris (conductor), Opera Philadelphia, Academy of Music, Philadelphia, 1.5.2019. (RP)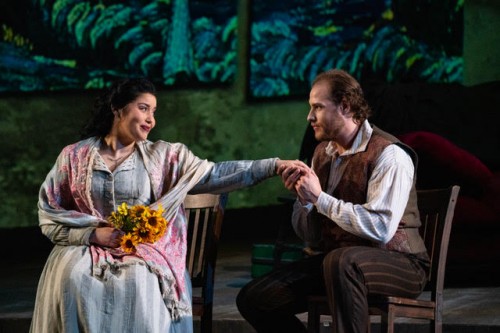 Production:
Original Director, Sets and Costumes – Davide Livermore
Original Costume design – Palau de les Arts
Revival Director – Alessandra Premoli
Audio Visual – D-Wok
Lighting – Drew Billiaur
Wigs and Make-up – David Zimmerman
Chorus master – Elizabeth Braden
Cast:
Mimì – Vanessa Vasquez
Rodolfo – Evan LeRoy Johnson
Musetta – Ashley Marie Robillard
Marcello – Troy Cook
Schaunard – Will Liverman
Colline – Peixin Chen
Benoit & Alcindoro – Kevin Burdette
'A real find' was how I described tenor Evan LeRoy Johnson when I first heard him as Narraboth in Strauss' Salome in Zurich in October 2017, and indeed he is. Johnson was a terrific Rodolfo in Opera Philadelphia's La bohème, alternately playful, impetuous, romantic and passionate. In Act I, when Rodolfo was intoxicated with love, he sang with astounding abandon and ease, his silvery tenor soaring through the Academy of Music. Although equally fine in the remaining three acts, he was stunning in those first scenes.
In contrast to Johnson's soaring lines, Vanessa Vasquez created phrases that arched beautifully by sculpting exquisite smaller ones, which she pieced together like the petals of the flowers that Mimì embroiders. Johnson's first act was lovely, but Vasquez bloomed in Act III, which she dominated with her dramatic intensity and rich sound. As with Johnson in Act I, this wasn't a question of one singer being better than another, it was just a matter of when they took flight.
Everything about this imaginative yet traditional staging of La bohème, first seen in Philadelphia in 2012, was delightful. (It is shared with Palau de les Arts Reina Sofia in Valencia.) The innovative touch was director and set designer Davide Livermore's backdrop of digitized and animated images from French Impressionist paintings. Some of the artworks are to be seen nearby in the Philadelphia Museum of Art and The Barnes Foundation, while perhaps the most famous one, Van Gogh's The Starry Night, is in the collection of the Museum of Modern Art in New York.
The paintings, especially the digital manipulation of certain of their elements, had the potential to be distracting, especially in the first act, but the straightforward staging kept one's focus on the singers. In Act II, Parisian street scenes served as a colorful expanse in which children cavorted, ballet dancers twirled, fire swallowers amazed and the young bohemians frolicked. Jean Béraud's After the Misdeed inspired Mimì's dress and her position on a red velvet sofa in Act IV, the same as in the painting. Small details emerged throughout, such as Mimì's bouquet which paid homage to Van Gogh's sunflowers. The snuffing of candles in the final scene poignantly presaged Mimì's death.
Livermore's concept was most effective in Act III, inspired by Monet's Morning Haze. As the curtain rose, Marcello was alone, painting a winter landscape that would expand to become the backdrop for the entire act. The bare branches of trees occasionally swayed in the background, seeming to comment on the lovers' plight. In its final seconds, there was a magical moment when the bleak white was instantly transformed into the soft pastels of springtime, inspired by Renoir's Meadow.
Ashley Marie Robillard, who is currently in the voice program at Curtis Institute of Music and Opera Philadelphia's Emerging Artists Program, sparkled as Musetta, tossing off her waltz with aplomb. In the final scene, when a breathless Musetta appeared to announce that Mimì was climbing the stairs, Robillard looked so young; a mere girl wearing fancy, grown-up clothes. Musetta's urgent prayer for the her dying friend was heartbreaking.
As Marcello, Troy Cook sang with a firm, resonate baritone, capturing the mercurial passions of the artist's artistic and romantic frustrations. He was a sympathetic confident to Mimì one moment and exasperated with Musetta the next. A key element of the production's visual magic was watching him bring the paintings to life with strokes of his brush on an LED screen.
Peixin Chen's Colline, more amiable co-conspirator than self-absorbed philosopher, bid farewell to his coat in his deeply expressive, resonate bass. Will Liverman captured Schaunard's sensitive soul with a detailed characterization and his singular dark baritone. Kevin Burdette lit up the stage as Benoit, legs and arms akimbo. He was puffed with pride as the four young men praised him for his luck with the ladies, and was outraged but helpless as they ushered him out the door without paying the rent.
Corrado Rovaris created a transparent, pulsating cushion of sound to support his young cast. The synergy between the voices on stage and the instruments in the pit resulted in a remarkably seamless performance. The orchestral playing was consistently beautiful throughout, and the chorus in Act II acted as vividly as they sang. Exquisite phrases where the violins entered so softly, as if they were letting out a gentle sigh, still linger in my ear. If I have a complaint, it was that the final scene, perfectly paced as it was, went by way too fast.
Rick Perdian