United States The Glimmerglass Festival [1] – Corigliano, The Ghosts of Versailles: Soloists, The Glimmerglass Festival Chorus & Orchestra / Joseph Colaneri (conductor), Alice Busch Opera Theater, Cooperstown, 13.7.2019. (RP)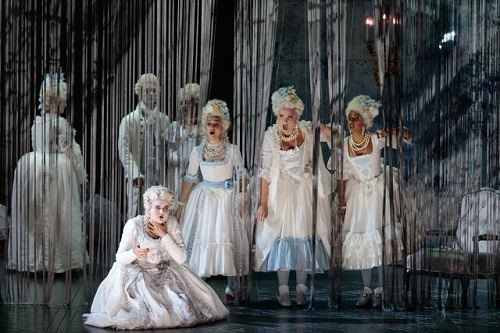 Production:
Director – Jay Lesenger
Sets – James Noone
Costumes – Nancy Leary
Lighting – Robert Wierzel
Choreographer – Eric Sean Fogel
Hair & Makeup – Samantha M. Wootten
Chorus Master – Katherine Kozak
Cast – Ghosts:
Marie Antoinette – Yelena Dyachek
Beaumarchais – Jonathan Bryan
Louis XVI – Peter Morgan
Marquis/Page – Zachary Rioux
Ghost Quartet – Bryn Holdworth, Lindsay Metzger, Maxwell Levy, Christopher Carbin
Gossips – Teresa Perotta, Abigail Paschke, Simran Claire
Woman in Hat/Duchess – Noragh Devlin
Cast – Players in the Opera:
Figaro – Ben Schaefer
Susanna – Kayla Siembieda
Rosina – Joanna Latini
Count Almaviva – Brian Wallin
Bégearss – Christian Sanders
Florestine – Emily Misch
Léon – Spencer Britten
Cherubino – Katherine Maysek
Samira – Gretchen Krupp
Suleyman Pasha – Wm. Clay Thompson
Wilhelm – Tucker Reed Breder
English Ambassador – Charles H. Eaton
Pursuer/Revolutionary – Tanyaradzwa A. Tawengwa
Living Marie Antoinette – Rachel Kay
Swordsman/Revolutionary – Spencer Hamlin
Bishop/Swordsman – Jawan Cliff-Morris
Dancers – Shanel Bailey, Rachel Kay, Joshua Kring, Jorrell Lawyer-Jefferson
I have vivid memories of the Metropolitan Opera's original production of The Ghosts of Versailles, but except, of course, for Marilyn Horne's Samira, I don't recall it being as much fun as Jay Lesenger's new production. Perhaps enough time has passed, and we can enjoy The Ghosts of Versailles on its own terms: there's no need for it to prove itself now as it had to in 1991 when it was the first new opera performed at the Met since 1967. And despite Corigliano's concern that a commission from the Met was akin to the 'Hope Diamond, complete with curse', and Aaron Copland's advice to stick to symphonies, the opera with its convoluted plot and enormous cast has not sunk into oblivion.
The story teeters between the netherworld and what might have been. Beaumarchais has fallen in love with the ghost of Marie Antoinette who mourns for her lost life. He offers to change the course of history and restore the queen to life through the performance of a new opera. Some of its characters – Figaro, Susanna, Cherubino, Count Almaviva and Rosina – are familiar to all opera lovers. Others are less so, such as the deliciously sinister Bégearss and his henchman, Wilhelm, taken from 'La mère coupable', the third play of the Beaumarchais's Figaro trilogy.
Beaumarchais's plan is to purchase Marie Antoinette's freedom with her diamond necklace and spirit her away to America. The exchange of the necklace in the Turkish embassy to facilitate the queen's escape goes awry, but Figaro saves the day. Beaumarchais knows that he is endangering his immortal soul by tinkering with history, but his only desire is to make Marie Antoinette happy. Flashbacks of the mobs and her trial terrify her, but when she realizes the depth of Beaumarchais's love for her, she resolves to let history to remain as it was, thus uniting them for eternity.
This production, which will transfer to the Château de Versailles in December, is a visual treat. A large beaded curtain decorated with portraits of the ill-fated king and queen was the portal to a ghostly world where witty repartee and ennui reigned. Furnishings and attire were in muted shades of blue, gray and white. Garbed in brilliant tones, the capers and intrigues of the Beaumarchais characters played out in settings plucked straight out of Mozart and Rossini operas: Almaviva's palace, the Turkish Embassy and a garden as lush and sensual as a Fragonard landscape.
The French Revolution was depicted with stark reality: mobs with severed heads on pikes, Marie Antoinette's trial and the condemned woman paraded through the streets in a cart. Bégearss was reincarnated as Robespierre, the chief architect of the Reign of Terror. In the closing moments of the opera, Marie Antoinette is strapped to the guillotine and the stage diminishes to form the platform where she lies. With a swoosh, a large blade came down and all was black.
While Peter Morgan's vainglorious Louis XVI and Noragh Devlin's ripe Duchess were definitely ghosts, there was a good deal of flesh and blood to Yelena Dyachek's Marie Antoinette, both physically and vocally. With her luminous soprano, Dyachek sounded every bit a queen, but also touchingly human as she became reconciled to her fate.
Jonathan Bryan's warm sound lent itself nicely to the character of Beaumarchais, who is ever attentive to the queen's desires and only gets feisty when Figaro and the others fail to stick to the plot. Ben Schaefer pushed all the right buttons as Figaro. He whipped up a frenzy as he romped with the cast in Almaviva's palace, and with his lithe physique pulled off a pretty convincing belly dancer at the Turkish embassy. Needless to say, he can sing too.
As Count Almaviva, Brian Wallin was stolid and true, never wavering in his mission to sell the necklace and rescue his queen. The fine soprano Joanna Latini was Rosina, preoccupied with overcoming her husband's objections to the marriage of Florestine (the winning Emily Misch) and Léon (the bright-voiced, eager Spencer Britten). Kayla Siembieda as Susanna swung a rolling pin with the same glee as she sang.
Christian Sanders was superb as Bégearss, never more so than when he was abusing Tucker Reed Breder's Wilhelm. Breder was a loathsome, sniveling servant, but he had pretty good comedic chops. Towering over them all was the statuesque Gretchen Krupp as Samira, the Egyptian diva. Her deadpan delivery of nonsensical texts, bel canto coloratura and Arabic wailing was wonderful.
Corigliano's score is a riotous mix of styles — Gilbert & Sullivan, Mozart, Rossini, Strauss, as well as his own — and Joseph Colaneri masterfully blended them into a cohesive whole. The orchestra underpinned all of the madcap escapades, tender love scenes and heartache with shimmering sound. Colaneri and Lesenger are quite a team as demonstrated by the finely honed characterizations and superb musical performances of this excellent young cast.
As it was opening night, Corigliano was on hand to take a bow. He carried a photo of William M. Hoffman who wrote the libretto for The Ghosts of Versailles. Earlier, Corigliano had credited Hoffman, who died in 2017, of having proposed either a dream or a ghost story for their joint Met commission. Funny, but this wonderful production turned out to be a bit of both.
Rick Perdian
For more information about the 2019 Glimmerglass Festival click here.