Zlata Chochieva talks to Geoffrey Newman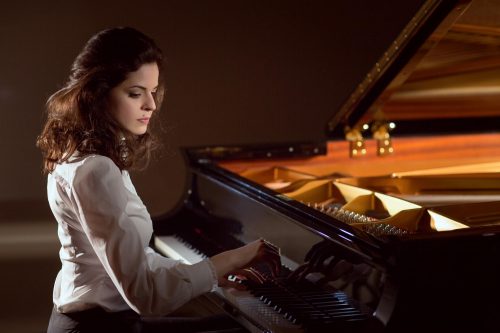 Since the release of her Piano Classics discs of Chopin and Rachmaninoff five years ago, 34-year-old, Moscow-born Zlata Chochieva has climbed firmly into the international spotlight. In 2016, Gramophone named her Chopin Études among the Top 50 Chopin recordings ever, moving it into the Top 10 a year later. Chochieva made her Moscow concert debut at age eight, and has previously won ten international piano competitions. Her teachers include Mikhail Pletnev, Pavel Nersessian and, more recently, Jacques Rouvier. She has performed in the Herkulessaal (Munich), Concertgebouw (Amsterdam), Philharmonie de Paris and Vienna Konzerthaus, and made her debut in London's Wigmore Hall in March 2019. She has also given concerto performances with top Russian orchestras. This interview concentrates on her early training with Pletnev, the evolution of her interests in Chopin and Rachmaninoff, and how she feels about being in the spotlight. It was an outgrowth of her splendid Vancouver Chopin Society recital in November 2019, where she played Chopin's Études Op.25 and Rachmaninoff's Corelli Variations (review).
Geoffrey Newman: What stands out in your early training are your studies with Mikhail Pletnev. Did he have a big influence on you?
Zlata Chochieva: I won't exaggerate if I say he was, and continues to be, one of my biggest influences. He was one of my favourite pianists and musicians when I was growing up. I was 14 when he invited me to play with his orchestra in Moscow, and working with him was the best thing that could have happened to me: he opened my soul as an artist. He took me over the border between being a student and someone more mature, brave and artistic.
GN: What was his teaching method?
ZC: When we worked together, it was never just a lesson but a remarkable communion with a genius that I will never forget. It often involved fascinating conversations about artistry, the path to finding your own musical personality and the process of discovering your own brave ideas. We would listen to recordings of the great pianists such as Horowitz and Michaelangeli, sight-read and, after failing in one of Pletnev's tricky colloquia, I was even ready to play different parts of Tchaikovsky's symphonies. I owe the biggest part of my skills to what he taught me about sound, phrasing, virtuosity and timing.
GN: Do you feel that you got some of your Chopin and Rachmaninoff style from him?
ZC: Not really. He never asked me to imitate him. That would be impossible, anyway! He would sometimes show me something technically, but he would never really play for you or put forth his interpretation as an example. This was smart and novel: he put his focus entirely on what I was doing. I had to produce something, to show myself as someone who had ideas, someone who had a strong will to express music. That's why I can't say that my Rachmaninoff or Chopin comes from him, but the general knowledge and inspiration that I received from him will always stay with me.
GN: I am intrigued to know where you place Pletnev within the Russian school.
ZC: I don't find much similarity with Richter, for example. I think Pletnev is closer to Horowitz, and both belong to the line that starts with Rachmaninoff who, as a composer and one of the greatest pianists of all times, opened up new and wider perspectives for piano performance. Even today, not everyone appreciates how much Rachmaninoff created a different pianistic language, a completely different world of expression.
GN:Your widely-praised recordings of Chopin and Rachmaninoff have really changed your career in the last five years.
ZC: These were such exciting projects for me, and I felt fortunate to be able to devote part of my life and soul to making my ideas come true. I realized it was quite a brave idea to record all the Chopin Études because there are so many recordings already out there, and everyone has an opinion about how the pieces should sound. I wanted to get away from all kinds of clichés and create something which expressed myself as naturally as possible.
GN: Do you think that part of the success of the Chopin CD is that you managed to weave all 27 études together into a convincing narrative?
ZC: Some people view the Études as isolated studies. But my main idea for recording this CD was to show that it's not simply a set of virtuoso pieces, but rather 27 'sketches' ('étude' can be translated as a sketch as well). I have always thought that the Op.10 and Op.25 sets are much more fascinating when heard together. Especially in the Op.25, I find many lines and connections between the individual pieces, both harmonically and conceptually. It starts with very light and intimate colors, but then it becomes a canvas which explodes in dark dramatic emotions.
GN: Do you think there's a parallel between the right-hand figurations in Op.10 No.1 and Op.25 No.12?
ZC: For sure! It's absolutely the arch between the first and the last. For me, it's the most important thing to bring out the melody.
GN: You have also performed these pieces in concert a number of times. What have been your experiences so far?
ZC: Yes, I have done them a lot. It's always a pleasure to play these masterpieces since they are now old friends. You enjoy it each time in a different way – playing for different audiences, in different halls, with different pianos. It's always different, never the same.
GN: Just out of interest, was Chopin the first composer you started with when you were young?
ZC: I started playing piano when I was four and a half. I had a wonderful teacher, Nina Dolenko at the Flier Music School. When I was five, I already could sight-read the Chopin Waltzes. I had first heard the Waltzes from my mother's playing – and from my brother's too, since he also studied piano at that time. I remember how much I fell in love with this music! It was one of the big reasons I told my mother that I wanted to play piano. So, yes, Chopin was my first composer and my greatest teacher.
GN: Rachmaninoff was much later?
ZC: Yes, he was later, but I do remember my mother putting on some LPs when I was falling asleep at an early age. She played Rachmaninoff playing his own concertos, so I really grew up with it.
GN: So what about the grand tradition of Beethoven, Schubert and Schumann?
ZC: Schumann is one of my favourite composers – very close to my heart. He is so quick with changing moods and so impulsive. Schumann gives a feeling of life as possessing many colors: it's never black and white, and never too stable. It is as if life drowns us in the ocean of emotional experiences; I often feel the same thing when I play. He is not selfish either: he never stays with the moods that he likes or merely feels comfortable with. Schumann draws a picture of life full of different spontaneous feelings, where sorrow is typically the neighbor of happiness. I would love to record him.
GN: What are you planning to record next?
ZC: My next CD will be devoted to transcriptions, involving a selection of composers and different transcribers, mostly Rachmaninoff and Liszt, but also Ignaz Friedman who was an amazing transcriber. I'm preparing my own transcriptions as well.
GN: I note that you have been playing some Rachmaninoff concertos recently? You must find it quite a different experience playing with an orchestra.
ZC: Yes, I do. I always keep in mind one of Rachmaninoff's letters to Nicolai Medtner where he gives comments about his Fourth Concerto, saying 'it's not a concerto for piano, but a concerto for piano and orchestra', stressing the equal roles for both.
GN: A final question: how are you responding to being in the spotlight these days?
ZC: Truthfully, I still would like to be my own self, not eaten up by the big world of marketing. It's very tricky: if we, as artists, do too much on stage, we can lose ourselves in this world. Concert performance needs so much true energy, as we must always share with our audience. That's why we must have time to get away from the big crowd – to recover our inner voice and find renewed inspiration.
Nowadays, the performing arts are becoming 'the quicker the better' in all senses. Competitive pressures in the classical music world push young talent to practice and perform too much without having time to think or feel. I think this is tricky and dangerous, turning music which is beautiful and human into a sport. It is also a problem, since the human inner world occupied by both the great composers and any devoted artist is typically sensitive and fragile. It seems to me that the real accomplishment of any young artist lies in discovering, and accepting without fear, one's human sensitivity, which is so important in discovering musical truth and beauty.
Geoffrey Newman
I thank the Vancouver Chopin Socity for making this interview possible, and Kelly Bao for transcription assistance.
Previously published in a slightly different form on http://www.vanclassicalmusic.com.