United States Stucky, Britten, Ravel: Julia Bullock (soprano), San Francisco Symphony / Esa-Pekka Salonen (conductor). Davies Symphony Hall, San Francisco. 21.2.2020. (HS)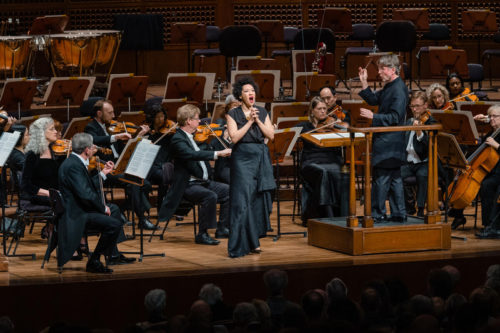 Steven Stucky — Music for the Funeral of Queen Mary
Britten — Les Illuminations
Ravel — Three Poems of Stéphane Mallarmé; Ma Mère l'Oye (Mother Goose), music for the ballet
If there were any doubt that things are going to look a lot different when the San Francisco Symphony gears up for its first season under incoming music director Esa-Pekka Salonen, this past week drove home the point with authority. Recently Salonen announced a 2020-21 season brimming with initiatives and fresh ideas, and over the weekend he provided a tantalizing sample of what is to come with a glorious evening that interlocked Britten, Ravel, and Stucky. Salonen also highlighted a collaboration with the soprano Julia Bullock that already is paying big dividends.
For the past 25 years with Michael Tilson Thomas, the orchestra has forged a reputation that places it among the world's leaders with a high level of musicianship and adventurous programming (albeit with somewhat less verve on that front in recent seasons). Shaking that up, Salonen put together a group of eight artists in various fields — mostly but not all musicians — to consult on the programming, with several scheduled to perform next season as well.
Bullock is one them. She has programmed her own recitals with rigorous social, intellectual, and musical depth, always delivered with a soprano voice of extraordinary purity, and a mind capable of evocative musical expression. In these concerts, heard in Davies Symphony Hall, she tackled twentieth-century French-language song cycles by Benjamin Britten and Maurice Ravel that revel in lush, lavish music but can baffle audiences with the dense and allusive poetry of French symbolists.
Bullock's own translations were projected as supertitles on screens flanking the stage, and also appeared in the printed program. The texts did their best to bring some clarity to these poets' elusive phrases, but it was Britten's clear-headed music that managed to convey the meaning best, especially in his 1939 Les Illuminations. Bullock voiced Arthur Rimbaud's dense intimations with conviction, capturing the nervousness of 'Villes' ('Cities'), creating liquid lines for the ravishing 'Antique,' and finding a wispy soul in the winsome finale, 'Départ' ('Departure'). Her sound, rich but unforced throughout her range, floated high notes with clarity and restraint. In Ravel's Three Poems of Stéphane Mallarmé she conjured up the sexual charge without wallowing and lavished supple phrasing and remarkable freshness.
For his part, Salonen set a pace that never dawdled, at least not until the score demanded a refined sort of slowdown. He led Britten's string orchestrations with attention to color and achieved impeccable balances with Bullock's voice. The winds in Ravel's pared-down chamber ensemble (a piano quintet with flutes and clarinets) provided piquancy, and Salonen made it all flow gracefully.
To complete the program, Salonen preceded the Englishman Britten's exploration of French culture with the late American composer Steven Stucky's savory take on England's first great composer, Henry Purcell. Stucky's setting of Purcell's 1695 Funeral Music for Queen Mary applied the resources of modern orchestra to Purcell's lines and harmonies, creating sonorous patches of brass here, matching French horns to harps there, at another point featuring a timpani solo. The last few pages finally ventured into harmonic complexity before segueing into a richly expansive finale. Salonen's tempos and balances clicked with the players and bodes well for the evolving relationship between conductor and orchestra.
Even better was Ravel's ballet music for Mother Goose, which followed the Mallarmé songs. Leading without a baton, Salonen still got precision from the ensemble. With a natural flow, the playful character of the narrative came through clearly and with dazzling color. The final two sections — 'Laiderondette, Empress of the Pagodas' and 'The Enchanted Garden' — grew in intensity to a radiant finish.
Harvey Steiman