United Kingdom Beethoven and Schumann, Ian Bostridge (tenor) and Imogen Cooper (piano): Live-streamed in HD from Wigmore Hall, London, 30.9.2020. (JB)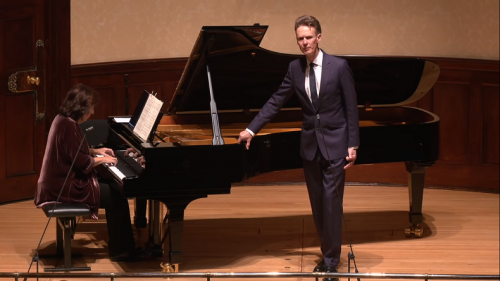 Beethoven – 'Resignation' WoO.149; 'Sehnsucht' WoO.134; Zärtliche Liebe' (alt. 'Ich liebe dich') WoO.123; 'An die ferne Geliebte' Op.98
Robert Schumann – 'Liederkreis' Op. 39
Encore: Beethoven – 'Aus Goethes Faust' Op.75 No.3
Anyone who has heard the recordings of the Granados/de Falla folk song arrangements from Conchita Supervia (mezzo-soprano) and Frank Marshall (piano) will never forget the excellence of those two outstanding artists: the two are not only united in questions of taste but almost in a competition of anything-you-can-do-I-can-do-better. The duo is so at one it produces a third reality – the ghosts – no not actual ghosts, but the ardent desires of the two composer/arrangers.
Frank Marshall was born in Catalonia of English parents. He studied with Granados at that same maestro's academy. On a 1916 tour of Europe, Granados was paid in bars of gold for concerts of his much-acclaimed pianism. On his return trip to Spain his boat was torpedoed in the English Channel. The Captain launched the lifeboats to save the passengers' lives but refused to accept any luggage. Granados and his wife did not want to be separated from their gold. They would take the risk of remaining.  They were never seen alive again. The maestro's favourite pupil – Marshall – became the head of the academy.  Alicia de Larrocha was one of his earliest pupils. The school was later renamed the Frank Marshall Academy. Every time I met with Madame de Larrocha, she told me that I looked like Frank Marshall. I assured her I was no relation. She also said that aside from the commercial recordings with Supervia there were no others, but somewhere or other there must be piano rolls of her maestro. If any reader knows of an enterprising record company that has remastered and issued these piano rolls on CD, please let me know in the comments box at the end of this review.
I rejoiced to see the names of Ian Bostridge and Imogen Cooper joined together at Wigmore Hall for an hour of Beethoven and Schumann song. I am reporting on the Wigmore Hall's online broadcast which I watched twice.
Ironically, it did prompt a thought that these two fine artists had cast some of their gold into the sea when their well-chosen programme was waiting to rescue them
Iconography can easily morph into unintentional irony. And some of that happened.
Ian Bostridge's German diction is up to and even better than most Germans. He projects beautifully and is a master storyteller. He takes us into his confidence like our finest actors.  Even – perhaps especially – he explores the philosophical/religious questionings of Beethoven's soul like no other.
Dr Bostridge (yes – he was an important academic before he became a singer and wrote his Oxford Doctoral thesis on witchcraft under the supervision of the great Keith Thomas). He has a lifetime's educational finesse to share with his audiences. And share it he does.
The problem is that all these riches occasionally overtake the show. The musicality sometimes gets threatened at the expense of the entertainer.
This may be excusable with Beethoven. But I can hear Beethoven's objecting growl as I wrote that sentence. With Schumann there is no excuse.
There has always been a tendency for the Bostridge voice to score better in its lower (baritone) register. But today he seemed to have developed an unattractive method of scooping up the notes rather than singing them.
Artists can frequently get in the way of their art. I emphasise that his art was often to the fore, though not as frequently as I would have liked.
William Walton used to say that Peter Pears had ruined a whole generation of English tenors, who tried to imitate him. Peter, who like Bostridge had a fine intellect and outstanding musicianship, was not, at the most fundamental level, possessed of a great voice. He was rescued by Lucie Manén who gave him a technique which would see him through anything. Manén has been much criticised for her 'method'. I have always defended her. And shall continue to do so. Anyone who can give a musician a solid technique (Sir Peter was singing in his seventies) should be applauded.
Bostridge is noticeably out of the stable to which Walton objected. But it is also folly to hope that all our tenors could be Irish. And no, that is not an Irish joke.
Imogen Cooper sometimes sounded more like she was playing a honky-tonk than a Steinway grand. True enough that Beethoven was gruff sometimes, even when he was considering matters spiritual. But the Cooper fingers too often sounded as though they hated the music. Gruff it may be but there is always a reaching out for understanding – which I for one could not hear. Even on a second hearing.
Schumann was stylistically worse. The ten Lieder were written with Schumann's beloved wife, Clara, in mind. You cannot get more romantic than that. It is true that the love is shot through with pain but in the Cooper telling it was pain shot through with an occasional whiff of love.
Imogen was also the humblest servant to Ian's storytelling. So much so that she weighed in with the accompanist's most fatal error (whether they are amateur or professional): following the singer rather than being with them. Most of these songs have a piano introduction. But when the voice enters, she would wait to see what the voice does before following it. This gives the same feeling you get when a movie is out of focus.
Bostridge looked magnificent – as slender and tall as a pine tree and with the bone structure of a matinee idol. I have no time for those critics who say that he sways and rolls his body too much: that is an integral part of the storytelling.
The presenter for Wigmore Hall and BBC Radio 3, Georgia Mann, told us that the duo rarely spoke during their preparations: a glance would instantly show agreement or disagreement. Perhaps some verbal exchange on the mechanisms of ensemble would have raised their performance to another level?
There was an encore of 'Song of the Flea' – not in the familiar Mussorgsky setting but from Beethoven's music for Goethe's Faust Op.75 No.3. Here, Cooper wonderfully let her hair down and for the first time sounded as though she was enjoying herself. Freely abandoned! Joyously fast!  She was leading and her tenor managed to catch up too! A triumph for both.
The recital is available free on the Wigmore Hall website. Enjoy!
Jack Buckley