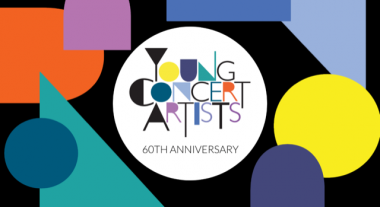 Young Concert Artists announces 60th anniversary season
The 60th anniversary season of the Young Concert Artists opens on 21 October with a concert streaming live from Merkin Hall that will feature performances by an array of artists representing YCA's remarkable history. The program will include solo and chamber works by Ravel, Bach, Handel and Higdon, as well as the world premiere of a partita for solo violin by YCA Composer Chris Rogerson. (Rogerson is represented by Young Concert Artists, Inc., and served as YCA Composer-in-Residence from 2010-2012. In 2016, he joined the Musical Studies Faculty at the Curtis Institute of Music in Philadelphia.)
Founded in 1961 by Susan Wadsworth, YCA has been dedicated to discovering and launching the careers of exceptional young musicians for 60 years. Daniel Kellogg took over as President following Wadsworth's retirement in 2019. Chosen as YCA Composer-in-Residence in 2002, Kellogg was a member of the Young Concert Artists roster for ten years.
YCA has presented nearly 300 artist debut concerts, commissioned more than 30 compositions from YCA composers and facilitated thousands of residencies through the Annaliese Soros Educational Residency Program. YCA alumni are active in every corner of the classical music world.
YCA's world-renowned artist auditions will continue with a final round on 8 November and a Winners Concert on the following day. Both events will be live streamed on YCA's Facebook page and YouTube channel.
Each year YCA chooses a new group of young musicians to add to its roster with the promise of debuts in both New York and Washington, followed by at least three years of career management. This includes providing performance opportunities, promotional and marketing services, travel arrangements, educational residency experience and extensive professional development.
On 9 December, pianist Aristo Sham, who won First Prize at the 2018 Young Concert Artists International Auditions, will have his YCA debut concert live streamed from Merkin Hall. A native of Hong Kong, Sham is currently completing a joint program of Harvard University and the New England Conservatory. Harvard granted him a BA in Economics with a minor in French in 2019, and he will earn an M.Mus. in Piano Performance from the New England Conservatory in 2020.
The season will conclude on 9 May 2021 with a gala honoring YCA founder Susan Wadsworth.
Rick Perdian
For more information on Young Concert Artists, click here.