Italy A riveder le stelle: Soloists, Teatro alla Scala Orchestra, Chorus & Ballet / Riccardo Chailly & Michele Gamba (conductors). Teatro alla Scala, Milan, 7.12.2020. (RP)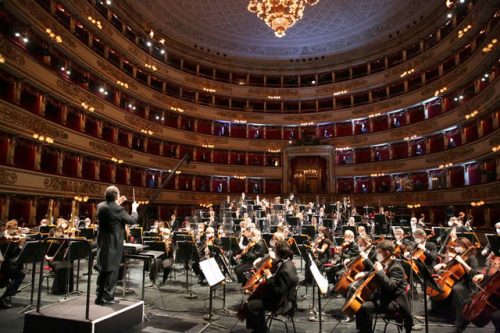 Production:
Director – Davide Livermore
Ballet director – Manuel Legris
Chorus director – Bruno Casoni
Costume supervisor – Gianluca Falaschi
Digital sets – D-WOK
Lighting – Marco Filibeck
Cast:
Soprano – Eleonora Buratto, Rosa Feola, Aleksandra Kurzak, Camilla Nylund, Kristine Opolais, Lisette Oropesa, Marina Rebeka
Mezzo-soprano – Marianne Crebassa, Elīna Garanča
Tenor – Roberto Alagna, Benjamin Bernheim, Piotr Beczała, Juan Diego Flórez, Vittorio Grigolo, Francesco Meli, Andreas Schager
Baritone – Carlos Álvarez, Plácido Domingo, George Petean, Luca Salsi, Ludovic Tézier
Bass – Ildar Abdrazakov, Mirco Palazzi
Dancers – Timofej Andrijashenko, Martina Arduino, Marco Agostino, Roberto Bolle, Claudio Coviello, Nicola Del Freo, Nicoletta Manni, Virna Toppi,
La Scala's season opens on 7 December, Saint Ambrose's Day, the feast day of Milan's patron saint. In prior years, the gala occasion was broadcast live on national television and screened throughout the city so that all Milanese and visitors could see it, not only the privileged few inside the opera house. This year, the theater is dark and the city quiet – Lombardy, of which Milan is the capital, is one of Italy's orange zones where people are only permitted to leave their homes for essential reasons in an effort to contain the spread of COVID-19.
Opera may be the lifeblood of this city, but in the midst of a pandemic it is deemed nonessential. Nonetheless, La Scala rose to the occasion and presented a spectacle that ran nearly three hours, featuring some of the greatest stars from the worlds of opera and ballet as well as its famed ballet, chorus and orchestra under the batons of Riccardo Chailly, the company's music director, and Michele Gamba. Most of the performances were recorded in advance, but that didn't diminish the grandeur, artistic excellence and visual excitement of Davide Livermore's concept.
There was no single, thematic gold thread running through the performance, but there were several bold themes realized in the music, readings and striking digital sets by D-WOK, the firm that created the virtual scenographies. Elegance and glamour were ever present: the male singers all wore stylized formal wear and the women were in glamorous gowns. Marina Rebeka's mocha-colored dress adorned with a profusion of sparkling purple flowers was the most extravagant, but there was stiff competition for that honor.
This season was to have opened with Donizetti's Lucia di Lammermoor with Lisette Oropesa as Lucia. Oropesa would have been the first American to sing a title role in the gala season opener since Maria Callas in 1951. Instead, she sang Lucia's Act I aria, 'Regnava nel silenzio', with formidable virtuosity and dramatic sensitivity in front of a massive projection of the Scottish artist Jack Vettriano's The Singing Butler.
The most powerful of the performances was the most traditional conceptually and visually. Kristine Opolais sang and enacted 'Tu? Tu? Piccolo Iddio!' from Puccini's Madama Butterfly in front of a towering projection of an animated Butterfly silhouetted against a full moon. The soprano replicated the actions of her digital counterpart to devastating effect. Equally authentic were the projections of Earth from space, a forest and flames, before which Andreas Schager and Camilla Nylund sang the Act I duet from Wagner's Die Walküre.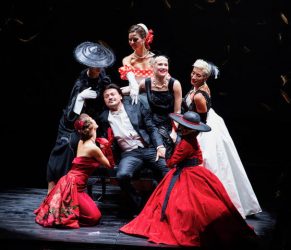 Vittorio Grigolo was suave and debonair as the Duke in Verdi's Rigoletto and sang with equal refinement. It was as if Livermore was thumbing his nose at the tenor's #MeToo travails by surrounding him with a bevy of glamorous women. Grigolo kept his hands to himself, although the same cannot be said of the ladies.
The most provocative realizations were those that inserted politics into the equation, generally taking aim at the US. Francesco Meli sang Riccardo's 'Forse la soglia attinse…Ma se m'è forza perderti' from Verdi's Un ballo in maschera in what appeared to be the Oval Office in the White House. (Damiano Michieletto's 2013 production for La Scala, which placed the action in the midst of an American-style election campaign, was one of the most effective updatings of any opera that I have seen.) Carlos Álvarez sang a searing 'Credo' from Verdi's Otello in front of the White House, which cracked and crumbled as Iago mocked fate.
Inclusivity was another undercurrent of the gala, which was more than a parade of opera stars singing popular arias. A riveder le stelle celebrated La Scala's family of artists. Wearing masks, Chailly and Gamba conducted the entire orchestra, which was spread throughout the hall on a make-do stage. Their backs were to the singers. When not masked, the players were encased in protective plexiglass. The six tiers of boxes each held an individual chorus member. As with most performances at present, technical wizardry made it all come together.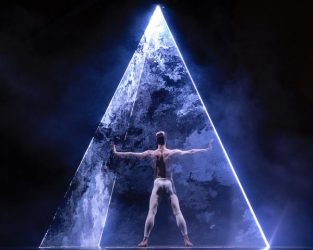 La Scala's dancers were given center stage. Nicoletta Manni and Timofej Andrijashenko were a dream come true in Rudolf Nureyev's choreography of the 'Adagio' from Tchaikovsky's The Nutcracker. To the music of Davide Boosta Dileo and Erik Satie, La Scala's star principal dancer Roberto Bolle's remarkable physicality and lyricism were captured in a brilliant union of movement and lighting. There was also the world premiere of Manuel Legris's Verdi Suite, with music from I vespri siciliani, Jérusalem and Le trouvère. Legris, the new artistic director of La Scala Theatre Ballet, created a work of refinement and elegance for six dancers, interwoven into some of Verdi's most colorful and graceful music.
Hope was the other main theme of the extravaganza. Plácido Domingo performed 'Nemico della patria' from Giordano's Andrea Chenier. As he sang, images of great humanitarians and visionaries – Eleanor Roosevelt, Saint John XXIII, Mahatma Gandhi and others – appeared behind him. There was little baritone in Domingo's voice, but he defies the passage of time in both the quality of his instrument and the ardor of his singing.
Any other gala would have ended with Piotr Beczała's blazing, impassioned 'Nessun dorma', but not this one. Livermore reminded viewers that La Scala was rebuilt after total destruction during World War II, and then came the finale from Rossini's William Tell. The elegance and grace of the opening measures yielded to musical invocations of new birth and inexpressible joy. As the music was performed, aerial videos of a Milan devoid of life, if not light, were projected. The final image was that of La Scala emerging as a phoenix from the ashes.
Rick Perdian
A riveder le stelle is available for viewing on medici.tv. A detailed and browsable digital concert booklet with English translations is available on La Scala's website.