United Kingdom Mozart: Philharmonia Orchestra / András Schiff (piano, conductor). Royal Festival Hall, London, 18.11.2021 (MB)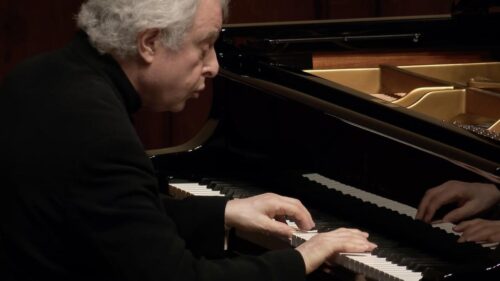 Mozart – Piano Concerto No.9 in E-flat major, KV 271; Symphony No.36 in C major, KV 425, 'Linz'; Don Giovanni, KV 527: Overture; Piano Concerto No.20 in D minor, KV 466
'A feast of Mozart' is how this concert was advertised — and indeed in many ways it was, not least for those of us unlikely to be able to attend (yet again) Salzburg's Mozartwoche next January. It was a somewhat inconsistent feast, though, and oddly planned at that, a piano concerto followed by an unrelated symphony making for a strange first half. The second half — rather less than half, in minutes taken — was more impressive, although there were certainly things earlier on to admire and enjoy. It was nonetheless difficult to resist the conclusion that, nowadays, the best of András Schiff's pianism is to be heard on period instruments and certainly not on a modern Steinway; in addition, it is difficult to credit him as much of a conductor.
The opening of the miraculous E-flat major Piano Concerto, KV 271, augured well, the Philharmonia's playing crisp and cultivated, Schiff's tempo well chosen. And there was sometimes, if not always often enough, a willingness to yield. More concerning was an intermittent disinclination to phrase, ends of phrases merely left hanging, cut off abruptly. That was especially odd given an evident ability to phrase where so inclined, for instance in the passage for crossed hands. Why Schiff felt the need to play piano continuo throughout the opening tutti and beyond, I do not know; it added little other than distraction. Here, perhaps more than anywhere else, I gained the impression the pianist would be happier playing a fortepiano. Fair enough, but in that case, why not do so? The slow movement was taken swifter than Schiff would once have been likely to, but had more in the way of dynamic contrast. His dogged continuo playing continued to irritate, but that is clearly now his way. The music's restlessness was often well conveyed, but again a reluctance to yield was concerning. An ebullient finale seemed less hidebound by determination to eschew Romanticism: not because Schiff's approach was notably different, but more on account of its intrinsic qualities. Again, passages for crossed hands were beautifully taken. The central episode was honest and unfussy, if hardly seductive, the Philharmonia offering some lovely orchestral playing nevertheless.
The first movement of the Linz Symphony proved a disappointment. A broad introduction tailed off at its close, dissipating the energy required for the main Allegro spiritoso to burst forth as surely it must. The impression was of flatness, and of an inability quite to settle on the right tempo. It took until the recapitulation to do so. Period trumpets with modern horns (and other instruments) made for a strange compromise; perhaps there was reason behind it. The second movement, together with the finale the most convincing, flowed with greater coherence. There was something of an edge to the Philharmonia strings, but that seemed to be an interpretative decision. A graceful minuet gave way to a slightly distended trio, small-scale (with radically reduced strings) rather than intimate. Momentum was restored in the finale, well pointed, nicely directed, and full of life and direction. Schiff largely left the players to play: a distinct improvement on earlier, fussy intervention. Taking the closing repeat is doubtless justifiable, but here it offered little beyond repetition for its own sake.
The Overture to Don Giovanni was much better. Its introduction taken unfashionably in four, and all the better for it, was grander than anything heard hitherto, but more to the point offered due sense of expectation, fulfilled in the main body of the overture. It duly fizzed, crucially emerging from what had gone before. Again, Schiff wisely left the musicians largely to play for themselves. Although Schiff held up his hands to forestall applause, wishing to move straight into the D minor Piano Concerto, many applauded anyway.
The concerto's first movement was similarly 'traditional', but also more focused than anything we had heard in the first half. Schiff seemed more at ease with himself and with the Philharmonia. The opening tutti was exemplary, articulation integral to the musical drive, not a strange end in itself. If there were still occasions when his playing seemed more suited to an older instrument, they were fewer and less glaring. And the Philharmonia by now seemed to know when not necessarily to follow the arms waved around from the keyboard. Schiff used Beethoven's cadenza. The Romanze was on the swift side, though not unreasonably so; better that than laboured. Focus remained, in a performance nicely sung and without fuss. During the central G minor episode, Schiff's care to voice every note — not always the case in the first movement — went to show just how essential each of them is. The movement as a whole was well shaped, which is to say there was no overt shaping at all; it sounded just 'right'. Mozart's treacherous opening to the finale was despatched without fear, the orchestral response wondrous in diabolical grandeur. This was properly Catholic Mozart. Indeed, there was a keen sense of solo/tutti versicle and response, melting where necessary into chamber music. That is Mozart, of course, but it requires understanding and communication in performance too. The cadenza may have seemed a good idea in the abstract, opening with material from Don Giovanni before returning to music from the concerto itself, yet ultimately it failed to convince. It would surely have needed something more Mephistophelian, more Lisztian (a composer Schiff has long disdained), and less disjointed. Still, the coda, full of energy, offered a proper release. As an encore, we heard an unpretentious account of the Adagio from the extraordinary late B-flat major Piano Sonata, KV 570.
Mark Berry