Germany Met Stars Live in Concert – New Year's Eve Gala: Angel Blue, Pretty Yende (sopranos), Javier Camarena, Matthew Polenzani (tenors), Cécile Restier (piano), Vienna Morphing Quintet. Livestreamed from Parktheater im Kurhaus Göggingen, Augsburg, 31.12.2020. (JPr)
Programme:
Donizetti, La fille du régiment – 'Ah! Mes amis … Pour mon âme' (Javier Camarena); 'Chacun le sait' (Pretty Yende); 'Quoi! Vous m'aimez?' (Pretty Yende, Javier Camarena)
Puccini, La bohème – 'Che gelida manina' (Matthew Polenzani); 'Sì, mi chiamano Mimì' (Angel Blue); 'O soave fanciulla' (Angel Blue, Matthew Polenzani)
Puccini, La rondine – 'Bevo al tuo fresco sorriso' (Angel Blue, Pretty Yende, Javier Camarena, Matthew Polenzani)
Rossini, La Cenerentola – 'Sì, ritrovarla io giuro' (Javier Camarena)
Rossini, Il barbiere di Siviglia – 'Una voce poco fa' (Pretty Yende)
Verdi, Rigoletto – 'La donna è mobile' (Matthew Polenzani)
Verdi, Il trovatore – 'D'amor sull'ali rosee' (Angel Blue)
Bellini, La sonnambula – 'Son geloso del zefiro errante' (Pretty Yende, Javier Camarena)
Lehár, Die lustige Witwe – 'Lippen schweigen' (Angel Blue, Matthew Polenzani)
Leoncavallo – 'Mattinata' (Pretty Yende, Javier Camarena)
De Curtis – 'Torna a Surriento' (Angel Blue, Matthew Polenzani)
Di Capua – 'O sole mio' (Angel Blue, Pretty Yende, Javier Camarena, Matthew Polenzani)
Verdi, La traviata – 'Libiamo, ne' lieti calici' (Angel Blue, Pretty Yende, Javier Camarena, Matthew Polenzani)
Trad. – 'Auld Lang Syne' (Angel Blue, Pretty Yende, Javier Camarena, Matthew Polenzani)
Augsburg's ornate Parktheater im Kurhaus Göggingen is described as 'a marvel of glass and cast-iron, opened in 1886 and was designed to evoke the English pleasure gardens of the eighteenth and nineteenth centuries': indeed it is, and this perfectly describes the subtly-lit interior with its wrought iron filigree balustrades, stained glass, and palms. With four singers performing in middle where the seats usually are, it was a delightful setting for the best concert so far in this (currently intermittent) Met Stars Live series. The Met are finally getting the presentation right by keeping the New York involvement to a minimum and just letting what we heard flow from one piece to the next. This was ostensibly a fund-raising event and whether the Met needs your further support – apart from watching – is an individual decision.
It was interesting to hear from presenter Christine Goerke how 'Covid restrictions in Germany are very stringent at the moment. In fact, all of the German opera houses are currently closed but since we are streaming live without audience our show is going ahead on under the supervision of the local civic and medical authorities' and this allows the four singers 'to perform in close proximity'.
During the concert we heard some words from all the singers, but Javier Camarena nearly said it all with his 'Hello world! … I am so thrilled to be here with you celebrating the end of this crazy year […] Yes, we are reaching the end of a very complicated year filled with so much suffering for so many people around the world. We need urgently to believe we can live in a heathier 2021 and the only way to achieve this – and the only way we can make this real – is taking care of each other.'
The selection of arias and songs from Javier Camarena, Angel Blue, Matthew Polenzani, and Pretty Yende was – apart from one deeply poignant moment – generally upbeat and life-enhancing. Everything was underscored by some virtuosic pianism – unusual in an accompanist – from Cécile Restier and the sophistication of the Vienna Morphing Quintet, featuring the expressive violinist Yuuki Wong.
Wonderfully supported by Restier's piano, Javier Camarena started with the bravura showpiece he is famous for, Tonio's 'Ah! Mes amis' (from Donizetti's La fille du régiment) and almost stopping the show before it had begun! Open-faced – and with a vocal radiance reminiscent at times of Luciano Pavarotti – those high Cs held no terrors for him and were pinged off with ease and élan. Camarena is a remarkable singer and perhaps he had every right to enjoy each one of the high notes he got to sing during the programme! The extremely personable Pretty Yende then showed off her own vocal brilliance during 'Chacun le sait', the regimental song also from La fille.
Atmospherically, night seemed to descent within the Parktheater for the intimacy of Mimì and Rodolfo's burgeoning romance in La bohème ('Che gelida manina', 'Sì, mi chiamano Mimì' and 'O soave fanciulla'). Looking festive with his snowflake bow tie, Polenzani's voice was slow to warm up and lacked a little romantic brightness. The wonderful Angel Blue sang with sensitivity and a voluptuous sound – whilst flirting outrageously – as Mimì. The contribution of the Vienna Morphing Quintet was so important in creating the right mood. The ensemble number 'Bevo al tuo fresco sorriso' from the second act of Puccini's La rondine was one of the lesser-known pieces we heard, though it allowed all the four resplendent voices to be heard together for the first time.
Camarena and Yende returned for the duet 'Quoi! Vous m'aimez?' when they delightfully teased each other over who loved who. Camarena's 'Si, ritrovarlo io giuro' from La Cenerentola, had a more serious side as Ramiro exclaims he is guided by love and once he finds Angelina/Cenerentola, she will never leave him. However, Rossini's coloratura is occasionally at odds with the aria's shifting emotions but Camarena's technical assurance was impressive once more. If you get the opportunity, then please particularly watch this for Restier's fingers skittering over the keys just as they did for Yende's 'Una voce poco fa' (The Barber of Seville) which showcased her sparkling personality and the stratospheric top notes she has at her command.
As the Duke in Rigoletto, Polenzani expressed some rather dubious opinions about women during an ardent 'La donna è mobile'. Blue's 'D'amor sull'ali rosee' from Verdi's Il trovatore seemed an odd choice until we heard it was dedicated to her father, Sylvester Blue, who had died fourteen years ago to the very day and who Angel Blue credited with teaching her to sing. Blue sang the prayerful aria with her secure technique and rich, lustrous, and plaintive tone, whilst sensitively accompanied by Restier.
Camarena and Yende combined for a moving rendition of the farewell duet ('Son geloso del zefiro errante') from Bellini's La sonnambula, which began tenderly before becoming increasingly impassioned. Polenzani was at his best during a schmaltzy and lilting 'Lippen schweigen' from Lehár's The Merry Widow, though Blue – sounding nothing less than charming – did not seems quite as comfortable in this lighter material as she did in Puccini and Verdi. The Vienna Morphing Quintet provided idiomatic accompaniment to all this, as well as what was to follow in this New Year's Eve extravaganza.
Some Neapolitan favourites were next beginning with Camarena and Yende twirling to 'Mattinata'; Polenzani and Blue countered with a sunny 'Torna a Surriento'; before Camarena and Polenzani mimicked 'The Three Tenors' by showing off and out-competing each other with their ornamentation during a joyful 'O sole mio' when much fun was had by all four singers. The very familiar brindisi from Verdi's La traviata was as bubbly as the champagne that might have been in the glasses they all held. Afterwards we were wished a breezy 'Happy New Year!' before everything ended with a reflective and sincere 'Auld Lang Syne'.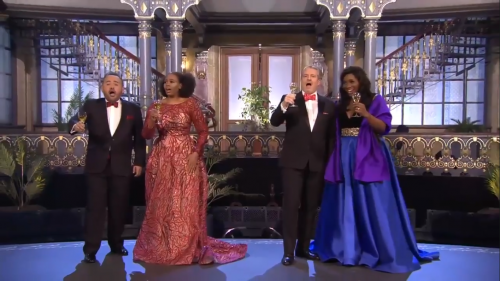 The Metropolitan Opera hopes to be back performing in its New York home at the start of the 2021/22 season and I wish I shared their optimism. Every time there is that 'light at the end of the tunnel' for all of us throughout the world it seems to be quickly snuffed out.
Jim Pritchard
This concert is available through 13 January and for more about the Metropolitan Opera click here.